If you are planning your next holiday, you should look no further than a beautiful family villa in Sitges, Barcelona. A villa for families has many clear advantages over a hotel.  It will be the backdrop for an unforgettable family vacation. If you are still wondering if this could be for you, read on to see why a family villa makes the best family vacation accommodation.  Also why Sitges makes a perfect family holiday destination.
Privacy
The first bonus of choosing a luxury villa as your holiday destination is that you get to decide who is around you.  The beautiful swimming pools and the spacious gardens are yours to enjoy without interruption or disturbance. You can have a BBQ, formal meal,  or dinner on the terrace at the times that suit you and you'll have the place all to yourselves.
There are no noisy guests in the rooms next door waking you up late at night or early in the morning.  Also no rowdy strangers around the pool, disturbing your tranquillity and relaxation. If you and your kids are the noisy ones, then you don't have to worry about disturbing other guests.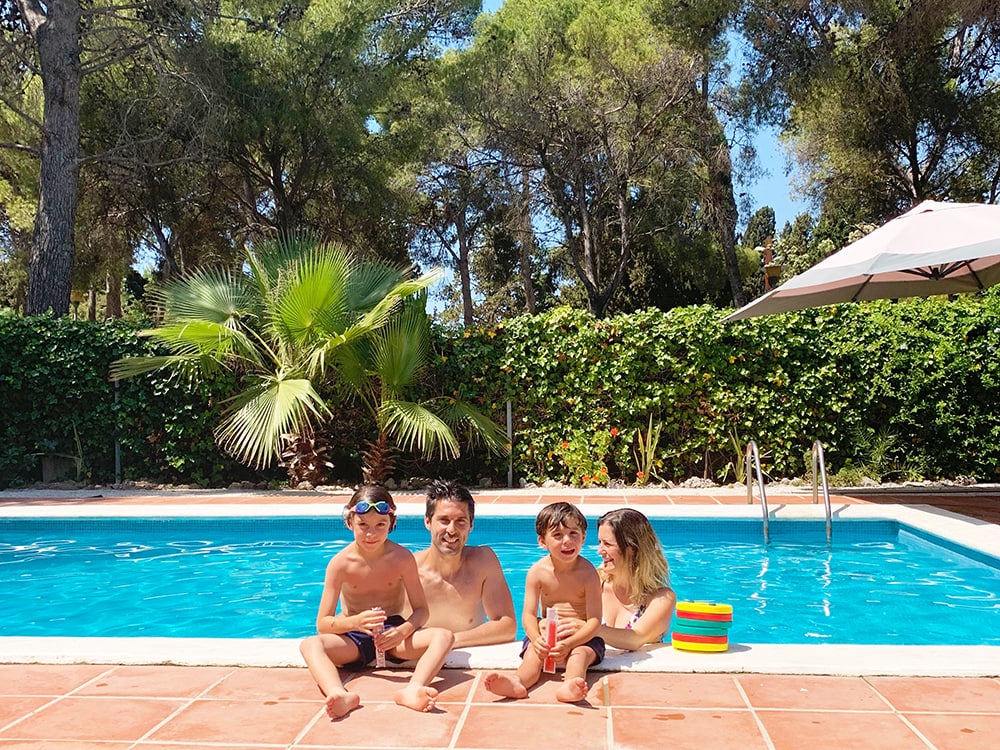 Holiday at your own pace
In your luxury villa in Sitges, you'll be able to arrange the services you want.  You can also have those services at a time that suit you and you family best. If you'd like an in-villa chef to cook a late BBQ – no problem.   Want to pack a picnic for the beach – no problem.  Is an early morning full-breakfast your preference or a mid-morning brunch? If you'd prefer the housekeeper to come to clean the house after you have left for the beach, that is also possible to arrange.
With our own catering facilities, it means that you have control over the time table of your family vacation. Regardless of whether it is you or an in house chef you can decide on what and when you cater your meals. In particular, this control over your timetable can be great for families when Spanish restaurant meal times (Lunch 1 pm -3 pm and dinner from 8 pm) don't line up with your regular schedule. As a result, feeding kids and adults as required is not a problem at all.
Your control also extends to other services that the Utopia Villa guest services team can help with organizing. We can arrange in-villa exercise classes, excursions, and more.
Space, glorious space
Why do we think a luxury villa is the best family vacation destination? The space in a villa means you are all together, but not packed in like sardines. The large rooms, multiple living spaces, and choice of entertainment areas allows you to spread out to ensure quality time. If all the kids want to play in the front of the house, there'll be a quiet balcony for the adults to enjoy a cocktail together listening to the music you love.
Our large villas also make the perfect venue to get the extended family or groups of friends together. With all your favorite people together you are guaranteed a vacation you'll never forget.
Amenities and services
We can provide everything you need for a perfect family vacation.  Music systems, TVs, high chairs, cots, kids toys, and more. Our guest services team loves to make every holiday the ideal occasion for our guests. In-villa chefs, in-villa yoga and exercise classes, babysitters, tours, sports, and activities are all on the menu.
In addition, all of our villas have beautiful swimming pools, air-conditioning, and extensive gardens.  Have a look here at some of the services we can organise for you.
All this at a price very similar to a hotel or Airbnb
The cost of a luxury family villa is often comparable to a hotel for larger groups.  If you cater for some of your meals in the villa you can save a lot of money and the price per room is often the same as a hotel or Airbnb.  For a couple of families together, the facilities on offer and the fantastic flexibility that you can create in a villa vacation makes it excellent value for your money.
A Sitges villa is perfect for a family holiday
Sitges is a justifiably famous destination for a family holiday. Have a look at our article on family friendly Sitges to see how much more there is to Sitges than just amazing beaches and world-class restaurants. There is so much to offer people of all ages, from kids to teens, to parents. Regardless of whether your family wants to sleep in late and lounge around the pool before hitting the nightlife, or is an up-and-at-it group that wants a full agenda of sports and activities, Sitges, Barcelona caters for all.
Sitges offers golf, hiking, hot-air balloons, helicopter tours, cycling, surfing, live music, gourmet food, wine tasting, bike tours, historical and architectural gems, amazing local festivals and traditional activities, and so much more. The surrounds are equally stunning, with the cosmopolitan jewel of Barcelona just 40 minutes away.  The natural beauty of the Garraf National Park surrounds Sitges.  You also have a choice of theme and water parks, and the beauty and history of Tarragona an hour down the road.  Sitges is at the center of a truly blessed area.
Finding a luxury villa near in Barcelona can be difficult, and the crowds can be too much for a family. Sitges offers the best of both worlds, a luxury family villa near Barcelona, without the stresses of being right in the centre of busy Barcelona.
Here are two families that have fallen in love with Sitges and describe their experiences. The Guardian journalist, and the luxury travel blogger.
Why a Utopia Villa?
At Utopia Villas, our only goal is provide you with the best family vacation destination of your life. From choosing the perfect villa to suit your group, arranging your airport transfers, to ensuring that every service and amenity you require is ready and waiting, our team will be here for you. Minimum hassle, maximum relaxation and quality family time are the goals of a family villa holiday. We know that we do a great job because our guests tell us that they have had the vacation of a lifetime and we welcome them back year after year. Why dont you choose a family villa for your next holiday so that we can welcome you in the same way.