If you want to celebrate the New Year in style with the Mediterranean Sea at your doorstep, look no further than Sitges.  It is one of the most spectacular and luxurious places to visit on the peninsula. Whether you want to spend New Years Eve in Barcelona, or relax with family and friends in one of our breathtaking villas on the beach, this is the ideal spot for you. 
New Years Eve in Sitges
New Years Eve in Sitges is usually a quiet affair which the locals celebrate with their families. They eat a Catalonian tradition broth called Escudella amb carn d'olla, waiting for the stroke of midnight. Why not join them in their traditions as the clock strikes midnight? Eat 12 grapes, one for each chime, whilst drinking a glass of cava with a gold ring in it.  Sport red underwear, all for love and luck in the coming year. It is not until after the New Year begins that the clubs open and many make their way into the buzzing nightlife of the town. However, there is also plenty of pre-countdown options for you to choose from, but make sure you book in advance. 
Many restaurants offer a New Years Eve Menu and Sitges is certainly not short of Restaurants. Why not try Lady Green Restaurant's New Years and Dance Party.  This is a beautiful Vegan Restaurant which is offering a 55€ Vegan menu and Soul and Funk vibrations from DJ Robbie Musto. If you want a more romantic and extravagant meal why not book the evening at Hotel Mim on the seafront?  Try their New Years Menu before dancing the night away. If, on the other hand, you want an epic evening of revelry, watching the ball drop on giant screens, enjoying Passed Hors D'Oeuvres, party favours, complimentary toast at midnight and DJ Juicy grooves, book yourself into Queenz, where the fun never stops. Queenz is very popular and a guaranteed good night, so make sure you book in advance.
New Years Eve In Barcelona
Spend your days relaxing in a luxurious villa on the beach, exploring the beautiful town of Sitges or taking long walks on the promenade, and as night falls take a short train ride to the beautiful, buzzing barrios of Barcelona which is a hive of activity on New Years Eve. Once you are ready for that well-needed rest on New Years Day, you can feel safe in the knowledge that your wonderful Villa is waiting for you in the tranquil and beautiful setting of Sitges. Here are just a few of the festivities available in Barcelona this coming New Year:
Plaça d´Espanya
Watch the amazing light show at the Magic Fountain, complete with music and an outstanding fireworks display for FREE. Just a half-an-hour bus or train ride from Sitges, and you can join the many locals at this hugely popular family-friendly event. The main pyrotechnic show lasts approximately 30-minutes, beginning at 23:45 but there is a magical pre-show from 21:30 where you can watch the Magic Fountains Light Display in all of its glory.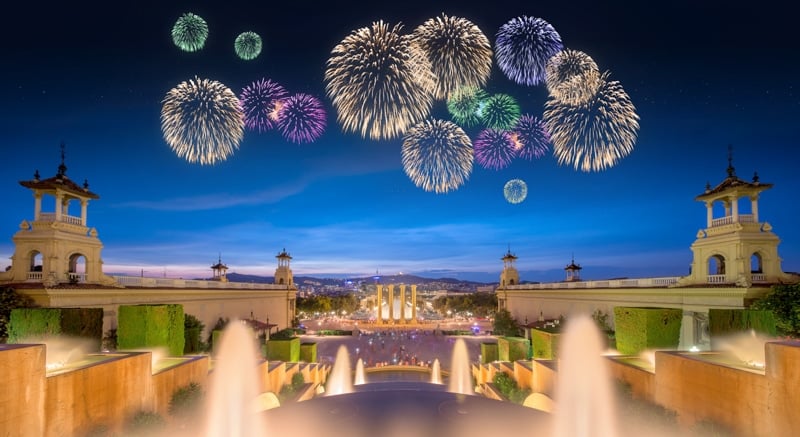 Plaça Catalunya
Plaça Catalunya is a great location to start the festivities because it is very central and easily accessible by public transport. This is a cheaper option for ringing in the New Year as everyone simply takes to the square with their 12 grapes and bottles of cava, laughing the night away. This does also mean it gets very packed however and can also lead to quite the surprise after the final stroke of midnight, when people partake in the slightly bizarre tradition of launching their cava bottles into the centre of the square – perhaps not the first choice if you are going with kids.
Rooftop Views
Why not secure yourself a spot on one of the many beautiful rooftop bars around Barcelona on New Years Eve, watch the fireworks and while away the evening with a couple of glasses of Cava? For fantastic views of the whole city, check out Mirablau bar on Tibidabo Hill who are offering special NYE packages where prices start at 40€ and include 2 drinks. Alternatively, you could try La Dolce Vitae Majestic Barcelona for New Years dinner if you ́re feeling a little flush. It has lovely views over the Mediterranean Sea as-well-as being centrally located and a great vantage point from which to see the fireworks. 
Looking to celebrate New Years Eve with Spanish flare?
How about a little dinner and Flamenco to see in the new decade? Both Palacio Del Flamenco and Tablao Flamenco Cordobes are offering a magical evening of dance, dinner and merriment this year. 
Where to stay
New Years Eve, or 'Nochevieja' in Spanish, is one of the most anticipated and exciting times of the year and Sitges and Barcelona offer numerous options for ringing in 2020. Whether you prefer to hideaway and celebrate in private, or ensure you have access to a relaxing location after the celebrations, then our villas on the beach are the perfect choice. 
Villa Lola
Villa Lola is located on the Promenade of Sitges, with magnificent views of the beach and out to sea. Watch the sunset while enjoying a glass of cava or take a short stroll into the beautiful centre of Sitges, enjoying  the vibrant nightlife of the town. 
Villa Francina
Villa Francina is an ideal choice if you are bringing the children. With an ample garden for them to frolic in and an excellent children's park located next to the villa, you may find the time to play golf or tennis at Terramar Golf Club, whilst the little ones are entertained. 
Villa Claudia
If you prefer a more natural setting, then stay in Villa Claudia, a short drive from Sitges, surrounded by the beautiful Garraf National Park. This is an ideal location for the family to celebrate the coming of the New Year in a home away from home, as you bask in the warmth of the heated pool, while sipping a glass of cava. All this whilst the younger family members are entertained in the separate TV Den Room. 
Villa Casablanca
Why not enjoy the New Year Celebrations from the idyllic setting of luxurious and modern Villa Casablanca, where the views over Sitges and the Sea beyond have to be seen to be truly appreciated. Start your New Year relaxed and refreshed even after the revelry of the night before. 
Don't waste any time in ensuring you have the best of both worlds this New Years Eve. Book your villa by the beach today!