Looking for a beachfront property? A farmhouse in the hills? Or perhaps a villa in the metropolis? We have the Europe villa of your dreams. Obviously, they tick all the boxes for a relaxing summer holiday. They have beautiful private pools to lounge beside and dip in whenever you want. The gorgeous interiors range from minimalism to palatial to rustic chic. Utopia Villas can all lay on concierge services and private chefs at the drop of a hat. Book one of these European villas and start packing!
For the full European villa experience, you can't beat the stunning iconic Villa Isla Cozumel. Built in the local colonial style in 1940 it is a palatial property located on the Sitges promenade. This has serious curb appeal. It inhabits 2000 square metres of manicured gardens with a beautiful private pool and a guesthouse on the grounds. You are guaranteed to feel like Royalty while you lounge by the pool and survey the glamorous surroundings. The question is will you ever want to leave to explore the lovely resort of Sitges? You must drag yourself away as Sitges is a gem of a place. It has a cobbled old town, a stunning church overlooking the sea, and buzzing nightlife. It sleeps 16 in 7 en suite bedrooms. And if you really never want to leave, this fabulous villa is for sale too.
Do you get restless easily when lounging by the pool or on the beach? Need a little more cultural stimulation on your holiday and a big city buzz? Then Villa Victoria is one of the Europe villas for you. Perfectly positioned in the heart of Barcelona, Villa Victoria is a beautiful and elegant neoclassical villa. It displays a wonderful combination of exquisite antiques with modern avant-garde furniture and carefully placed lighting. It has various terraces, a swimming pool, a hot tub, and a beautiful garden. With 8 bedrooms and 7 bathrooms, it comfortably accommodates 16 guests. All this guarantees an unforgettable stay in a unique and exclusive space.
For a gourmet break, you can't beat this location. It is only 10 minutes from El Celler de Can Roca. The World's best restaurant. Located in the heart of the gorgeous Costa Brava, Masia Provenzal is a beautiful Catalan farmhouse on a grand scale. It boasts 11 en suite bedrooms so plenty of privacy for everyone. The villa features exposed stone walls and open rafters and beams. There is a huge function room if you are looking for a party venue. A ceiling mural in the living room and a grand piano if you are feeling musical. The delightful pool area nestles in the mature and manicured gardens. It is the perfect retreat for relaxing and rejuvenating. You can only find this kind of traditional style in one of the Europe villas in Spain.
Located just one row to the Mediterranean Sea this has to be a top choice for a Europe villa. This hacienda-style property accommodates up to 16 people in its 7 bedrooms and extra sofa bed. Furthermore, there is a separate annex that sleeps up to 6 people.
One of the greatest Catalan architects of the 20th century, Jose Antonio Coderch, designed this beautiful space. La Hacienda boasts spacious interiors and a huge flat lawn that surrounds the large private swimming pool. With numerous terraces and Andalusian patios, it will delight and relax you.
This villa is a short walk from the centre of lively Sitges, a Mediterranean pearl. This former fishing village offers a vast choice of beaches, restaurants, bars, and shops and a perfect sprinkling of culture too.
Villa Leila; The Best in Value of all Europe Villas
Villa Leila has everything you could possibly need to relax and unwind while not worrying about the expense. It is an Ibizan-style villa is designed for chilling out. Sip a cocktail in a hammock by the pool and enjoy the views across the stunning Garraf National Park. You can enjoy mountain biking or hiking in the stunning countryside that surrounds the villa. But you are only a 12-minute drive from bustling Sitges and 40 minutes from Barcelona if you crave some city life. This lovely property sleeps 12 in 5 bedrooms with 3 bathrooms.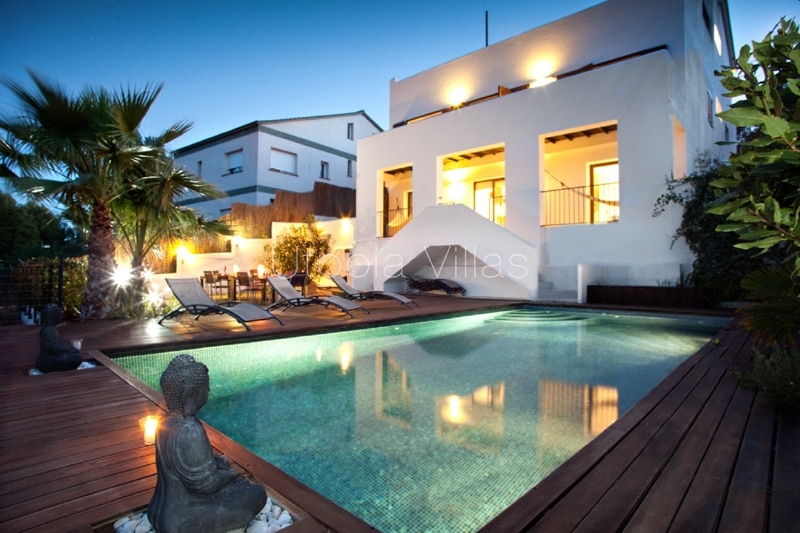 Villa Candela is a stunning modern villa fit for VIP guests. Particularly great for a golfing holiday as it is located overlooking the Terramar Golf Club and the sea. It boasts high spec finishes, uber-modern interiors, and a state-of-the-art kitchen. A dream villa for those with a discerning eye. It sleeps up to 14 and has a separate 2-bed apartment so perfect for 2 families or for keeping the teens away! And it is only a short taxi ride into Sitges for those summer nights on the town. Sometimes only the best will do and this Europe villa guarantees a luxury holiday.
So we hope you love our selection of Europe Villas as much as we do. There really is something for everyone here. Now all you need to do is book one and kick back and relax.