This summer, Sitges will once again be the perfect base for the holidaymaker seeking fantastic music. There are numerous festivals, concerts and events in and around Sitges.  Barcelona festivals also draw immense crowds and outstanding headliners.  So can you really think of a better way to holiday? Spend the days soaking up the sun at a beautiful villa before whiling away the evenings watching your favourite musicians? No? Then keep reading to find the ideal match for you and your 'crew'.  Rent a villa in Sitges to access to some of the world's finest festivals.
Sitges and Surrounding Festivals
Although not technically a music festival, Sitges Carnival rightly earns its place in this list.  This is due to its vibrant mixture of people, music, dance and costume design. This week-long event attracts thousands of partygoers each year and is a must for anyone who enjoys music festivals. Even though it is hosted in February, you would be forgiven for feeling like you have stepped out into a tropical paradise.  You will find yourself surrounded by floats draped in stunningly dressed performers. Furthermore, you can choose to continue your carnival partying with Elrow Barcelona at their Nowmads New World Carnival Festival. Here, you may find yourself feeling a little like Alice in this wonderland surrounded by stone-age cave dwellers, a huge phoenix and 2-metre-high blue space-dudes. Carnival anyone?
Vida Festival – what a magnificent festival this is! This three-day event (2nd-4th July) is held in the gardens of a beautiful Masia in Vilanova I La Geltrú.  It is just a 10-minute drive from Sitges. The whole ambience of this festival is unrivalled by most in Catalunya.  This is due to its wonderfully relaxed and stunning location. Moreover, Vida is a fantastic family-friendly affair.  There is a whole forest of activities for the little ones to enjoy during the day.  By night, they can sleep on blankets under the stars whilst you sit and sip your cocktails with a perfect view of the main stage!  Could you ask for more?  Yes, is the answer, because this year, Belle and Sebastian are headlining! Better book your Villa and festival tickets now!
Perhaps you're more a fan of the chilled-out reggae vibes? If so, then we are still the best location for your next music festival holiday. Nowa Reggae festival is celebrating its 15th year and is held across various locations in Vilanova I La Geltrú.  This is just a short bus or train ride from Sitges. This celebration of Jamaican music is renowned in Catalonia for both its fantastic selection of local and international artists, as well as its proximity to the sea. Across the weekend, the daytime plays host to activities on the beach.  The evenings welcome the concerts; a space where the main artists perform different styles of Jamaican music. The first confirmed artists are Skatala, Barcelona's very own 'mythical' band!
One event in Sitges that always draws big crowds is Festival Jardins de Terramar. With concerts spread across July and August, this park festival has much to offer on the warm summer evenings by the sea. Historically, we have welcomed many different musical genres including the likes of Texas, Rick Astley, Luis Fonsi, George Benson and Gloria Gaynor.  Keep your eyes posted for who will be joining us this year.
Barcelona Festivals
Barcelona has long been a sought-after holiday destination for many. The world-renowned music festivals are definitely partly to blame. Some of the most famous musicians ever to have blessed this planet with their presence have played at various festivals in Barcelona.  And they continue to do so, year-on-year. 2020 is proving to be the best one yet. Separated into 'styles' of festival, you will find everything you need to complete your villa holiday.  With Barcelona such a short train journey from Sitges, you really can have the best of everything: glamour, music, partying, relaxing, crystal-blue sea-swims and all the finer things that life has to offer!
Multi-Day Festivals
Spring Festivals
Barcelona really is a hub of musical activity, hosting the best multi-day rock, pop, electronic and dance festivals! Beginning in June, we have Primavera Sound (4th-6th).  This is an unmissable event characterised by its unmistakably strong line-up of artists across the genres of indie rock, pop and dance. For more than eighteen years this has been THE festival to attend.  This year's line-up does more than impress us.  Bauhaus, Beck, Disclosure, Floating Points, Iggy Pop, Lana Del Rey, Massive Attack, Metronomy, The National, DJ Shadow and The Strokes are just a small few who are gracing us with their presence this year.
Later in June (18th-20th) we have the spectacular multi-locational event Sónar. 2020 will be the 26th edition of the festival. It prides itself as being the 'pulse of the current electronic landscape'. This year we will enjoy the delights of The Chemical Brothers, The Blaze, Carl Cox, Dave, The Black Madonna and 2ManyDjs, amongst others.
Summer Festivals
Moving into July we have a few more treats up our sleeves.  Decisions will need to be made as the first 3 major festivals clash: Vida (mentioned above), Rockfest Barcelona (2nd-4th) and Cruilla (3rd-4th). Rockfest is a rock and heavy metal festival just 20 minutes from the centre of Barcelona; but don't let the short journey put you off because this year they host the one and only Kiss! And this will be their last ever festival show in Spain! Alongside Kiss we see Lynyrd Skynyrd and an old friend of the festival, the one and only Phil Campbell, playing Motorhead. So whether you are a Free Bird or a Hellraiser, buy your tickets and Love It Loud! (Couldn't help myself with this one, sorry)!
Heartbreakingly for some, Cruilla plays at the same time! The best up and coming Spanish acts perform alongside international superstars at this Barcelona festival and this year includes some mega performers: Placebo, Of Monsters and Men, Two Door Cinema Club, Gwen Stefani and Rag'N'Bone Man are just some of the headliners this year! Finally, in August we are blessed with DGTL – a weekend jam-packed with the best underground eletronica on the planet today. This festival is about more than just music; seeking the latest in technological innovations in order to create a whole experience through music (of course), art and production. Even though dates and lineup are yet to be confirmed, you will not be left disappointed by this Barcelona festival. Charlotte De Witte, Jeff Mills, Todd Terje and Seth Troxler all graced the stages last year.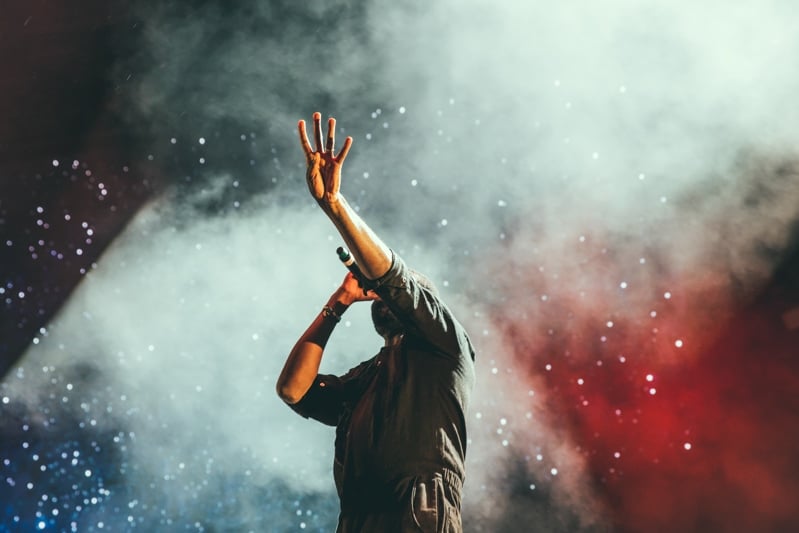 One-Day Events
As if the options mentioned above aren't already as-exciting-as a five-year-olds Christmas list, there is even more that Barcelona can offer you by way of music festivals. First, we have Barcelona Beach Festival (July 11th), a house, EDM and dance event with Armin Van Buuren and Marshmello headlining. Furthermore, from March to June you can head to Poble Espanyol on various Sundays to enjoy Brunch-In-The-City – a fantastic daytime electronic music festival that ends at a very respectable hour. If you're here in the summer, this simply becomes Brunch-In-The-Park and is enjoyed atop Montjuic, surrounded by beautiful shady trees where a fine mist is sprayed over the revellers to keep them cool while they dance the afternoon away. Keep your eyes open for the line-up to be released. You can expect some big names after last year saw Fatboy Slim, 2manydjs and Maceo Plex perform! Finally, Barcelona hosts the incredible summer concerts at the Festival Jardins Pedralbes in June and July. This year Diana Ross, Madness, Patti Smith and the beautiful LP are amongst those performing.
So now you choose, which villa with which festival?
I have no doubt that if you are planning a villa and festival combo holiday, you will know which friends and families you will be sharing this experience with. As such, you will find a fine selection of our exquisite villas below, separated by number of bedrooms.
Smaller Villas
If your partying crew is on the smaller side, then you will be looking for a three- or four-bedroom villa, conveniently located with easy access to the train and bus links to Barcelona. Villa Koh Samui is a sought-after villa complete with large gardens and private pool, fantastically located just a 15-minute walk from Sitges Centre. Alternatively, we have 2 uniquely designed villas located in Vallpineda, a twenty-minute walk from town: Villa Magnolia, complete with outdoor and indoor pools, sauna, gym room and jacuzzi, and Villa Sian – a semi-circular designed house spread across just one floor, again with private pool.
Medium Villas
Perhaps there are a few more of you wishing to enjoy this holiday together? In which case, you may be looking for a five or six-bedroom villa to relax in. Villa Anne is a stunning villa located in the exclusive area of Terramar, just a leisurely stroll down the promenade from the centre of town. Not only does this house benefit from this excellent location, it also sports a heated pool! Alternatively, you may prefer to be even closer to the seafront, relaxing in a majestic house with two manicured lawns and all just a stone's throw from the mediterranean sea. If so, then Villa Lola is the place for you.
Larger Villas
Bigger groups also have wonderful options of places to stay whilst enjoying their festival of choice. Villa Madonna is a seafront mansion for up to 14 guests that boasts a heated swimming pool, an array of outdoor Balinese-style lounging areas and a beautiful lounge with glass doors that open to create a fantastic indoor/outdoor area for socialising. Alternatively, we have a 7-bedroom colonial style mansion built in 1940 with separate guest house, beautiful gardens and pool, all spread across a whopping 2000m2 plot of land – welcome to Villa Isla Cozumel.