Utopia Villas
Explore our curated collection of exceptional Sitges Villas
Hand-selected for their unique character and style and maintained to the highest of standards.

A Villa for your every taste
Villas that are a walk to the beach.
Country Houses nestled in the hills.
Magnificent Wedding and Event Venues
Villas for large families and groups
High-End Villas in our Premium Villa Collection
Every Utopia Villa in Sitges has
A Private Swimming pool

Barbecue facilities

Music systems and High-speed Wi-Fi.
Air conditioning
Indoor and outdoor spaces to relax.
Beautiful Interiors 

Our Concierge Service can
Organise Pre Arrival Shopping for guests
Book Your Airport Transfers
Make Restaurant Bookings
Book Day Trips for Guests
Private Chefs and Personal Trainers
Search for the Perfect Boat or Car to Hire.
"I have used Utopia Villas for a number of years with friends and family and have always had a fantastic holiday. The villas they have are exceptionally well presented, maintained and located. As soon as you walk through the gate, you know where their name has come from. To add to the complete experience Emilio, Miriam and the team provide an excellent service. They catered for all our requests no matter how small. We will keep returning for many years I think we'd now be disappointed anywhere else."
Your stay in a Utopia Sitges Villa
A Villa in Sitges promises an unforgettable holiday. You'll enjoy the indoor and outdoor spaces in complete privacy. In a luxury villa, there are none of the constraints and compromises of a hotel or apartment. Your friends and family can enjoy the manicured gardens and private swimming pool in peace.
Sometimes everyone needs their own space. A Utopia Villa will provide just that. Plenty of chill-out spaces, lounges, and discreet areas for everyone. Alfresco dining makes the best of Spain's beautiful climate. All our villas have extensive outdoor spaces for you and your family to enjoy amazing Mediterranean food.
Everyone has a different idea of perfect. Do you want to wake up and have your coffee while you stare over the sparkling Mediterranean? Or a villa a block from the beach? How about a quiet retreat in the hills above Sitges with panoramic views? Whatever you are looking for, you can trust us to find the perfect Sitges Villa Rental for your next holiday in Spain.
Our guests trust us with their most special occasions. Our range of Masias (Catalan country houses) and grand mansions are the perfect backdrop for weddings, anniversaries, and other special events.
Get Inspired with our Villa Collections
What type of holiday or event are you planning? We created the collections of Sitges Villas below to inspire you. If you are finding it hard to choose, our team would be delighted to help you find the perfect holiday house or event venue.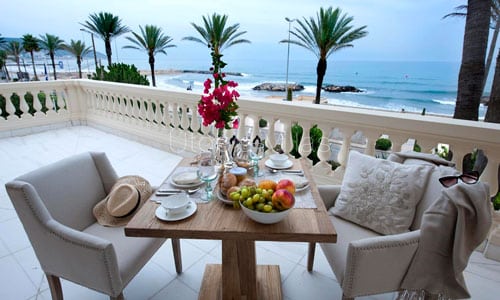 Discover our collection of holiday homes that are a walk from the beach. Some of our beach villas also have the most magnificent views over the sparkling Med. If spending time on the beach is an important part of your perfect holiday, this collection of Sitges Villas is for you.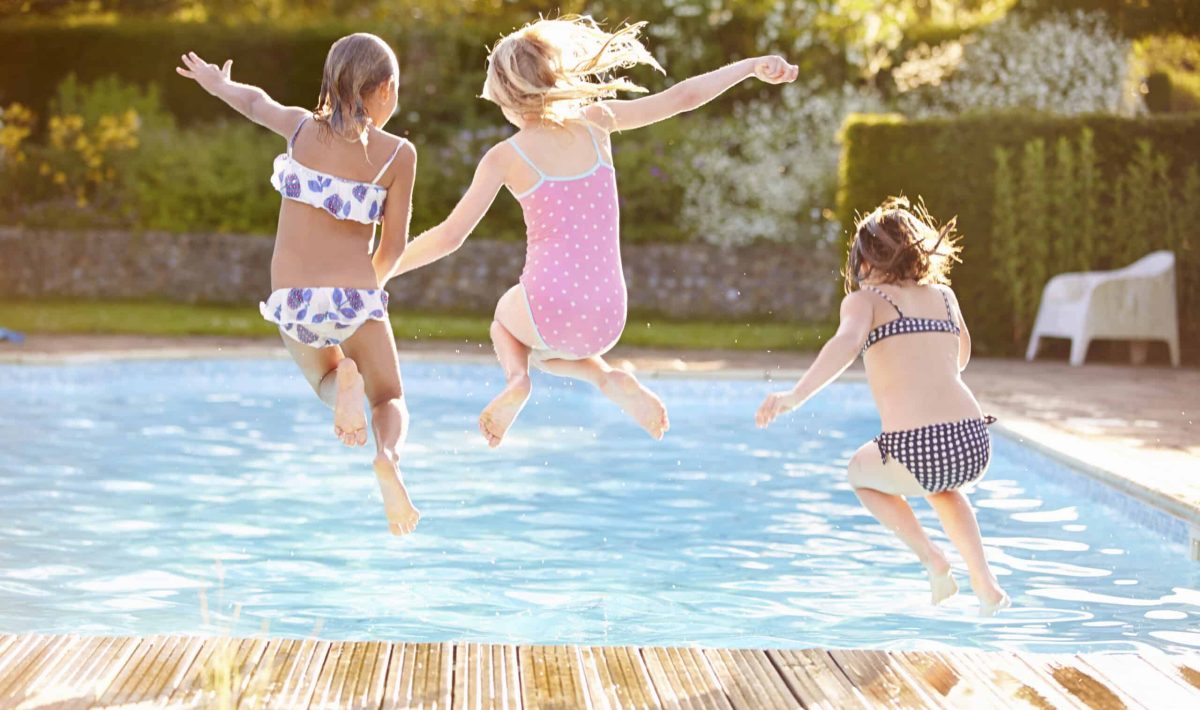 Our exquisite collection of family villas offers spacious accommodations and unrivaled amenities, ensuring an unforgettable vacation experience for all ages. From a spacious garden to an outdoor pool, our family villas ensure that everyone is happy.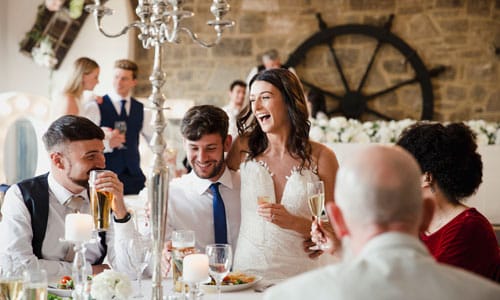 These villas will provide a breathtaking backdrop for your special day, whether it's an intimate ceremony or a grand celebration. All these villas have elegant interiors, manicured gardens, a swimming pool, and multiple dining options.
These villas provide the perfect holiday rental over 30 days. They are also an ideal stop-gap property while looking for a long-term home to rent or buy. Our monthly stays range from a smaller 3 bedroom houses to properties for larger groups.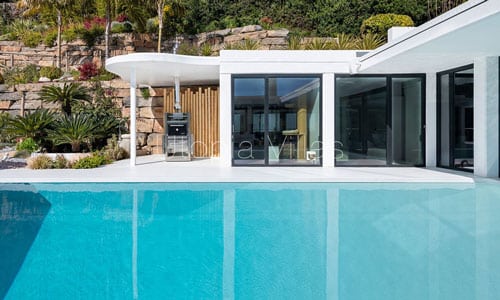 Enjoy our stunning collection of villas near Barcelona, each boasting a private pool and an oasis of relaxation and rejuvenation. Soak up the sun and relax around the pool area all day. Much better than a hotel or apartment!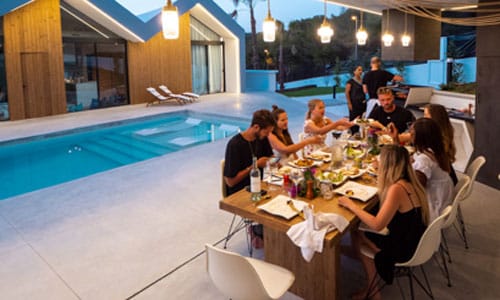 These Sitges villas cater to the needs of big gatherings, whether it be multiple families or a large group of friends. They offer multiple bedrooms and ample space. Top-notch amenities ensure a comfortable and unforgettable stay for everyone involved. 
Indulge in the allure of Sitges
Sitges is a hidden jewel on the Costa Daurada in North West of Spain. It is a beach town famous for its chic marina and historic centre. Sitges has over 300 restaurants to choose from and boutique shopping. You can enjoy sailing, kayaking, surfing, or relaxing on one of the 17 beautiful beaches.
Or you may want to enjoy the Parc de Garraf. It is a playground for those that enjoy hiking, mountain biking, and horse riding in the beautiful Sitges hills.
And Sitges is only 35 minutes on the train from Barcelona. In one of Europe's great cities, you can experience famous architecture, museums, concerts, cuisine, shopping, and more.
And the best part? You don't need to worry about a thing when you book a stay with Utopia Villas. Our complimentary Concierge Service and helpful staff will arrange everything for you. Transport, private chefs, housekeeping, shopping, tours, adventures, and more. We can recommend and book restaurants, bars, and clubs. We are waiting to organise your perfect stay for you.