Sitges is perfectly positioned for those who love walking and hiking. Sitges is in the middle of the Costa Dorado, and adjacent to the Garraf Massif (a mountain range that is the centerpiece of the Park de Garraf, a 12,820 hectare protected area). This location opens up excellent options for accessing some fantastic areas of nature.
There are options that extend from a quick family stroll with refreshments at a local restaurant or bar to multi-day hikes for experienced walkers.
Some local knowledge
The Barcelona company Wikiloc is an excellent tool for finding walks or hikes that suit you. They have over 10,000 routes recorded as starting in Sitges and surrounds.  There is an easy-to-use filter system that allows you to find just the right one to suit you. There is a companion app that will enable you to download routes and follow them in real time on your smartphone. It has directions for all sorts of activities as well as hiking.
The Garraf tourism website also has information on walks and hikes that you can filter to find one that suits you, and all have route and trip descriptions.
If you want to go it alone, here are 3 of our favorite areas for hikes and walks.
Coast route, Sitges to Vilanova i la Geltrú
The Camí de Ronda follows the GR92 from the Cathedral in Sitges to the center of Vilanova i la Geltrú. The route is 7.7kms.  The first 2.7 kms are from the Sitges Cathedral to the end of the paseo.  If you start at Hotel Sunway it is 5 kms.
This easy-to-follow route hugs the coastline. From the end of the paseo drop down onto the beach and then follow the water past Hola beach club. Continue, and follow the marked trail of the GR92 along the sea cliffs. The path passes some beautiful beaches and beach bars, including Playa Del Muerto.  This claims to be the world's oldest gay beach. The trail leads to the vast Playa del Far de San Cristóbal, the beautiful beach at the Eastern edge of Vilanova. Walk across the beach, past the harbor, and you'll have the town on your right. Our favorite is to have a nice seafood lunch at one of the restaurants that line the Passeig Maritim.  After lunch, the lazy can catch a bus or train back to Sitges while the energetic can walk back along the same route.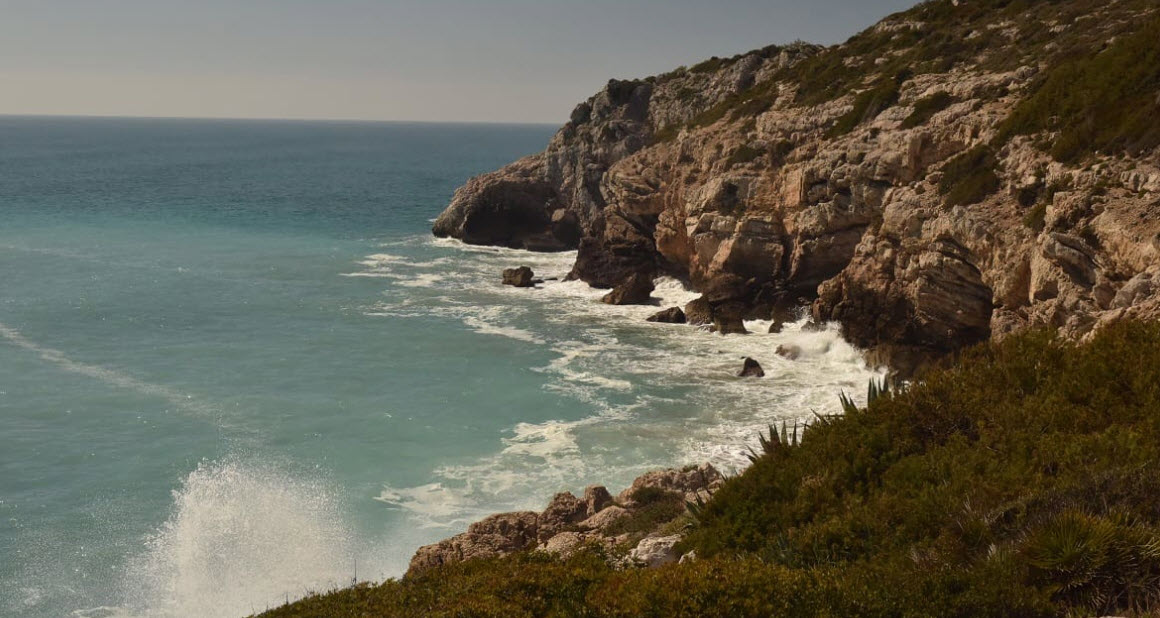 Hiking in the Parc de Garraf
There are endless trails in the Garraf. The official website has a map of 15 popular trails here. We like heading past Lidl and the Elefanta Azul Car Wash (Avinguda Cami Pla 31) either walking up from Sitges or driving the first couple of kilometers as they are a bit steep and not very interesting.  After the car wash, continue straight onto the gravel road about 1.8km's up the hill until you arrive at an open area with large sign boards.  If you have driven, park your car there and start your walk into the Parc del Garraf.  There are great paths that are easy to follow, both left and right from that car parking area. The car park is not far from the shooting club which has a brilliant, authentically rustic restaurant, Asador, that serves simple fare in a very informal setting. It is an excellent reward after a walk.
Another favorite is a trip to the Sakya Tashi Ling, a Buddhist Monastery.  It is housed in a stunning 19th-century villa that was built by a returning residents who had made their fortune in the Americas. The monastery has guided tours and activities if you feel up to it after the walk (see their website for more details). You can leave from the same Elefanta Azul Car Wash (Avinguda Cami Pla 31) described above and follow this trail from Wikiloc. The stunning views and scenery of this hike (around 18kms return) make it a favorite for many. There are some steep hills, but the path is easy to follow, and the terrain is not difficult.
Hiking Montserrat
Montserrat is a spectacular mountain that holds a special place in Catalonian culture. Named "saw mountain" in Catalan for its distinctive multi-peaked profile it has the highest point of 1,236m. The Benedictine monastery is interesting and contains the famous Black Virgin of Montserrat.  You can also find a funicular, cable cars, restaurants, and an art museum towards the top of the mountain.
There are hiking routes all over the mountain, that range from a leisurely stroll to challenging technical hikes and climbs.
This website lists 5 walks from the visitor's center ranging from an easy 3.2km stroll to a more challenging 7.5km route with some steep sections. All are manageable in standard trainers.
The official site lists many more walking tracks with detailed instructions. The site is in Catalan, but Google translate is effective. The selection includes tough walks from the base starting in adjacent villages.
Conclusion
Hiking from Barcelona and Sitges is a favorite activity for many locals. You can access the same beautiful routes from your villa that draw the people of this area out every day. Please contact guest relations (guest-relations@utopia-villas.com) if you have any questions.  They can also arrange transfers or pickups for any hike that you would like to try. Our only warning would be that it can get hot out there.  Please ensure you have adequate water and sun protection to ensure your day is filled with only great memories.
If you are looking for other activities to do in and around Sitges besides hiking, be sure to check out our blog on Sports and Leisure around Sitges.