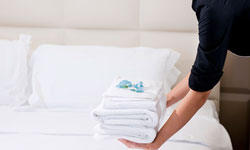 Included in your villa is all bed linen, bathroom towels and pool/beach towels. It is possible to have a linen & towel change during your stay at an extra cost – just let us know which day you would like the change and we will organize it.
With this service you can enjoy clean towels to go as many times as you like to your favorite beach or spend entire afternoons lying beside the pool of your villa. If you like the feel and touch of a freshly washed or are spending several days in the village and want to renew your linen towel, you do not have to worry about making washers and dryers. We want your stay as pleasant as possible and not have to worry about anything. Make your vacation really.
If you would like extra housekeeping during your stay, please let us know your requirements. You can choose from a minimum of 2 hours per day required of extra housekeeping to help with general tidy up, washing up after meals, daily bedroom & bathroom cleaning.
Nobody likes to spend his vacation and having to do housework. Therefore, in Utopia Villas we have contact different prestigious companies in the area so you have to not worry about anything while you spend the day on the beach, visiting a museum or having fun with your family or friends. That easy. A service made for you so you can enjoy more of your holiday. Forget all your worries of everyday life and discover the meaning of the word comfort at its best.
The housecleaning is charged on an hourly basis and our staff work from 9am – 6