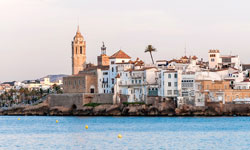 Tours around Sitges and Barcelona
Our tour partner takes guests on personalised private tours – Girona, Figueres, Montserrat even a day trip to France or stay close by and visit the local vineyards – home to cava and Penedes wines . The reviews have been excellent and great value for money for those who might want to leave the beach behind for a day. Let us know how and what you would like to explore and we will put your in touch with our partners.
Thus, you can learn not only charming corners of Sitges, but also from other towns and cities and thus further enrich your experience. Tours service is ideal for those seeking something more than beach on vacation and want a guide to accompany them to discover sites and then take them back to Sitges to return to his villa without complications.
This is a sample tour of Montserrat:
The tour begins at the agreed time and place with a private car with driver and specialized guide to visit Montserrat, the most important mountain in Catalonia, which hosts the Benedictine sanctuary and monastery of Santa Maria de Montserrat.
The monastery is divided in two blocks of buildings with different functions: on one hand you have the basilica, which hosts the Virgin of Montserrat, popularly known as La Moreneta; and on the other the buildings designed to assist pilgrims and visitors. The tour lasts for 5 hours and is intended to give both the cultural background and importance of Montserrat, including detailed tours and time to spend exploring.
If you are lucky, the Escolania de Montserrat, which is one of the oldest children choirs in Europe, sings usually around midday in the monastery. Try to schedule your visit so that you can hear this beautiful choir high in the mountains.
The visit to the museum is optional. On the way back to the city you will enjoy an amazing view of the rocks that have been modified for centuries by the wind and rain into strange and varied forms.