A company retreat costs your company money and takes your staff away from their day-to-day roles. You want a return on your investment, so you want to make the most of your time away. Some of the keys to being successful are somewhat counter-intuitive, and so we've gathered together some of the best tips we can from past clients who have had successful company retreats in Sitges, Barcelona. We've hosted many types of corporate events, including management retreats, executive retreats, team-building retreats, and more.
1.      Have a goal that the team buys into
Why are you going on the company retreat? Is it to focus on an upcoming project, to define the strategy for next year, or to build personal relationships in a remote team? The way you organize the time together will vary considerably, and so you want your goals upfront, so the planning is aligned. The type of corporate event will help you to define this. A management retreat or executive retreat with a focus on strategy will have a very different goal to a team building event for a geographically diverse software development company.
2.      Give as much warning to the team as possible.
You want everyone there, in body and mind. To do that you need to give everyone as much notice a possible. With 6-months or more warning, almost everyone will be able to block out the time, and you are not putting pressure on people to throw their professional and personal lives into chaos.
3.      Create space in your teams work calendar
Where you can, ensure that day-to-day working responsibilities will not intrude into your company retreat. You have a goal (of course you do, you got that sorted way back at number 1.) and you want the team to be able to focus on the retreat. Nothing pulls you out of long term thinking like getting sucked back into your daily slog. Work with team members to ensure that phones can stay turned off wherever possible.
4.      Location, location, location
You are asking the team to come away with you and their colleagues. Make sure that the place you pick for your company retreat is somewhere that the team is excited to visit. Your location should be easy for transport, have access to excellent restaurants, some nightlife, and activities for the team that align with your goals and also with the kind of things that your group likes.  Our clients love our villas in Sitges, Barcelona as a location for a company retreat because:
It is 25 minutes away from Barcelona airport
You have over 300 restaurants to choose from for team dinners
There are plenty of beautiful villas to host the retreat in and house team members
Sitges boasts 17 beaches to enjoy for downtime
Team building activity choices are plentiful.  There is kayaking, SUP boards, hiking, wine tours, Barcelona Tours, tapas tasters and many more options
Our guest relations team takes care of all of the details for you – whiteboards, projectors, in villa shopping, BBQ nights, in villa chef, exercise and yoga sessions…  whatever you can think of.
5.      Make as many people (and the right people) as happy as you can
You can seldom please everyone. Know this, and life becomes much more manageable. For dinners, make sure that you cater for dietary restrictions, but you don't have to ensure everyone's favorite cuisine is covered. Be smart in getting some champions onboard. Who are the influencers in the group? If you can enlist their assistance and buy-in in selecting venue, activities, restaurants, and more then the most persuasive voices are cheerleading rather than sniping.
6.      However… Remember the introverts!
Squeaky wheels get the most grease, this is true. A corporate retreat can often end up catering to the extroverts in the group. Remember that a boozy night in the pub is not going to be everyone's cup of tea, and a karaoke night may be some folks idea of torture. You'll need to think carefully about who makes up your group, and maybe try to draw out some ideas from those who are less forthcoming. A beautiful hike or a visit to an art gallery may be a treasured activity for some in the group.
7.      Over-plan and over-communicate.
Things will go wrong, guaranteed. If you have thought of contingencies and have everyone clear on expectations you'll be in a much better place when something doesn't go to plan. What are you going to do in case of a medical, personal, or work emergency? What if the weather is atrocious? How will you handle any unexpected conflict? What are expectations around session attendance? How much drinking is too much?
8.      Get help!
Organizing a successful corporate retreat takes an extraordinary amount of planning and organization. Make sure you delegate where you can. Get team members to take ownership of parts of specific areas. If the venue has capability, make sure to use their team. They'll know the area and will also have experience in what works best for the place. Pick their brains; it should be their job to help you get the most out of your stay.
9.      Balance fun and focus
Having sessions booked from 8 am to 7 pm might seem like the best way to make sure you get value from having your team in one place but overloaded attendees are disengaged attendees. Be aware that lots of the magic is going to happen in the informal connections made in the gaps in the program. That casual conversation over a coffee, connecting with someone as a tenpin teammate, a perfect question over a beer. These are often the most valuable outcomes from the retreat. Make sure that you have enough structured sessions to achieve the formal part of the agenda (you know, the stuff we agreed way back in number 1) but have downtime and fun time to spark the informal gold.
10. Check the technology and props
Do you have decent internet that will cater for the connectivity you need? Do you need butcher's paper, whiteboards, projects or more? Ensure that you have everything you need, either that you are bringing it, or that is taken care of by the team at the venue of the retreat.
11. Include those who miss out
Inevitably, someone will not be able to attend. Think about ways that you can include them on your return (or even during the retreat.) Bringing back a "My team went on a Corporate Retreat in Sitges, and all I got was this crummy t-shirt." memento may do more harm than good! Can you share a recording of sessions, remotely loop them into some of the discussions, or otherwise involve them?
12. Consider a luxury villa as your venue
Your corporate retreat in a luxury villa may be just what the team needs. The privacy and informal setting, the ability to bring sessions into the place everyone is staying naturally creates those relaxed times to build connections. A catered BBQ night, a themed pool party or even a DJ are all easy to facilitate in a villa and impossible in a hotel. The per head costs of a villa are surprisingly low in comparison to hotels, even with extras like in-villa catering. If you have a larger team, consider splitting the event across two or more villas in close proximity. The multi-venue approach allows you flexibility in session location, and also gives you the opportunity to introduce a competitive edge throughout the retreat!
Sitges, Barcelona is the perfect location for your company retreat
Located just 20 minutes from Barcelona international airport, Sitges Barcelona offers the perfect blend of small-town charm and big-city amenities. With a wide range of restaurants, bars and activities Sitges will be a favorite destination from even the most demanding in your team. The Utopia Villa's team is expert in assisting retreat planners to get the most out of every moment. Regardless of the type of retreat, our guest relations team is standing by the help you bring your plan to fruition in a luxury villa in beautiful Sitges.
Here are a few Villa options to start your location research off in the right direction:
This large villa is located right on the seafront of Sitges, a walk across the road to the beach for your breaks and team building events.  Inside, there is plenty of room for the team to relax as well as a huge dining area which is perfect for the serious planning side of your retreat.  Outside, there are large manicured lawns and a stunning pool to enjoy and why not let us organise a BBQ for the team while you relax?  The villa has 7 bedrooms and we can organise another villa close by for any other team members that you have attending.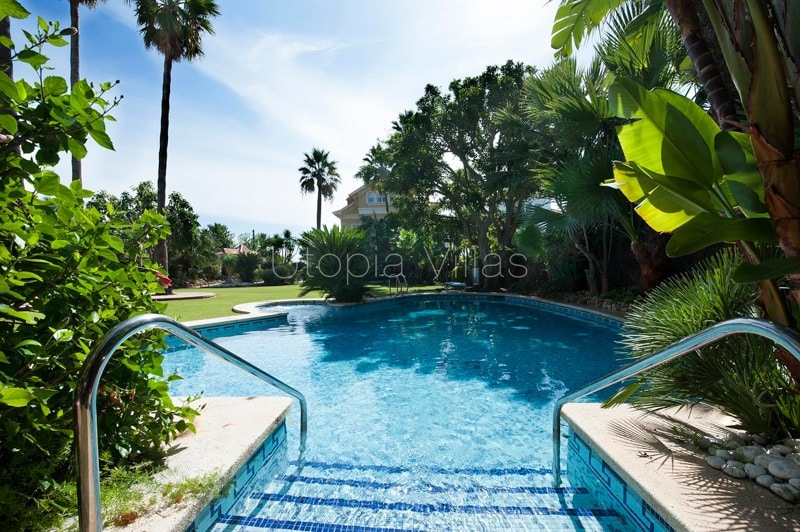 This villa will be a favourite amongst those in the team that like style and luxury.  White minimalist furnishings and views across Sitges from every room make this a memorable place to stay.  The open plan living area is spacious and perfect for meetings and team building events.  When it is time to relax, enjoy the internal pool, outside pool and jacuzzi.
For our full range of villas suitable for Corporate retreats click here