Sitges is justifiably famous for its choice of restaurants. It is said that there are 365 restaurants in Sitges, one for every day of the year. While we can't vouch for the truth of that, we can guarantee that even the most demanding of diners will find more than enough to satisfy them here. To help you hit your gastronomic highlights, we have a rundown of our top 5 in each category.
The Sitges restaurant scene changes all the time. As we discover new places, we'll update this list and highlight our seasonal culinary stars.
Breakfast
"Why, sometimes I've believed as many as six impossible things before breakfast."
― Lewis Carroll, Alice in Wonderland
Breakfast in Spain is traditionally a sweet pastry or a bocadillo (a sandwich served on a baguette) and a coffee. A vast English fry up is not a Spanish tradition, so you will have to look a bit harder to find a restaurant that will serve this early in the day. Here is our pick on early morning coffee places and places you can get a more English Style breakfast/brunch
(Av. Camí de la Fita, 10)
We think Bloom has the best coffee in town as well as healthy, gourmet sandwiches and delicious cakes! It has a laid back atmosphere, good service, freshly squeezed juices, amazing smoothies (Acai being our favourite) and all the essentials for a satisfying Spanish breakfast.  Bloom is a bit out of the centre of town in the area of Poble Sec but it is worth the five-minute walk for a great coffee!
Avenida Sofia 3-5, Sitges
Perfect for breakfast, brunch and all-day snacks. Great selection of juices and smoothies and a variety of brunch/breakfast options. Being close to the beach it is a great spot to go to just before you hit the waves. While breakfast offers some great choices they also have some fabulous sandwiches and a good selection of burgers, curries and salads if you feel hungry later in the day.
Avda. del Camí Pla 27 (Poligono de Mas Alba)
The coffee shop of this e-bike rental store is definitely worth a trip. It is located in the Poligono de Mas Alba, so not in the centre but if you go you will be rewarded with freshly ground coffee and wholesome brunch options. While you are there, you might be inspired to hire one of their amazing e-bikes and take to the hills of the Garraf. They also organise workshops to include a cycle, meditation and yoga followed by a healthy brunch including Acai Bowls, Porridge, Shakshuka and lots of freshly baked goods.
(Carrer Major, 50)
Come here for baked delights in a well-designed interior, including vegan cakes. A nice place to read the paper and have another coffee.
Carrer Espalter, Sitges
This is a very special little place in Sitges. So much more than cake  This coffee shop has a cosy atmosphere and an all-round good feeling.
They have wonderful breakfast bagels and a great choice of burgers including vegan burgers. And yes of course for that special occasion they also do fantastic cakes and dessert.
Lunch – Menu Del Dia
"Destiny may ride with us today, but there is no reason for it to interfere with lunch."
In addition to the usual al la carte option many Spanish restaurants will offer an excellent value "Menu del Dia", a set lunch menu with two or three choices of a starter, main, and dessert with a drink thrown in for around €20.  This throwback to the Franco era has become a staple across Spain, and for Spanish people is often preferred to a dinner in a restaurant. In fact it is a very good way to trial a restaurant – if you like their menu del dia, you will most likely enjoy their 'a la carte' for dinner.
(Av. del Port d'Aiguadolç – 930 10 75 32)
In the Port of Aiguadolc Vila Marina is a lovely spot to spend a few hours. If you can snag a window table, the people watching can be fabulous. The menu is simple but well done using good fresh produce. Service is cheerful, and the vibe is unhurried. First recommended to us by the owner of one of Sitges' most famous restaurants (we'll get to Alfresco later) as the spot he goes to relax. Dinner here is good too.

(Espigó de llevant, s/n – 930 00 65 10)
The yacht club on Fragata beach has a restaurant with fabulous views across the arc of Sitges' beaches. The restaurant runs alongside a sea wall and so you feel as if you have the ocean all around you when you are eating on their deck.  Their menu del dia lives up to the setting. Seafood is the first pick here, but the meat dishes won't disappoint either.
Xampu Xampany
(Passeig de Vilanova, 6-8 – 938 16 88 57)
Easy to walk past as it is on a busy road but stop in if you can. An excellent value lunch menu washed down with an ice-cold beer is worth your time. Again, you'll be surrounded by locals here, and the happy buzz shows the quality and value of the offering.
(Carrer de l'Illa de Cuba, 39 – 938 94 35 16)
This Gallaecian restaurant is a local favourite, and the menu del dia is of excellent value. The staff has been around for ages, and their familiarity suits the simple interiors here to perfection. Portions are hearty, so head in with an appetite!
(Carrer de les Parellades, 63 – 938 94 34 93)
This gem has a beautiful interior and food to match. Cheerful service and very drinkable house wine all add to an excellent lunch. This is a popular restaurant and if you are aiming to eat after 1:30 a booking is recommended.
Fine Dining
For a special occasion, or just because you deserve it, there are some excellent fine dining Sitges restaurant options for you to spoil yourself.
(Carrer Bonaire, 25 – 938 94 82 62)
A sharp modern interior and a menu to match. Their matched degustation menu is much loved, and great value. A well-curated wine list that is worth sampling at length if you can, and a beautiful courtyard add to the package. Well worth your time and appetite! A fresh list of classic cocktails is augmented with a few twists on old favourites. It's dark interior and boudoir curtains gives it much romantic charm.
(Carrer d'en Pau Barrabeig, 4 – 938 94 06 00 – alfresco@alfrescorestaurante.es)
For a romantic dinner, a special occasion or just because you want a fabulous experience, Alfresco is your destination. Amazing fresh local produce, attention to detail, creativity and imagination all inform the menu. The service is crisp, and the wine list has a wide selection of local and not so local treats so do take the time to ask your server for a recommendation. The prices are slightly higher than other spots in Sitges, but very few complain after they have visited this gem.
(Carrer de Sant Bonaventura, 5 – 937 68 22 41)
It may sound like a strange mix, but the fusion of foods from Peru, England, Catalunya & Lebanon that make up the menu is a delight.  This is a beautiful little restaurant where you are treated like an old friend with service that always has a smile. They also do an excellent menu del dia and the gin tonics are good too!
(Carrer d'Espalter, 23 – 938 14 61 15)
Off the beaten path but well worth hunting out. Local produce to produce local cuisine. Sounds simple but here it is done to perfection. Again, a great wine list (and the staff advice is excellent), unobtrusive service, and a kitchen that knows exactly what it is trying to do makes for a great night out.  The Nebraska steak and blood sausages make many visitors favourite meal list.
We strongly recommend trying their menu del dia also!! Great value for money!
La Fragata
(Passeig de la Ribera, 1 – 938 94 10 86)
Nestled under the cathedral and opposite the yacht club, this is an ideal setting for many. Seating inside or out is comfortable. The menu is extensive, and the service is excellent. The seafood options here are famous for a reason.
Family Friendly & International Cuisine
Spanish cuisine is justifiably famous, but sometimes a few familiar favourites are just what the kids need. Head to these spots to keep the family happy.
(Passeig de la Ribera, 33 – 935 16 81 36)
A great lunch or dinner spot that often has a queue to get at the huge salads, vegetarian burgers, fish, ribs and more. Some Asian classics round out this menu, and the freshness of the ingredients make this stand out. As an outdoor restaurant on the beachfront, this is a great people-watching spot as well.
(Carrer de Francesc Gumà, 21 – 938 11 06 24)
Seriously good burgers, American style. They are big (and in the case of the widowmaker burger, HUGE) and tasty and there's a wide and well-curated selection of regional craft beer to wash them down with. Famously offers both types of wine, red and white. There are a couple of vegetarian options, and the halloumi burger is seriously good.
(Carrer de Sant Gaudenci, 9 – 938 94 30 46)
Burritos, Nachos, Quesadillas, Tacos, all in a Southern California surf setting. Prices are reasonable, service is quick, and the portions are generous. And a frozen margarita on a hot day might be just what you need.
Carrer de Sant Pau, 5
New to Sitges in 2022 and a wonderful addition for tasty Mexican bites. If you feel the need for Mexican flavours this is one of the the best you will find in Sitges – admittedly Corazon de Agave ranks highly in our opinion too but we have picked this one which reflects street food with innovative vegan options. All the tacos are homemade and the nachos too!
(Lugar Port Alegre – 938 94 70 11)
For the family of many tastes, this 3-in-1 restaurant on the beachfront may solve your problems. Three restaurants with separate kitchens but you can order from any of the menus while at the same table. Does the family want steak, pizza, and sushi?  That is not a problem here. All are of good quality, and the separate kitchens mean that each cuisine is done well.
High-end Tapas Restaurants
When you think of Spanish food tapas is often what comes to mind. The social experience of shared plates and being able to sample a wide range of dishes makes this style of eating a favourite. These are our 5 favourite high-end tapas restaurants.
(Carrer de l'Illa de Cuba, 9 – 938 94 93 32)
Tapas with a twist,  many Asian flavours and sensational shared plates. A shortish menu but done exceptionally well. I love that they could cram another 4 tables in here but have chosen not to, it makes the dining experience relaxed and enjoyable. Service is crisp, and I always am always pleasantly surprised when the bill arrives as Nem offers great value for your money.
Els Jardins del Retiro
(Carrer d'Angel Vidal, 17 – 977 78 13 51)
This tranquil gem is in the gardens of the Retiro cinema complex. There is outdoor and covered seating to allow you to enjoy the delicious food come rain or shine.
(Carrer de Sant Pere, 3 – 938 11 02 85)
Work your way through the menu – it is hard to go wrong. Either lunch or dinner is enjoyable, and the friendly staff will help with the excellent local wine list. Squeeze in at the bar a grab a "pica-pica" and a drink while you wait if there are no available tables.
Cafe de la Plata
(Passeig de les Drassanes, 32 – 938 94 90 81)
Another pick from the beautiful Port Aiguadolc. Fusion and a new take on old favourites are the standards here. The food is well-executed, and the flavours are sensational. There are usually plentiful options for vegetarians on the menu, though this does change from time to time.
Tapas bars
A more traditional take on the tapas dining experience is a bar where you can sit at a table, or just eat a tapa at the bar with your drink and move on. These places generally won't take a booking, but you are welcome to stand and have a Caña or a Cava a table will free up soon enough.
(Carrer Barcelona, 1 – 938 94 87 61)
A classic tapas bar and said to be one of the oldest in Sitges. It's often full but the tables turn over quickly so if you don't have a booking just stand at the bar with a drink until one of the busy waiters find you a spot. A great atmosphere, good local food, traditional staple tapas and some with a twist, local wines, and reasonable prices make this a firm favourite with many Sitges locals.  Try their Patatas Bravas – delicious!
Izarra
(Carrer Major, 22 –  938 94 73 70)
The wooden sign out the front, the Jamon Iberico on the bar, and the homemade vermouth are all testaments to what you'll find in there. Classics done well with an atmosphere to match. Great value regardless of whether you are stopping by for a pincho and a glass of cava at the bar or sitting down to sample a bit more widely.
La Guria
(Carrer de Sant Pere, 30 – 935 16 96 85)
Cosy taverna that sends out incredible volumes of delicious food. Pinchos and share plates make this a fun, social meal with no pretension. There is always a buzz, and often a queue but even if you do have to wait for a little while it is well worth it.
El Donostiarra
(Carrer Major, 14 – 938 10 22 62)
A beautiful bar with a traditional feel, the food here is excellent and the service cheerful. As it fills up fresh trays of pica pica flow in staggering volumes.
L'artemisa
C. de Sant Pau, 19,
This restaurant has found its place among the best tapas in Sitges – the food quality and the friendly service assure an excellent dining experience. it's a small restaurant and booking is essential – you will want to return before your stay ends. Top of the list to order: the chicken croquettes and the prawns, oh and the tuna tartar, the cod… ok you see it's hard to stop. Just go!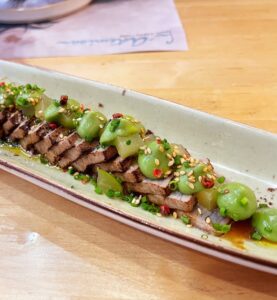 Vegetarian options
Although many Sitges restaurants will have some vegetarian options on the menu here are our picks for a more extensive choice.
Dosa Nova
(Carrer Santa Tecla, 5 – 676 51 18 92)
Vegan, gluten-free and vegetarian options are all available in stunning homemade dosas. If you don't know what a dosa is, it is a cooked flat thin layer of rice batter, similar to a crepe in appearance.  It originates from the Indian subcontinent. The fillings are seriously fresh and tasty!!  Serving a local craft beer on tap helps!
Carrer primero de Mayo, 1
Beautiful colourful vegan dishes. Mostly inspired by Nepalese & Mediterranean foods. A host of sensations and textures wait for you here.
(Passeig de la Ribera, 33 – 935 16 81 36)
You will find huge salads, vegetarian burgers and other vegetarian options here.  They also cater for your meat eating friends so it is a good all round option for a group.  Great people watching too as this is close to the paseo.
(Avinguda d'Artur Carbonell, 14 – 938 07 18 34)
A modern vegetarian Indian restaurant that uses herbs and spices to great effect. Friendly staff, and an easy menu that shows vegan and vegetarian options in a nice space make this an excellent choice for couples and larger groups.
(Carrer de Sant Pau, 36 – 931 22 29 48)
An Indian restaurant with a great selection of curries, including a wide range of vegetarian options. Good value, good food, and good service. Good value and all meals are available to take away if you prefer.
Bars
Here are a few places to try if you are after a drink. Some do serve a limited menu, but these are more places for a drink and a chat.
(Carrer de les Parellades, 43 – 665 60 06 93)
A late-night speakeasy that serves delicious (if deadly) cocktails. Live music, skilled bar staff, and the famed tub make this a nightspot to remember.
(Carrer de Sant Bartomeu, 10 – 931 18 75 38)
This local craft brewery serves a selection of their award-winning takes on some classic beers. There's a pool table in the back – grab a beer and a pretzel and settle in.
Cafe de la Plata
(Passeig de les Drassanes, 32 – 938 94 90 81)
Our choice if you are looking for a drink in the port. As well as being a restaurant you can sit at the bar here and enjoy excellent wines, cocktails and more. And if you do get hungry, the food is excellent.
(Paseo Balmins, s/n – 938 94 21 49)
The spot for a sunset drink, outdoors, days beds, table service, cool tunes, and the views… just remember to leave eventually!
Seafood, Rice and Paella
(Paseo de la Ribera, 60-62 – 93 894 33 93)
"Our Sea" as a name lets you know what the specialty of the house is. Beautifully situated on the seafront, this is a great place to enjoy fresh, local seafood. The rice dishes here are excellent. Good service, a lovely terrace, and a pleasant atmosphere adds to the appeal of this restaurant.
(Carrer de l'Illa de Cuba, 39 – 938 94 35 16)
While a little off the tourist track, this is a simple local restaurant with excellent service that delivers delicious seafood. Octopus, calamari, prawns, fish, lobster, and more exotic shellfish are all good here. The service is friendly, and the menu del dia is excellent value with a selection of options and prices.
(Passeig del Port d'Aiguadolç, Nº 2 – 93 894 20 58)
Down in the Port at Aiguadolc, this is a favorite with many. Good, authentic Catalan and Mediterranean cuisine with a focus on seafood. The rice dishes are excellent here. Service is good, and the outdoor area alongside the beautiful port is a lovely spot for lunch or dinner. With due warning, they are happy to accommodate very large groups.
(c/ Carreta 21 – 938 94 33 49)
Famous for the Arroz Caldoso, a brothy rice dish but all the seafood on the menu is excellent. Take your pick from the perfectly prepared options and wash your meal down with one of the delicious local wine selections on offer. Again, service is excellent, and the interior of this "castle" has a unique atmosphere, especially for a romantic meal.
( Passeig Marítim, 1-3 – 650 91 96 25)
These guys love rice (spell their name backward, and you'll see how much), and they know just how to make both traditional and unique paella. There are also non-rice dishes and tasty fresh salads on offer. The food is fantastic, the setting is lovely, and the service is friendly and efficient. The staff is knowledgeable about the menu and drinks and so do ask them for advice if you have a query. The bar staff mixes up some excellent cocktails here as a bonus.
So what do you think of our selection?  Is there a different restaurant or bar that we absolutely should have included?  Let us know what you think and we may well add it to our next update.