Barcelona's restaurants and markets are famous throughout the gastronomical world, and we have a fantastic guide to help you experience the best there is. Suzy Taher writes the fascinating blog, Foodie in Barcelona. She chats to us to give you the inside scoop on the best restaurants in Barcelona as well as some wonderful markets.
As Suzy says, "Every culture is different… and I try to access that through their food." We share a quick walk-through of the highlights of Catalan food culture and the seasonal produce and dishes it is famous for. We talk about the best markets in Barcelona to find fresh produce and local delicacies. And we explore the best dining experiences Barcelona has to offer.
Which are the best restaurants in Barcelona? As Suzy says, "It depends on the occasion, the group and what you are after." From a casual tapas meal to Barcelona's best fine dining experiences, Suzy shares her secrets in the video below.
Filmed at the beautiful Villa Isla Cozumel.
———————————————————————-
Markets in Barcelona
There are 40 municipal markets in Barcelona! Suzy recommends the following:
In the heart of Barcelona on Las Ramblas, you will find this gem. Although it gets a bad rap because of the number of tourists that visit, it is still the best market in Barcelona. Here, you get the best selection of products and ingredients, for example, mushrooms, herbs, spices, fish, sweets, and chocolates.
On Av. Francesc Cambó 16, you will find this market with its colourful undulating roof. It represents the colourful and delicious produce that you will find inside for sale.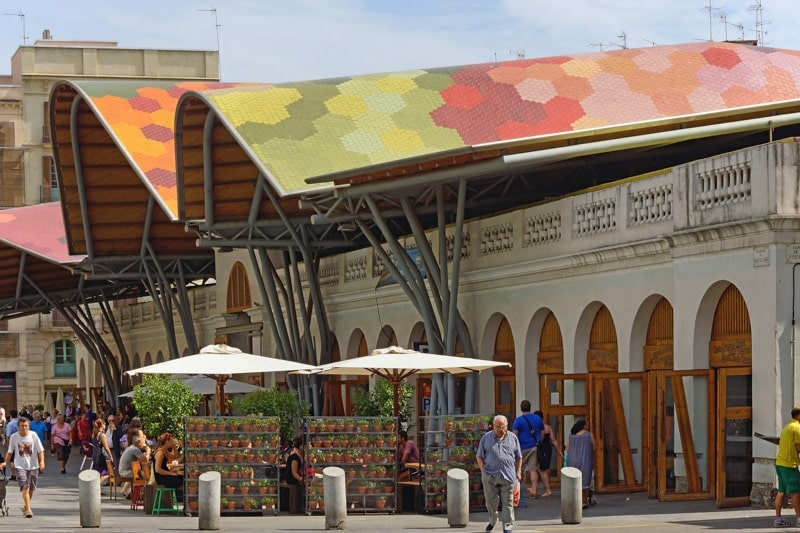 Tapas Restaurants
Check out Suzy's top recommendations for tapas restaurants:
Tickets (+34 932924252)
If you can get a reservation at this hotspot, do it! You don't even have to work out what to order; tell them how hungry you are, and they will put something together for you. Everything that you try will blow your mind. It is like a food festival or carnival. An exciting and fun environment.
This tiny Barcelona institution opened in 1914 to sell the owner's homemade wine. Four generations later, his great-grandson Joaquim Pérez runs it. It has garnered a reputation as one of the best tapas bars in the city. At 6 pm there is a queue outside waiting for the doors to open. There is standing-room-only inside for 20 customers who prop themselves at the stainless steel counters or high-level tables. The room is lined with wine and conservas (tinned foods) that are the basis of many of its most famous creations. Try their montadito (bread with a topping) with anchovy, baked red pepper, tomato relish, and olive. Yum!
In the heart of El Born, this place has a traditional tapas bar vibe with encaustic tiles and wooden bar stools. It is always busy and has a really fun vibe. It serves a few of the classics but is more known for its creative concoctions with an Asian twist. Such as shaved mushrooms with strawberry and wasabi. It takes its wine seriously, too; a great selection of local, organic, and natural wines.

Fine Dining
Suzy's choices for fine dining restaurants in Barcelona:
A converted tyre factory is the startling home of this huge kitchen with tables from twin brothers Javier and Sergio. The menu experiments with juxtaposition. Expect contrasting textures and temperatures, daring new takes on Catalan "grandma" dishes, and unexpected flavour combinations. All this in an all-black room, reminiscent of a theatre. But it is the chefs and their creations are the stars of the show.
In 2022 Disfrutar was voted the third best restaurant in the World.  A beautiful light and airy restaurant where the food isn't always what it seems! I don't want to spoil any surprises; suffice to say that your senses will be delighted. Do allow a few hours for this. It is an experience that can't be rushed. With 17 courses on the tasting menu, what do you expect? The wine pairing is worth it if you can hold your alcohol! It is rather a lot! But delicious and well-thought-out.
Direkte Boqueria started as a food stall and is now a tiny restaurant on the side of the Boqueria Market. The 12 diners perch on stools around the open kitchen counter and witness the food creation in action. In 2018, Arnau Muñío was named Chef of the Year at the prestigious Gastronomic Forum of Girona. The exquisite balance of umami in this oyster gyoza dumpling with its "capipota" sauce, is astonishing. And the matcha cheesecake rounds everything off perfectly. There is lunch and dinner seating, and the menu is only €60 for 9 dishes.
So that is our guide to the best food and restaurants in Barcelona, but there are many, many more. For more tips and advice:
—————————————–
Read Suzy's Top 5 of everything in Barcelona