Sitges has the incredible advantage of being on the doorstep of the famous city of Barcelona. In less than an hour, you have access to the international airport, shops, museums, restaurants, and attractions of one of Europe's greatest cities. You can head to Barcelona, shop, have lunch, sightsee, and be back in Sitges for a sundowner cocktail. It is a great day trip to add to your Sitges adventure.
Here we'll let you know all the options for getting to Barcelona and back.
Transfer or taxi
The best way to get to Barcelona and back if you are a guest of Utopia Villas is to let our guest relations team arrange a transfer or taxi for you. Nothing beats the convenience of your own driver picking you up from your villa, taking you directly to your destination and being there to bring you home when you are done. Utopia Villas uses only safe and reliable drivers with well-maintained vehicles at rates that are very competitive. Either visit our Concierge Page on our website or email us on guest-relations@utopia-villas.com.
Train
There is a regular suburban train service from Sitges to Barcelona. The trains are clean and comfortable with air-conditioning. Outside of rush hour, there is usually somewhere to sit down on most services. Trains run almost every 15-20 minutes. An adult ticket costs 4,10 euros each way. Renfe is the operator, and you can search for services and times on their website here.
Trains leave Sitges on the station side platform to go to Barcelona. The best stations to access many of Barcelona's key attractions are Passeig de Gracia, near Casa Batlló (approximately 35 minutes) and Estacio de França which is close to Parc de la Ciutadella (approximately 45 mins). Estacio de Franca is the last stop on the line, so you'll know you won't miss this stop near Barceloneta and El Born.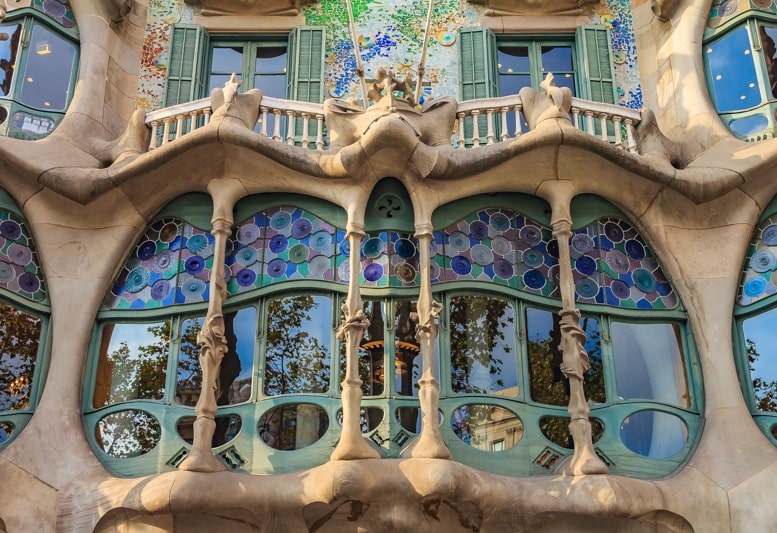 Passeig De Gracia and Estació de Sants also have access to the Barcelona metro in the station.
Regional train connections mostly leave from Estacio de Sants.
Getting back to Sitges from Barcelona can be done from the same three stations (Estacio de Sants, Passeig de Gracia or Estacio de França). Check the station information boards for time and services. Very important to know that the only trains that stop at Sitges are those that terminate at Vilanova I la Geltru or St Vincent de Calders – either of those services will get you home.  A few people have been caught catching a train going to a different destination and end up saling past Sitges.
Surprisingly, train services stop running around 23:30 so check the time in advance if you plan on a train trip home.
If you want to return after 23:30 booking a transfer in advance, the night bus (details below), or a taxi are your best options.
Bus
There is a regular bus service provided by MonBus which runs from Sitges to Barcelona and return. Buses run almost every 30 minutes and leaves Sitges from the main bus stop just up from the railway bridge on Passeig de Vilafranca. The buses are clean, comfortable and air conditioned. The Mon Bus website is easy to use and has an English option.
Some of the Mon Buses stop at Terminal 1 at Barcelona airport and some go directly to the city. The stops in Barcelona are at Plaza Espanya and Ronda Universitat. It takes just under an hour and costs just 4,10 euros. There is a 3-euro supplement if you are travelling to the airport.
The MonBus also offers an excellent night service for those who prefer to return to Sitges after the last trains at around 23:30. The night bus service runs almost every hour until 5.45. The bus leaves from Placa d'Espanya on the Gran Via De Les Corts Catalanes (C31) – If you search for Pl. Espanya – FGC in google maps it will give you the bus stop location. You can check the times here.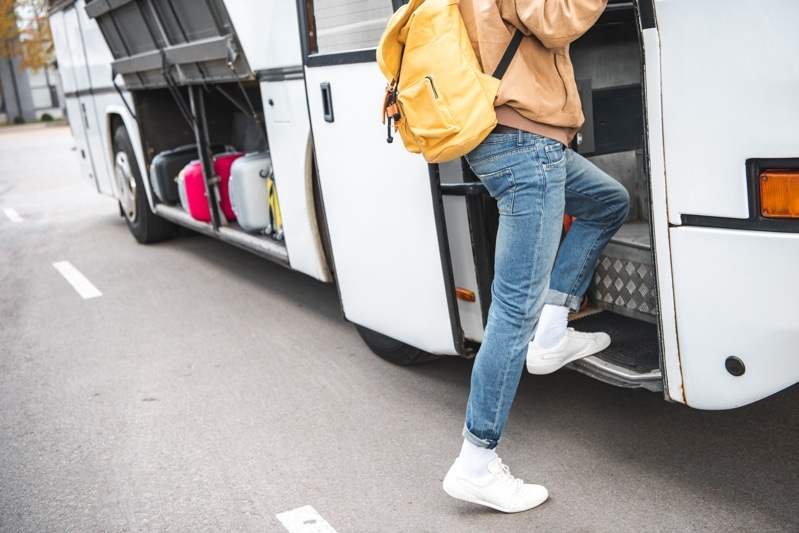 Car
Driving in Barcelona can be challenging with strange junctions, mopeds everywhere, and lots of traffic. If you are visiting we advise that you take public transport. If you do have to drive in however, here is how to do it.
There are two ways to drive between Sitges and Barcelona. The motorway (the C32) charges a toll of around €6 each way. For your money, you get to cut out about 15 minutes of travel time. The old road (C31) winds along the coast. It is narrow, with one lane in each direction and much loved by cyclists so it can be very slow. There is nowhere to overtake along the 12 km stretch but the views along the ocean are beautiful, and there are several lookout points with safe parking if you want to take a photo or just enjoy the view.
Parking in Sitges
During the season on-street parking in Sitges becomes competitive. There are several parking garages as well as a municipal car park near Can Robert (Carrer Víctor Balaguer, 1). Parking inspectors regularly patrol, especially near the beaches, so we don't recommend parking illegally. If you are fined in an area with payment machines, then you can often pay a much-reduced penalty immediately at the parking payment machines. Details will be on the infringement notice.
Parking in Barcelona
There are parking garages all over Barcelona, and one is never far away. They do vary considerably in price, so you'll need to be clear on what you are paying. Pre-booking parking from a site like Parkimeter or Parclick gives you clarity on pricing, location, and ensures you a spot. On street parking is difficult to find in season and parking inspectors are often on patrol.
Getting to Barcelona airport and back
A pre-booked transfer is the easiest way to travel to and from the airport. Again our guest services can arrange this for our guests.  Click here for further information.  Taxis are usually available and will cost around €60.
The MonBus service also runs regularly to the airport (around every 30 minutes on weekdays).  From Terminal 1 at the airport, you can catch this bus from bus stand 7.  From the Arrivals Hall proceed past all of the car hire companies, through the glass doors and down the escalators to the ground level.  When you come outside turn right and you will see Bus Stops and Bus Stand 7 is the first one that you come to. If you arrive in Terminal 2 then you need to catch the regular, free shuttle bus to Terminal 1.
The MonBus leaves from Can Robert in Sitges (near the big Sitges sign as you enter Sitges) and just up from the railway bridge on Passeig de Vilafranca.  It is only one stop in the bus to the airport in a pleasant air conditioned bus.