Sitges is famous for its annual Carnival. It is known as one of the top ten carnivals in the world! Carnival in Sitges attracts about 300,000 visitors every year. It lasts for seven days and has something for everyone; young or old, gay or straight. So, if you can't make it to Rio and you want a taste of Mardi Gras closer to home, welcome to Sitges Carnival!
What is Carnival?
Carnival is well known for its all-around debauchery and fun-filled days of partying. Some people forget Carnival is actually a religious fiesta. Carnival in Sitges marks the last hooray of excesses before the religious period of Lent. (When Jesus Christ spent 40 days and 40 nights in the desert). The word carnival actually comes from 'Farewell to Meat' or 'Farewell to Flesh' – interpret that as you wish!
History of Sitges Carnival
The history of Carnival is over 100 years old. The tradition is strongly tied to the country's colonial roots, having originated in Trinidad & Tobago. Carnival in Sitges made its way back to Spain with those returning having sought their fortunes in the Caribbean. Fat Tuesday, Shrove Tuesday or Mardi Gras are all common names for the festival.
The King and Queen of Carnestoltes arrive on the Thursday of Carnival to announce a period of partying without limits. This partying lasts until Ash Wednesday, when the burial of Carnestoltes takes place. There is a huge amount of symbolism used during the fiesta not least the burying of a sardine on Ash Wednesday.
Sitges Carnival Calendar 2023
Thursday, Feb 16, 2023, Dijous Gras (Fat Thursday)
The first day of the carnival kicks off when the King of Carnival, King Carnestoltes, officially opens it with a vibrant and colourful celebration.
Saturday, Feb 18, 2023, La Cursa de Llits (Annual Bed Race)
The silliest part of the carnival is this hilarious annual bed race. Don't miss it!
Sunday, Feb 19, 2023, The Children's Parade
Perfect if you have kids in tow. Two Children's Parades take place in the daytime on Carnival Sunday and Tuesday. They feature 1000 participants, 20 floats and 20,000 spectators.
Sunday, Feb 19, 2023, Rua de la Disbauxa (Debauchery Parade)
As the name suggests, this is a wild night of fun. Around 50 floats and 3000 participants usually parade through the town with music, dancing and crazy shenanigans in the streets.
Tuesday, Feb 21, 2023, The Children's Parade
Same as on Sunday.
Tuesday, Feb 21, 2023, Rua de l'Extermini (Extermination Parade) 
Another night with a massive parade and a similar number of floats and participants. This is the final big party of the carnival. Expect to party all night!
Wednesday, Feb 22, 2023, Ash Wednesday – The Death of the King
Most revelers are exhausted from the previous days of partying, but the show goes on and the Sardine must be buried. A hilarious affair usually with mourners in tow (Drag Queens dressed in black) grieving for the Sardine. Or, more likely just nursing their hangovers!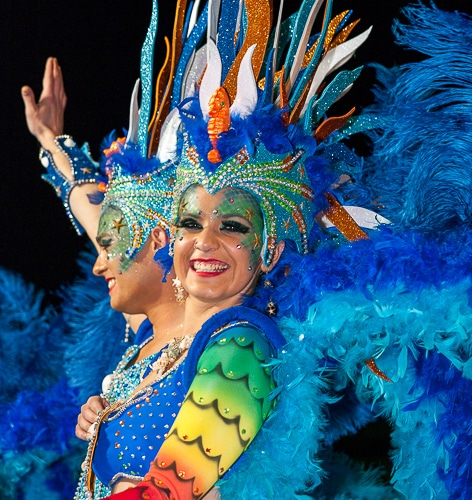 Carnival Equals Costumes
Taking your costume seriously is fundamental to a good carnival experience. Anything goes from raunchy costumes to cartoon figures. Friends get together in groups and dress according to an agreed theme. One thing is for sure if you want to truly enjoy the spirit of Carnival you need to get dressed up.
Carnival in Sitges reaches everyone
During Carnival, the King and Queen of Carnestoltes visited schools, hospitals, and nursing homes. Taking the fun to those who cannot get out onto the streets. Everyone lives and enjoys the party atmosphere – and there is no avoiding it!
What else is there to do in Sitges?
Like live music? There are many sound systems around the town, with loads of free concerts and entertainment you can enjoy.
Throughout carnival week, all the bars and nightclubs will be buzzing till well into the early hours. Gay or straight, there is a party with your name on it.
Want to take it a little slower? Don't worry. Sitges boasts an abundance of great restaurants and tapas bars where you can escape the mayhem and enjoy good food and conversation.
In the daytime, the weather might be warm enough for the beach if you're lucky. Maybe don a wetsuit and try a new water sport? It will certainly be perfect for taking lovely long walks in the Garraf or maybe a bit of mountain biking. And don't forget Barcelona is only 36 mins by train if you want a bit of city life, shopping and culture.
So Why Should I Visit Sitges Carnival?
Because seven days of mayhem is just what we need at the end of a long grey winter at home! If it coincides with half-term for you then 2023 is the year to make it happen! So get the flights and villa booked then get planning those costumes! Sitges Carnival awaits.
Where to Stay for Sitges Carnival?
Carnival is definitely best enjoyed with a group of friends or family. This is why staying in a luxury Sitges villa together is by far the best option. That way, you can come home and carry on your own private celebration! Or you can take a night off from the craziness and just chill with a lovely meal together. You can nurse your hangover on a poolside lounger if the weather is nice. And the villas are always a little more tucked away from the action than a hotel in the town where sleeping may be tricky!
Here are our top villa choices for Carnival 2023
This wonderful seafront villa has spacious interiors and 2 enormous flat lawns. With 6 bedrooms that can cater for up to 14+ people, this stunning colonial villa offers both luxury and location. Located on the Paseo Maritimo, this privileged location on the promenade of Sitges is just walking distance of everything that the carnival in Sitges offers.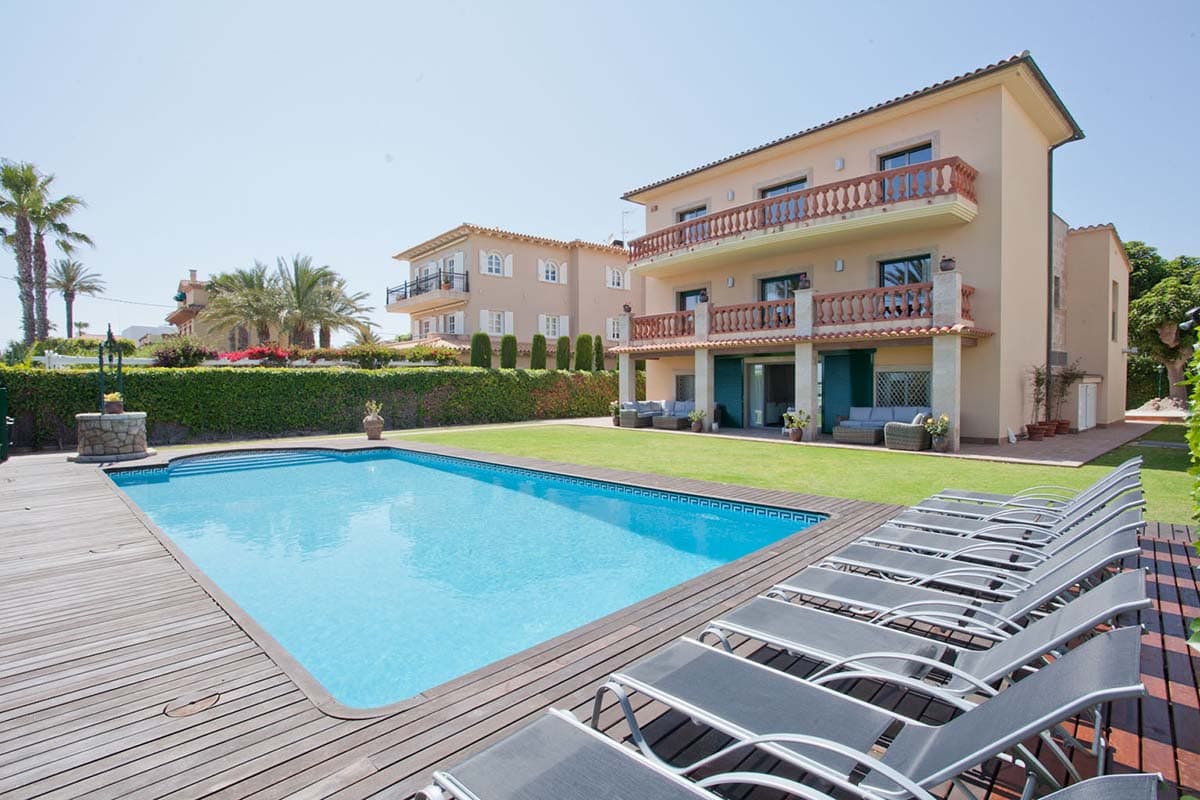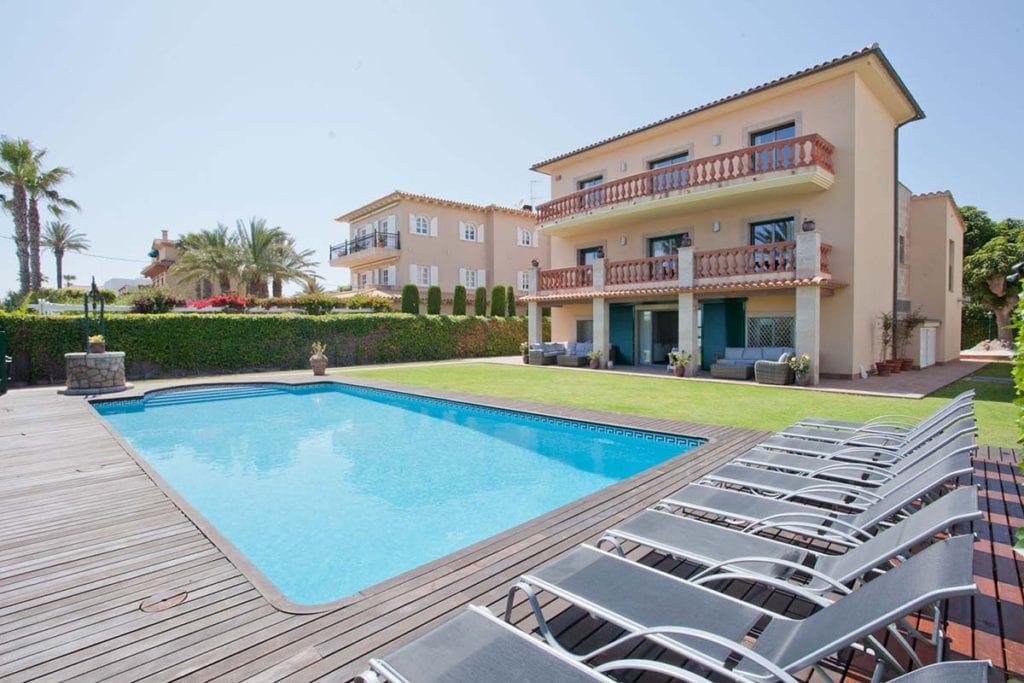 This iconic mansion of colonial style is also located on the privileged beachfront promenade in Sitges (Barcelona). With 7 bedrooms in total, this villa is a perfect place to stay for carnival and entertain your friends or family.
There are 7 bedrooms in total, including a double ensuite in a standalone guest house with a double bedroom. The villa allows easy access to all the events taking place during carnival and has onsite parking for 3 cars.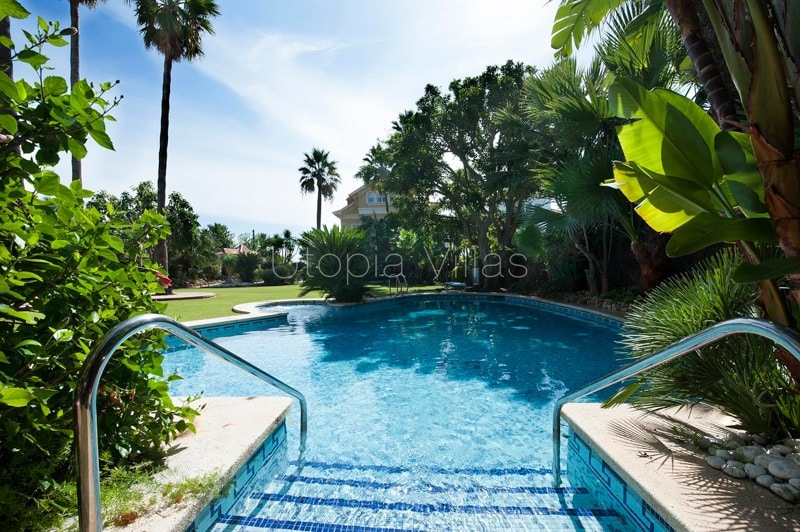 This spectacular villa with 7 bedrooms and an additional sofa bed caters for up to 16 guests just a short walk from the beaches and Sitges center. Villa La Hacienda is a large spacious villa, one block from the seafront in Sitges.
Plenty of room both indoors and out and lots of onsite entertainment: trampoline, pool table, ping pong table, etc