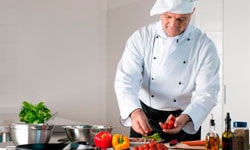 Private Chef Sitges

Are you really going to cook for the entirety of your holiday? Or worse eat out everynight in Sitges and not enjoy all the villa has to offer?
Forget the kitchen and enjoy delicious meals with family or friends with a private chef or a catered service. Availing of a private chef in Sitges is an ideal service as everything is sourced locally and any menu can be altered to suit your tastes and diet. Frequently we have large groups of friends and while they don't mind sharing the cooking they have found that eating at the villa with a professional chef was more enjoyable and very economical. Allowing everyone to enjoy the villa and be served.
Of all the services you can avail of while in Sitges, having a private chef or a catering company cook up some of their best menus and Mediterranean cuisine is one of the most sought after service.
Previous customers have made the following comments:
Good morning, Miriam and Emilio, I would be remiss if I didn't tell you how much we loved the private chef service. His outstanding culinary skills and her attention to detail, combined with their wit and warmth was a perfect fit. Our meals at Villa Cozumel were a highlight of our stay in Sitges. Thank you again for the recommendation. Sincerely, Steven G #UtopiaVillas
You took such good care of us. There are notenough words to express our thanks. Your attention to detail and your passion for food (and people) shined through in every meal you prepared for us. My guests and I are so happy to have met you and blessed to have enjoyed your outstanding culinary expertise. You guys are rock stars! #UtopiaVillas
Having a private chef come to the villa and prepare a meal for you is absolute luxury and a treat that our guests really enjoy. We can put you in contact with excellent chefs and catering services who can personalize their menus to your taste and ensure you have a fabulous culinary evening at home.
Our chefs are very busy in Summer so booking in advance is essential in order to avoid disappointment.
Bon Apetit! Or as they say in Spanish – Buen Provecho!!!