A fabulous thing to do when you are in Sitges is to go and enjoy the outdoors, hiking, and while you are out there, foraging for food. The Mediterranean diet is one of the most famous in the world. The delicious flavours and the health benefits are what makes it special.  In Sitges, we
are lucky to have the Garraf National woodlands on our doorstep.  
The nature is beautiful and great for hiking, biking and foraging. 
Food that you have sourced yourself from wild sources just tastes better!  If you are looking for interesting things to do while on holiday in Sitges, foraging has got to be on your list. Have a look here at the hiking you can do around Sitges.  But now, let's have a look at some tips and warning before you venture out.
Tips and Warnings 
Be Prepared
Make sure you take a bag or a basket to collect the goodies that you collect. I suggest that you bring or find a stick: this can help you reach high places and get through any thorny areas. A pair of gardening gloves may also be useful. Most important of all; bring a good field guide or a
knowledgeable local
to help you determine what is edible and what is poisonous.
Be Earth Conscious
It is imperative to keep mother nature in mind. Remember to take only what you need without damaging the land and please respect private property. Try not to disturb the wildlife of the area and most importantly, for your own safety, check hunting times. Hunters use specific days and seasons to hunt and it can be dangerous to walk into their midst.
Calçots for holidays in Sitges in winter
Since we are looking for things to do while on holiday in Sitges , and because it is Catalonia, I will start by telling you about Calçots.
These onions are a very traditional food here, grown in the winter and picked from January to March. At this time, restaurants overflow with Catalan families, expats and tourists getting their hands dirty with these delicious vegetables. They are traditionally blackened on the barbecue. With the plate in front of you and a bib around your neck; you are ready to peel the Calçot with one swift movement. It is then dipped into a delicious romesco sauce, (red peppers blitzed with nuts) and gobbled up. Once you start you really can't stop. Instead of going to a restaurant, why not prepare them yourself and create an authentic Catalan barbeque dinner. (Complete with the most exciting way to drink wine: through a porron, a must try!)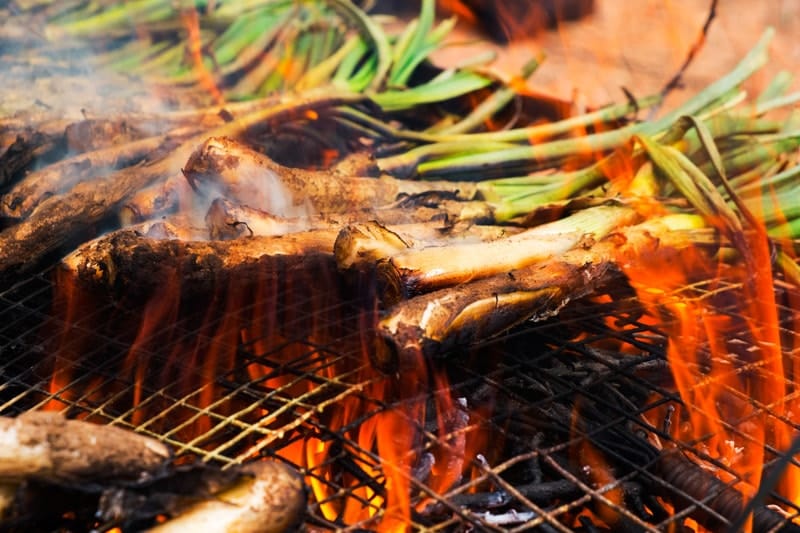 Mushrooms
With Autumn comes ´The War of the Mushrooms!´ Mushroom season is a big occasion here in Catalunya. Get your baskets ready and head out to a damp, shady area. Here you will find an abundance of some of the tastiest mushrooms. However, you may have to fight for them by getting up early. If you know where to look, you will find a treasure trove of mushrooms. Ovellones, cepts, trompetas de la mort, ceps (porcini mushrooms), Llanegas negras or rossinyols (chanterelles) are some examples. These mushrooms are incredibly expensive in supermarkets, shops and markets, so it is definitely worth the effort. Follow the call of the mushrooms deep into the forest and fill your basket, and later your bellies, with these delicious magical treats.
Wild Fruit for summer holidays in Sitges
My favourite has to be the Summer Blackberries, which I call brambles! Although incredibly spiky, I end up scratching my entire body just to get to the juiciest ones. They are literally everywhere along most walking paths. We don't even bother bringing snacks with us on a walk during this time, as we fill up on these beautiful fruits. However, I would advise you to wear long trousers and tread carefully if you go foraging for these. If you know where to look, you can find wild strawberries and cherries.
Figs
My favourite smell in the entire world is the fig tree. These trees can also be found everywhere in the countryside. It is absolute torture waiting for them to ripen. I walk past their enticing smell every day and check the consistency constantly. Finally one day I see some on the ground, and jump for joy! Gather and stuff them in your face. As they ripen though keep in mind to check the inside before consuming them, as critters love the taste too.
Nuts for Autumn holidays in Sitges
From August to September you can also find Hazelnuts. If you find damp and shady spots on hills or near sources of fresh water, you are likely to encounter hazelnut trees. They have a prickly outer sheaf. When this turns papery and brown, the almonds are ready to pick. The area is also a pine haven. If you can be bothered with the timely, difficult task of making them, then the pricey pine nuts can be yours for free. Also look out for Almond trees hanging over walls in towns!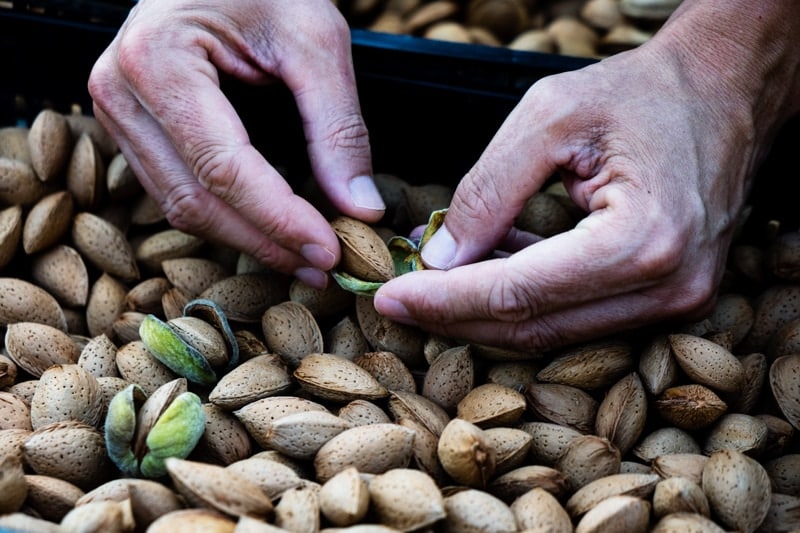 Wild Asparagus for winter holidays in Sitges
Around February, if you are our walking about you may spot many locals sticking their heads into long grass along the walking paths. What they are looking for is wild asparagus. Foraging for this is not easy. They can be camouflaged in a bunch of grass and although it sticks out above it at times, it is still difficult to spot. Another problem is that there is a plant that looks just like it, and you could easily waste time looking in the wrong place. Sneaky little suckers!
Herbs
Throughout the year, the smell of Rosemary, Thyme, Lavander, and many more, will take over your senses as every step sends a beautiful aroma. These are abundant and you will most likely encounter them wherever you take a walk.
Snails (Caracols) for Spring Holidays in Sitges
From mid April until June is another celebrated time of year, snail hunting. At this time of year, many Catalans head out with their baskets again and hunt for snails. It is such a huge deal here that there is even a 3 day festival in dedication to the slimy delicacies. Although some may turn their nose up at them, they are excellent for your health apparently. Low in calories, and packed with iron, Vitamin B12, magnesium, selenium and omega 3! Yummy!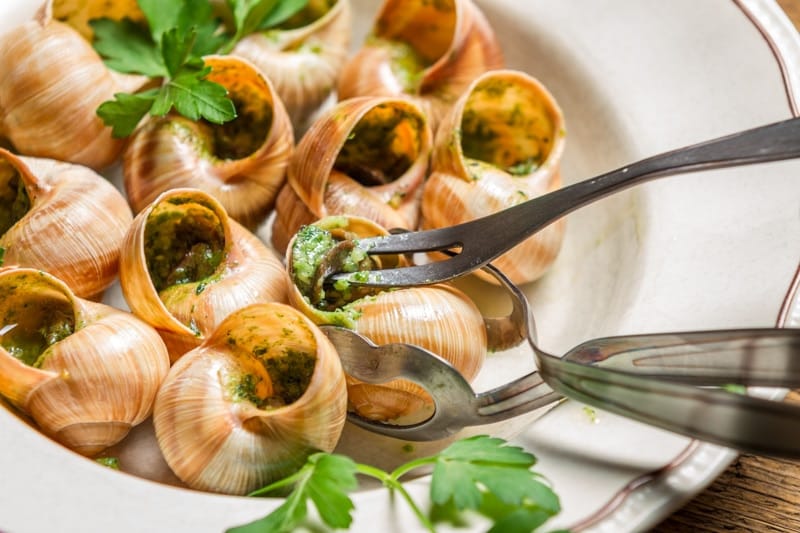 Nettles
We all know the sting that nettles can give and how painful it is! Here in Spain there is no such thing as Dock Leaves to ease the unpleasant sensation. Nettles are everywhere and they are a fantastic foraging food. Many people swear by its curative qualities. They are rich in histamines, mineral salts and many vitamins. You can use them as a medicine, as has been done for 2 millennia, make it into tea, soup and salad. To remove the sting all you have to do is blanch them in boiling water. Just remember to use gloves when handling!
I have only covered some of the best known, and easiest to identify, foraging experiences. There is so much to explore off the beaten track if you are looking for things to do in Sitges. If you are an enthusiast, you will find many who will guide you through this foraging heaven. Happy digging, picking and Que aproveche!