Here are the answers to some frequently asked questions about Sitges we hear a lot, from those considering a holiday in Sitges, Spain. We hope this helps you to decide if Sitges is right for you. Given all the boxes that Sitges ticks, it's hard to imagine why you wouldn't want to visit!
Is Sitges expensive?
Unsurprisingly this is a frequently asked question about Sitges from our potential guests. Sitges is one of the most desirable towns in the whole of Spain. So if you are planning to move here you will find property prices are high! But for a holiday it is surprisingly easy to live the high life on a small budget. Bar prices are reasonable, particularly for wine and cava. Restaurants range from cheap to high-end. The menu del dia is a fabulous institution in Spain and Sitges is no exception. You can eat a delicious three-course meal with wine for around 12 to 15 euros on weekdays. In the evening, dine on pinchos (a style of tapas from the Basque region which has become popular in Sitges). Of course, if glitz and glamour are your thing there are lovely high-end bars and restaurants to blow the big bucks too!
Is Sitges worth visiting?
Absolutely! Sitges is up there with the most beautiful and chi-chi towns on the Mediterranean. So if you've seen Saint Tropez, Portofino, and Amalfi, it's time to try Sitges. Pretty, lively, cultured, and stylish. Get those flights booked and come and see for yourself.
Is Sitges safe?
Sitges is a small town with an accepting attitude. Violent crime is very rare. It is mostly free from the issues that you will find in Barcelona such as pick-pocketing outside of summer. But it always pays to be vigilant and to keep an eye on your belongings at all times.  During the high season, there are pickpockets that come to town to prey on tourists however they are always looking for easy pickings.  So if you look after your belongings you will be just fine!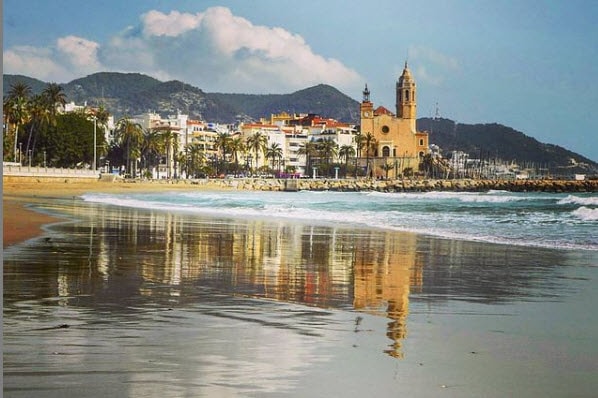 Is Sitges a party town?
Yes, It can be! It has a lively "strip" in the centre of town with a great combination of gay, straight and mixed bars. They are open till around 3 am every night. There are also a few nightclubs open until 6 am. Sitges was the home to the original Pacha back in the 1960s. It also boasts Sweet Pacha which is a glitzy nightclub overlooking the marina. There are parties and festivals all year round such as Carnival, Pride, San Juan, and Fiesta Major to name a few.
However, if you prefer a quieter holiday don't let any of this put you off. Much of the party scene is contained within a couple of streets close to the main drag – beyond that, it is easy to avoid the late-night part of town. You can walk around with a sleeping baby later in the evening without a problem. There is a multitude of lovely quiet bars such as 1883, The Beyrouth Gardens, and Vora Sitges to name but a few and of course all the restaurants away from thumping music!
What is Sitges Spain known for?
It depends on who you talk to! It is known as a fabulous and friendly LGBTQ+ destination. Also known as a charming fishing village, turned sophisticated resort. And as a beach playground for weekenders from Barcelona.
Is Sitges good for straight people?
A great question! Yes! It is rightly famous for its open-minded, welcoming attitude to the LGBTQ+ community. But that is only a small part of the town. It is a year-round lively Catalan town full of ex-pats from all over the world and of all sexual orientations! We believe Sitges offer the perfect example of a cohesive and diverse community.
Is Sitges beautiful?
Sitges boasts a charming old town with pretty cobbled streets and white cottages with blue-painted shutters. With a stunning church dominating the seafront and beautiful Modernista villas lining the seafront, it is a gem of a town. Add to this the gorgeous beaches and the green hills of the Garraf and it is a Mediterranean idyll.
How do you pronounce Sitges?
Another frequently asked question about Sitges is how to say it! The easiest way to explain it is that it rhymes with "Stitches". Say stitches without the first "t" and you're there.
What language is spoken in Sitges?
Sitges is in Catalonia so the official language is Catalan. However, everyone will also speak Spanish although some may prefer not to. In bars and restaurants, most will speak some English. It will certainly help to learn a few Catalan phrases; Bon Dia for hello and Merci for thank you is a good start!
Is Sitges a beach holiday destination?
It certainly is. Sitges boasts 17 beaches! Family-friendly, nudist, or gay? Take your pick. From Platja de les Anquines in the far west of town to Terramar in the far east, you will find your perfect spot of sand. You can rent sun loungers and umbrellas on most of them or just lay down your towel. Most have chiringuitos (beach bars) where you can grab a nice drink and a bite to eat.
Have any more questions about Sitges you need answering? Pop them in the comments, and we can add them to these frequently asked questions about Sitges.
But for those who prefer a little something off the beach, you are 30 minutes from Barcelona city centre, located on the edge of the Natural Parc of Garraf, great boutique shopping, and photographic and art exhibitions. There´s something for everyone in Sitges.