Sitges is famous for its artistic heritage and artist community. There is a wealth of art galleries, studios, and museums showcasing traditional and contemporary art from Catalunya and around the world. Here we'll show you some of our favorites as you do our walking tour of the best art that Sitges has to offer.
In the late 19th century adventurers from Sitges went to Cuba and the Americas to make their fortune and when they returned, they used these new fortunes to build beautiful homes (some of which are part of the Utopia Villas collection), and also to become patrons of the arts. This new wealth drove the change of Sitges from a traditional fishing village towards the cosmopolitan town that we know today. Famous artists like Santiago Rusinol and Arcadi Mas i Fondevila lived here.  Pablo Picasso and Salvador Dali also spent time in Sitges working in this beautiful place. If you are interested in different things to do in Sitges, then check out some of the historical and contemporary art from Spain in one of Sitges' museums or galleries.
Here is our walking route of Sitges Old Town where many of the galleries and museums reside.  You can visit as many or as few on the route as you like.
This magnificent building right on the seafront was refurbished in 2015 and now houses an outstanding collection as a part of the Barcelona Provincial council local museum network. The extensive collection of more than 3,000 works covers periods from the 12th century to contemporary works. A key area of focus is the last 200 years of Catalan painting with significant works by artists including Santiago Rusiñol, Ramon Casas, and Artur Carbonell, among others.
The sculpture gallery with picture window views out over the Mediterranean is a favourite of many visitors.
The museum offers guided tours and audio guides, both of which are excellent ways to enrich your visit.
The Maricel museum is linked to our next item and a shared ticket gets you access to both museums.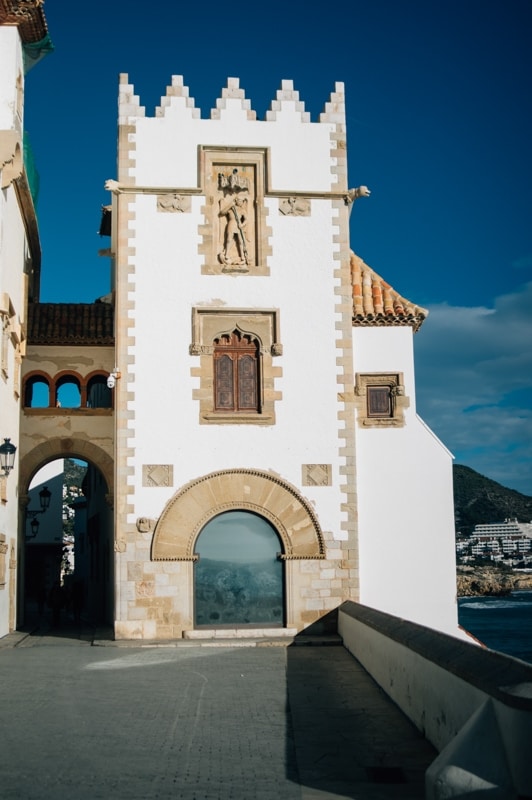 Next door to the Maricel was the home of Santiago Rusiñol, and at the heart of Sitges it was the Mecca of Modernism in the late 1800s. The house became an artist salon hosting musicians, authors, and artists from all over Catalunya and beyond.
Today the museum aims to recapture some of that time.  The building itself and the eclectic collection brings to life what was a fantastic period in the journey of Sitges becoming a cultural highlight in Europe.
Again there is a shared ticket with the Maricel Museum, and the spaces and collections complement each other brilliantly.
This 800m2 gallery is dedicated to contemporary works of artists from around the world and therefore is one of the most important collections of modern art in Catalunya. A passion project of artists and patrons Pere and Anna Maria Stämpfli, all artworks are donated or loaned by artists, gallery owners, or artists' estates.
There are temporary exhibitions throughout the year and so check out the website to see what is on.
A recent extension is now completed which means that the full collection is accessible.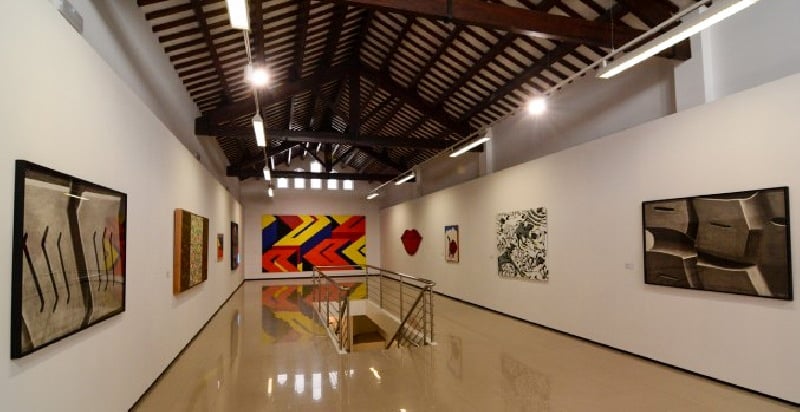 This gallery showcases the work of local artist Jose Luis Fuentetaja. Originally from Madrid Jose Luis now divides his time between Asia and Sitges and the people and landscapes of Asia are frequent subjects in his work.
OOA Gallery opened in April 2011 and aims to promote contemporary African art among the collectors and art lovers of Spain, Europe and beyond. Through six solo and group shows yearly in the gallery, OOA Gallery gives visibility to the creativity and contemporary artistic diversity in Africa.
The established or emergent African artists are firmly rooted in their respective identities and stories, showing their strong links to the modern world without losing their uniquely African roots.
Represented artists by OOA Gallery Sitges:
ABOUDIA – ANJEL – Miquel ARNAL – BOB-NOSA – BODO FILS – Sambo BOLY –
Sébastien BOUCHARD – Ilídio CANDJA CANDJA – Bruce CLARKE – MIMOUNI –
Francis MAMPUYA – Fran MARTÍ – Evans MBUGUA – MÉNÉ – Wycliffe MUNDOPA –
Freddy MUTOMBO – Abdias NGATEU – Kobina NYARKO – Larry OTOO –
Sadikou OUKPEDJO – Hamed OUATTARA – Boureima OUEDRAOGO – SAADIO –
Rémy SAMUZ – Diseye TANTUA – Siaka Soppo TRAORE – David THUKU – Médéric TURAY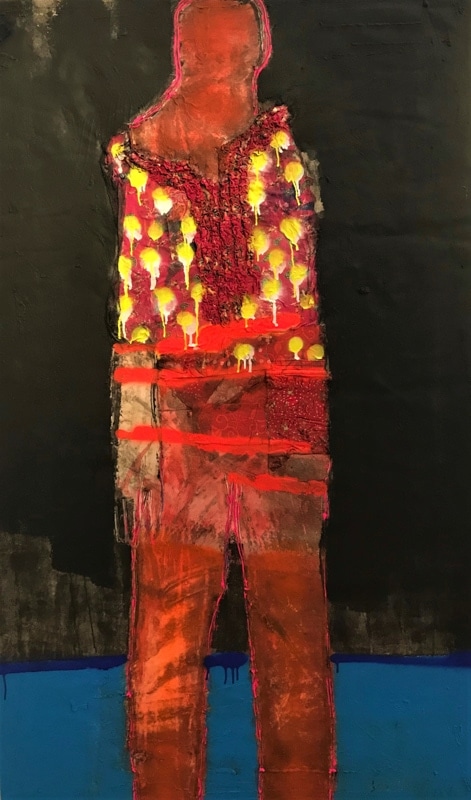 Gallery director Kate Caiazza hails from New York, and she brings a new world sensibility to this cool gallery in the old town of Sitges. The work is modern and fresh and encompasses both figurative and abstract works. The website lists current exhibiting artists here.

Since the early 1970's Agora 3 has been an integral part of the Catalan artist world. It hosts exhibitions of both traditional as well as modern examples of the most important Catalan painters. There is also almost always a temporary exhibition to go with the collectio and so do check out their website or Facebook page.  You can see their represented artists here.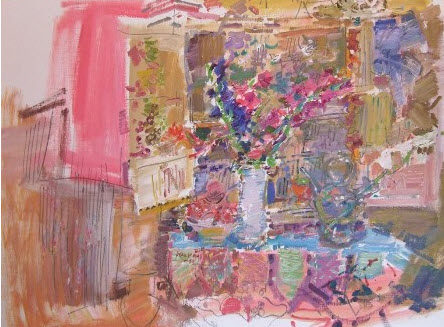 Manuel has been a fixture on the Sitges art scene for many years and his beautiful gallery in Sitges old town is well worth a visit. As well as showcasing his artworks you can also see some stunning photographs of the early years of the artist's residence in Sitges.
This gallery showcases the work of local artist Jose Luis Fuentetaja. Originally from Madrid Jose Luis now divides his time between Asia and Sitges and the people and landscapes of Asia are frequent subjects in his work.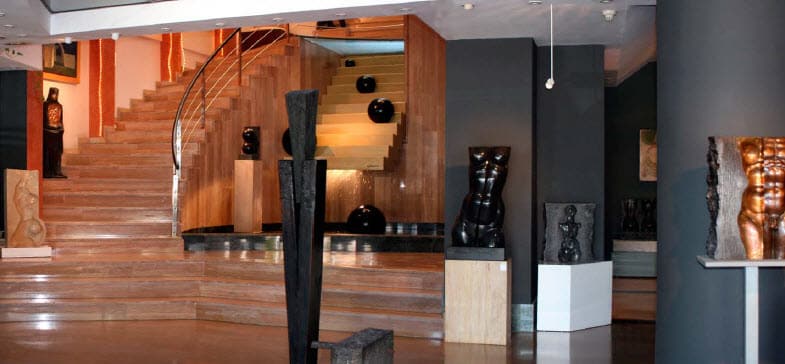 If you happen to be down at Aiguadolc Port on the northernmost part of town, do pop into  Hotel Estela.  This hotel is dedicated to art. The foyer, the pool area, and the restaurant are all decked out with beautiful works. Come for a drink on the terrace, or a meal and spend some time admiring the pieces that surround you. The hotel curates a continually changing exhibition of painting and sculpture and so even if you have been before it is worth checking out what they currently have.
Sitges surrounds you with art, public sculptures, tiled balconies, and so much more. This walking tour will allow you to immerse yourself in a beautiful range of art that shows off Sitges' cultural heritage to the fullest.
We hope that you enjoy it!