We all know how perfect Sitges is for your villa holiday; with its quaint cobbled streets, perfect sandy beaches and pristine Mediterranean sea. But do you know what other treasures we have close by? Here you will find the most beautiful, mesmerising and unmissable villages near Sitges.
With many gorgeous villages near Sitges, it may be tricky for you to decide where else to visit. To make this easier for you, I have split a few of our recommendations into seaside and inland locations.
Seaside Villages Near Sitges
Altafulla
A 40-minute drive or train ride from Sitges, we have the stunning seaside village of Altafulla. This is one of my all time favourite places to visit at any time of year. This postcard-perfect promenade sits on the sea-front with beautiful façades facing gorgeous sandy beaches and the sparkling sea. In the quieter winter months, you can stroll along the promenade in either direction and admire the quaint buildings. As summer arrives, this tiny promenade comes to life with restaurants and cafes serving amazing seafood. For those who love to walk, you can leave Altafulla in either direction and follow the coastal paths. Heading North you will reach the amazing village of Roc de Sant Gaietà, (mentioned next in this post). If you choose to head South, you will be blessed with cliff-top paths that wind their way through the forest of Tamarit. There are a few swimming coves you can drop into, the magnificent tower (Torre d'en Segur) and Castell de Tamarit to take photos of. Finally, and the reason why I love coming to Altafulla, there is the glorious tiny island that sits under the castle. It may be a small beach to play on, but it is wonderful for snorkeling and jumping into the sea from.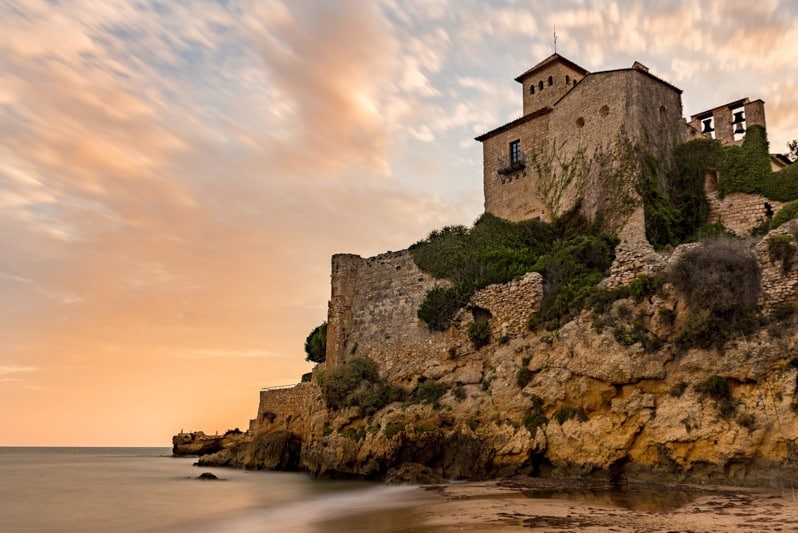 Roc de Sant Gaietà
I happened upon this stunning little village near Sitges last year. As it happened, we were hiking from Altafulla to St. Vicenç de Calders when we passed through Roc de Sant Gaietà. With white-washed façades adorned with typically Mediterranean archways, you could be mistaken for thinking you were somewhere in Greece or Sardinia. You will find a warren of pretty little passageways and courtyards. The construction of this quaint little fishing village began in 1964 and boasts a myriad of styles including Romanesque, Arabic and Gothic. Styles from Galicia and other areas of Spain can be found, as-well-as a replica of the 'Emerald Coast' in the north of Sardinia. Visit Roc de Sant Gaietà and you will find peace, tranquility and ice cream! For the restaurant of
Cal Sisquet
is home to award-winning helado (ice-cream) creator Marc Piqué!
Garraf
Situated a short car or train ride north of Sitges is the small yet stunning Garraf. This is an unmissable village near Sitges! Historically it was a functioning fishing village but now it attracts many holiday makers and tourists throughout the year. It is very picturesque sitting on the Mediterranean sea at the foot of the Garraf Massif. Upon the sand you will find the most quaint little wooden green and white beach houses! These stand juxtaposed next to the newly built
Little Beach House
(of the Soho House franchise). If you love sea-food and views, then make sure you visit the spectacularly located seafood restaurant nestled on the cliff-edge. Or if you prefer wine and architecture, then visit
Celler Güell
at the other end of the beach. It is believed that this building was designed by Antoni Gaudí.
Vilanova i la Geltrú
Situated 10 minutes by train from Sitges you will find this wonderful town of Vilanova i la Geltrú. It is a location with something for everyone. At the southern end of Vilanova, you can find a gorgeous seaside
restaurant
(booking advised) tucked around a stunning little cove. The cove itself is worth a visit for any art lovers. The local community have been creating art over the cliffs using tiles, shells, cacti and plants for years. There are little surprises in every nook of the cliff-face so it's definitely worth a visit. The paseo stretches 1.5km towards the main town, and is lined with sandy beaches, natural spaces and in the summer months, chiringuitos. Near the port you will be spoilt by the number of stunning seafood restaurants, parks and areas for playing sports. And yes, there is even a place where you can ride a
miniature railway
! Nearby you will find the impressively located Club Daurada, standing proud at the end of the pier. By night, it is a fantastic night club on the sea. By day, there is nowhere better to sip on a gin tonic and watch the sailing boats pass you by! All with the gorgeous sun beating down on your face! If you travel past the port towards Sitges, you will find Playa del Faro. A wonderfully well-kept sandy beach with access by foot only. Behind sits a newly protected stretch of nature with a lighthouse that stands impressively upon the cliff! In case you are interested, you can head along the cliff top walk from here and make your way back to Sitges on foot. You may pass by a few beautiful coves on your way and stop for a dip!
Vilanova i la Geltrú – inland
I did mention that Vilanova i la Geltrú has a little something for everyone, so let's head into the town itself. The Rambla Principal begins near the port and cuts its way for nearly a mile right up to Plaça de les Neus. Along the Rambla you can shop, eat, drink and people-watch til your heart's content. Running parallel to the Rambla on one side you will find the magnificent local covered-market serving some the the freshest fish. To the other side, you will find many boutique stores, gorgeous squares and the wonderful winding streets of the old town. Like I said, there is something for everyone in this 'village' near Sitges.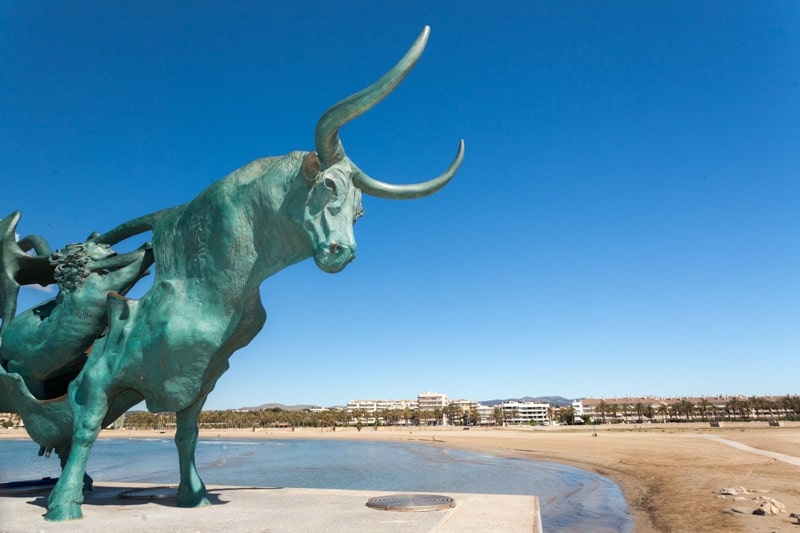 Inland Villages Near Sitges
Sant Pere de Ribes
A 5-minute drive behind Sitges we have the beautiful village of Sant Pere de Ribes, complete with iconic churches and a castle. The village boasts spectacular walks into the Garraf Massif, with wonderful country pubs serving traditional Catalan fare throughout the year.
Can Lloses
is a must if you are looking for a restaurant with fantastic food and views over the vineyards and towards the sea. In the centre of Sant Pere de Ribes is the main square Plaça Marcer. It is usually bustling with children, families, couples and friends sharing drinks and ice creams. It is very welcoming with an abundance of local festivals throughout the year that should not be missed!
Castelldefels
Castelldefels is a 'village' near Sitges that boasts both inland and seaside areas. In fact, there are kilometres of perfect sandy beaches that stretch from the port all the way to Gava and beyond. Why not cycle or walk the entire stretch along the paseo and maybe stop at a chiringuito along the way for a refreshing cocktail. You will be spoilt for choice by the number of water sports on offer along this beach! There is sailing, paddleboarding, surfing, kite surfing and more on offer. Alternatively, head to the
Olimpic Canal
and try your hand at wakeboarding. Heading inland you will find the main shopping centre of Castelldefels (
Anec Blau
), the more traditional Spanish streets and sprawling bars and boutique shops. Venture up the hill to the spectacular frontier fortress of
Castelldefels Castle
. dating all the way back to the 10th century. Make sure you check their opening days and times before you visit.
Castellet & Pantá de Foix
This tiny village is an absolute must-see. Sitting on a hillock above the impressive reservoir Pantá de Foix you will find the spectacular castle of Castellet. Built over 2,500 years ago, and beautifully restored, it is home to the Abertis Foundation and UNESCO's International Centre for Mediterranean Biosphere Reserves. Tours are held once a month and require prebooking. From the castle you can gaze across the Pantá de Foix and it's surrounding forests, which are worth walking around. If you wander through the beautiful cobbled streets, you will find the magnificent restaurant
El Barretet
. The food they serve is exquisite and the ambiance inside the restaurant is gorgeous. Being welcomed with a glass of local cava is never a bad thing either! Alternatively, they have a stunning terrace overlooking the reservoir where you can enjoy a drink or light snack. Wherever you decide to take a rest, just remember to go into the restaurant and look into the glass floor.
Vilafranca del Penedés
The epicentre of all things wine and cava is Vilafranca del Penedés, the capital of the comarca of the Alt Penedès in Catalonia, Spain. There is so much to see and do here that a day trip is essential. Visit on a Saturday and be enamoured by the traditional medieval morning market! It now boasts over 200 stalls and draws 1000s of people from all over the region. It is located within the town centre and sells all sorts including live poultry, which still remains a popular market. Another unmissable place to visit is
Vinseum
; a museum all about wine. It is set in a stunning antique medieval palace right in the middle of town. You could also admire the 13th century Gothic church Basilica de Santa Maria, or perhaps trace a path past the historic wine merchant's houses. Particularly noteworthy houses to visit include Palau del Fraret, Palau Macià, the Casal dels Gomà and the Casal del Marquès d'Alfarràs. Finally, why not rent an electric bike and head out of town on one of the numerous biking trails. This area is a haven for cyclists as the paths wind between the vineyards and connect to some of the cava wineries.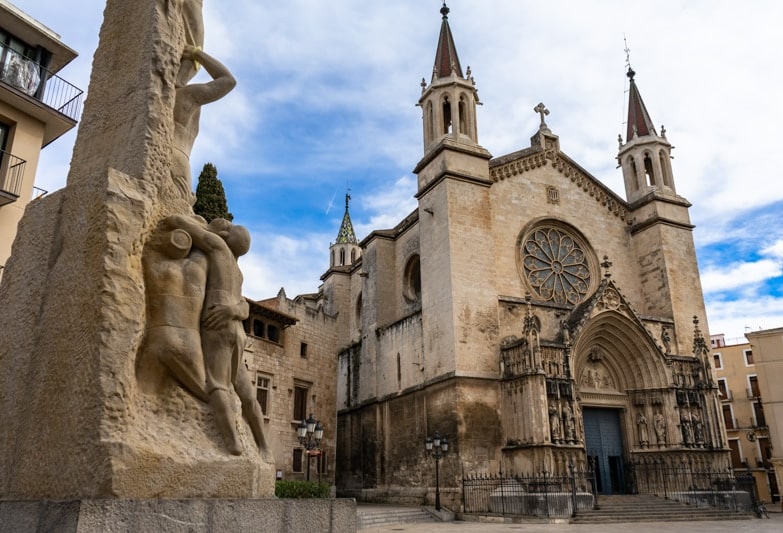 Sant Sadurní d'Anoia
Another one of our fantastic villages near Sitges that any cava fan should visit is Sant Sadurní d'Anoia. Similar to Vilafranca (and close by), it is the centre of the production of cava. There are over 80 local cava wineries in the vicinity so it is definitely worth a visit. If you love chocolate as well, why not combine your visit to include the fabulous Simon Coll chocolate factory. Book on a tour and you will be treated to a detailed multimedia presentation about the manufacturing of chocolate. You will also taste many of what they offer and have access to the excellent shop! They even have a chocolate with cava INSIDE! What's not to love? Why not connect these two cava towns and cycle between them?
Torrelles de Foix
If you have access to a car, I recommend you head out past Vilafranca del Penedés towards the small village of Torrelles de Foix. The Foix river winds its way through here so there are many river swimming spots to explore. Most notably, and my favourite for ease of access, is
Fonts de Les Dous
. You can use Wikiloc to arrive by one of the many walking paths or park nearby in the designated car park. If you come from the road, you will cross the stunning narrow stone bridge that takes you a little further into the forest. You will find a small bar with picnic tables and 6 spaces for barbecuing. Make sure you call ahead to check opening times and book a BBQ area. Tucked around the corner, you will come across a beautiful swimming area nestled under a waterfall and surrounded by nature. There really is nowhere more pleasant.