Sitges has plenty to offer visitors with a vast array of family-friendly activities, an extensive choice of beaches and some of the best restaurants in the region. Nevertheless, some visitors will want to go beyond Sitges and discover the beautiful places which can be visited in a day and offer a more in-depth insight into the beautiful region of Catalunya.  We have prepared this guide to the Top 5 Day tours from Sitges!
1. Barcelona
A visit to Barcelona is a must, given that one of the best things about Sitges is its proximity to this beautiful and vibrant city. It is only 40km away and is easily accessible from Sitges by private transfer, driving, bus, or train. It is one of the most beautiful and engaging cities in Europe.
Getting to Barcelona
Some guests know exactly where they want to go and what they want to see – our guest-relations@utopia-villas.com will be delighted to organise a transfer directly to your drop off point in Barcelona.  A transfer will take you door-to-door and can make multiple stops in the city and wait to take you straight back to your villa.
If you would like to make your own way there then check out our guide to get from Sitges to Barcelona for all the travel options to the city.
Getting your Bearings
If it's your first time in Barcelona you are in for a treat –  is an architecturally mind-blowing city and it packs a lot of beauty into a relatively small area.
An easy way to get a first overview of the city centre is with the hop-on-hop-off open top bus tour.   A great way to save on energy yet see many of the sights up-close. You decide where to explore more intensely, and tickets are valid for 48 hours. You can buy you hop on hop off bus tickets online here
Top sightseeing recommendations
This is a microcosm of Spain reflecting life in the country in an open-air, traffic-free precinct with shops, bars, plazas and replicas of various parts of the country.
This is a must see! Always busy and quite tricky to get tickets, so make sure you buy your tickets online before going. If you are not lucky enough to get tickets or don't want to invest too much time on this visit, the bus tour always does a drive by and has a short stop giving you some of the most interesting facts.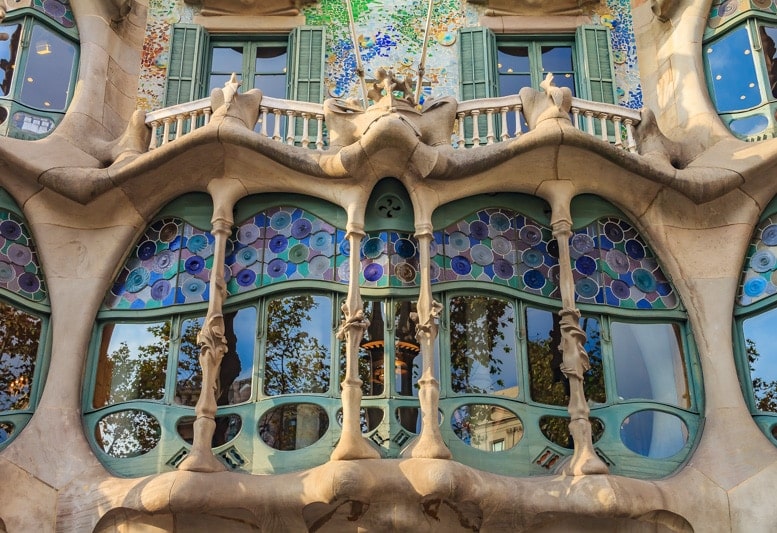 3.  Gaudi's other buildings
If you are a Gaudi fan, you will be delighted to see both Casa Mila (La Pedrera) and Casa Batllo on Paseo de Gracia. The bus tours will take you past, and you can also jump off and visit them.
4.  Food and Food Markets
Who doesn't like a good food market? The Boqueria market or the Santa Caterina Market is worth a visit. There is no better way to feel the heart of a Spanish town or city than through its markets. For info on food and clothing markets around Sitges check out our guide to Markets around Sitges here.
This culinary audio tour is fabulous if you want to eat your way around the Born. It only takes 40 minutes and is a cheap and easy way to get some interesting historical facts while popping into some great eateries.
5.  Camp Nou
It's impossible to mention Barcelona without thinking 'Football' so if you and yours love Messi and all things football related, you will love the tour at the stadium where the magic happens.
You can visit the stadium for a match, or the Camp Nou Museum and Tour.
6.  Other favourites
Other places to check out in Barcelona – ride the cable car & visit Montjuic, a short trip to the Amusement Park at Tibidabo, see a concert at the polemic & beautiful El Palau de la Musica, the kids will love The Aquarium, Cosmo Caiza Science Museum, and Gaudi and Guell's outdoor park – Parc Guell)
Museums in Barcelona
There are plenty of museums in Barcelona too and so if it's too hot on the street take to the air-conditioned interiors of your selected museum.
Our top 3 options would be:
The Picasso museum is a focal point for anyone wishing to understand Pablo Picasso. He is considered an artistic genius of his time, and his spirit can be appreciated through 4,251 works on display in this permanent collection.
A colourful celebration of Miro's art located in possibly the best building in the world. Like much of Barcelona art and architecture meet in a large building housing a massive collection of works.
This museum is the home of Contemporary Art in Barcelona. Quite a surreal experience and maybe not for everyone but if you like to feel a city through its contemporary art, this is the place to do it. It has numerous exhibitions & shows which change regularly.
Tip for your visit to Barcelona: Plan and buy your tickets online to avoid disappointment & the queues. Check out our recommendations for the best food and restaurant options when you visit Barcelona!
2. MONTSERRAT
Montserrat has a special place; both historical and spiritual, in Catalan identity. It is popular amongst pilgrims, hikers, and tourists looking for a great day out. Kids love its dragonlike form and will happily go along to 'climb the dragon's back' if you need to motivate them.
The serrated peaks are like no other mountain and legend says that Angels descended from the sky with a golden saw to create a throne for the Virgin Mary.
Apparently during World War II Himmler visited Montserrat in search of the Holy Grail.  We don't promise you the Holy Grail but believe you will have a great day out!
The history of the Montserrat monastery dates back to 888; however, what you see of the monastery today is a reconstruction as Napoleon largely destroyed it at the start of the 19th century.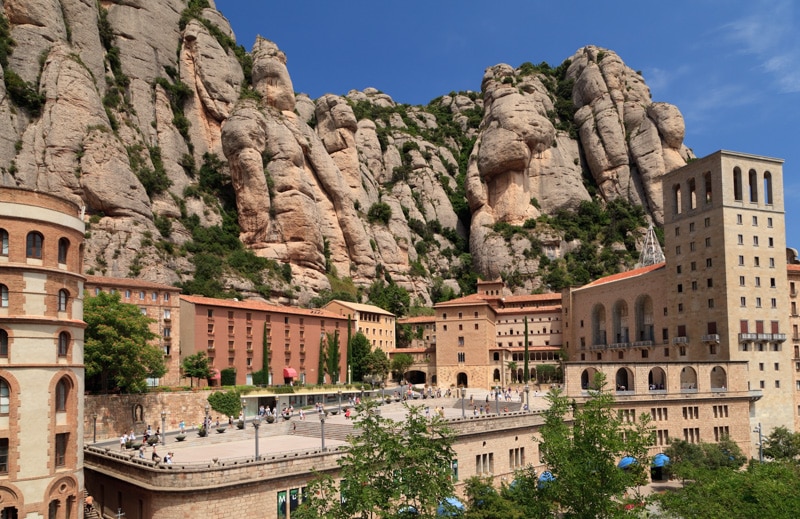 The Basilica
The Black Virgin of Montserrat is located in the Basilica, and while the Basilica is very lovely, it isn't worth the lengthy queues that can develop unless you have a specific religious reason to do so. Legend has it that the Virgin Mary & her son may have healing powers.
If you are fortunate you may be rewarded by hearing  The choir of Montserrat Escolania  – they post the dates they will sing at Montserrat on this website.
The Santa Cova funicular
This will connect you with the trail to the Santa Cova Chapel. This route is a short route of just under 1 hour and worth it just to breath in the fresh air and soak up the countryside.
Hiking
The highest peak of Montserrat is Sant Jeroni – many people walk the mountain by night to enjoy the sunrise in the morning. It takes about 2 hours to get there but is a tricky path in parts.
If you wish to hike the mountain, we recommend reviewing this hiking guide of Montserrat for all the info you might need on routes and levels.
Tip for visiting Montserrat:  go early when it is cooler. If you plan to hike, bring plenty of water and sun cream. Also, the restaurant is average and gets quite busy – you may want to consider bringing a picnic.
3. Tarragona
Most people visiting Tarragona (60kms down the coast) go to see the Roman archaeological sites or PortAventura Theme Park, but there's plenty more on offer in this Mediterranean coastal town.
You can get a good taste of the town and visit some of the Roman ruins in a day, but if you want to take in all the archaeological sites, you will want more time.
1.  The Tarragona Aqueduct (The Devil's Bridge)
This is just 5 minutes before you hit the town of Tarragona and in a pine wood valley. It has 36 arches and is well worth a stop on the way into town.
2. Tarragona Amphitheatre and the Roman Walls
To get a proper taste of the Roman ruins, we recommend a trip to the Tarragona Amphitheatre and the Roman walls. The setting of the amphitheatre alone is magnificent. Carved into stone, it isn't difficult to imagine the antics of gladiators in times gone by. The fact that it has a Mediterranean backdrop adds to the aesthetic beauty of the place.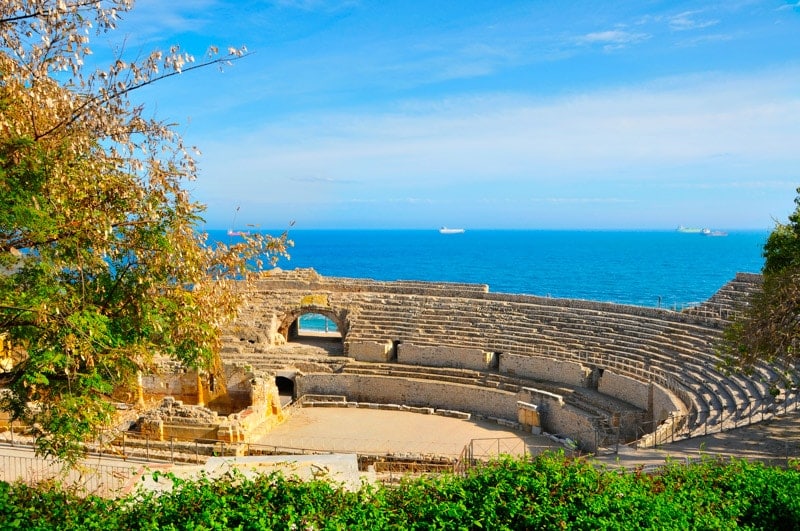 3. The Tarragona Cathedral
This is in the centre of the town and surrounded by restaurants and shops, making it a great stop spot for everyone. This is a great place to appreciate more Gothic architecture.
4.  The National Archaeological Museum
If you don't want to visit the Roman ruins themselves, the great idea is to visit the National Archaeological Museum. Most of the items that were discovered at the digs are on display here and include ceramics, household items, coins, and clothes.
Just wandering around the old Parte Alta of Tarragona is an activity to enjoy for an hour or so. Beautiful patios and gothic houses mixed with Roman walls and stonework. There are many plazas to enjoys a drink and a tapa.
If you visit in Winter – between November and early spring, you really ought to try calçots. These vegetables are best described as a mix between an onion and a leak and are served roasted with a romesco sauce made with garlic and almonds. If you can join a "Calçotada" even better and Tarragona is famous for them, – large groups get together in the countryside to eat calçots and drink wine from pitchers.
4. Wine Tasting & local Vineyards
"WINE comes in at the mouth. And love comes in at the eye; That's all we shall know for truth before we grow old and die. I lift the glass to my mouth, I look at you, and sigh." WB Yeats
Catalunya has several famous wine growing areas including Priorat, Montsant, and Penedes, to name the three best known. Many people are not aware that Sitges is so close to the Penedes wine region.
A great way to discover the countryside and taste some of the local wines is by taking a tour of your preferred vineyard. In the Penedes region alone there are about 180 cellars and 2,500 wine farms. All within a 30-minute drive. Most of these are half day trips.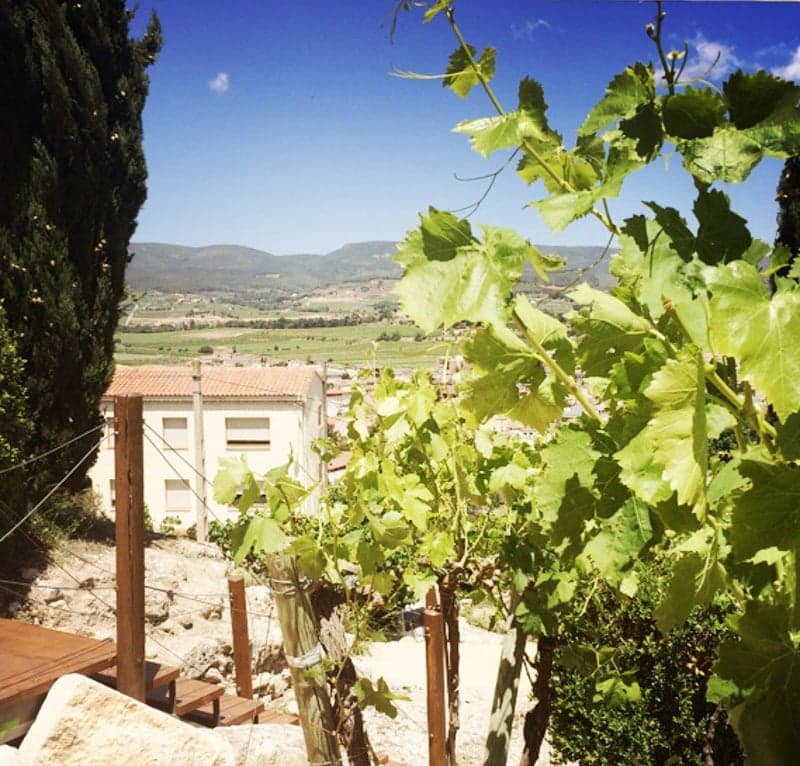 Best Known Vineyards
Take your pick of the three best-known vineyards: Freixenet, Cordoniú (cava), and Torres.
Caves Freixenet
Just 30 minutes from Sitges this is the home of the famous Freixenet Cava. This is a particularly exciting tour to do with children as they have specific tours catering to their needs and questions. This is a well-priced tour, but it is essential to book in advance to get your spot.
30 Minutes from your Sitges holiday home you have the Caves Freixenet which produces the famous Freixenet cava. There is a  'Visit Freixenet with a kids' wine tour, which is excellent value, but you must book beforehand.
Also, just 30 minutes driving from Sitges town is the vineyard of Codorniu. Fans of modernist architecture will be particularly happy to see the buildings of the famous architect Cadafalch.
A visit here will include not only a tour fo the winery itself but an audio-visual tour and a history of the Codormiu family. This vineyard also caters for kids; however, you will need to let them know in advance that they are coming.
Torres has by far the largest and the best-known vineyard in Cataluyna exporting to 140 countries worldwide. It is, in fact, the largest winery in Spain.  Around since 1870 the Torres family also run various vineyards beyond Penedes including in DO Toro Jumilla, Ribera del Duero, Priorat, and Rioja. They also have wineries in Chile and California. The Torres wine tour will appeal to experts given their impact on oenology throughout the world. It is very reasonably priced at 15 euros and includes a visit to various cellars, the vineyard itself and, of course, wine tasting
Some Smaller vineyards
Smaller vineyards are worth visiting as you will receive a more personalised tour usually by the family running the vineyard.
Pares Balta is one of our favourites which produces ecological and biodynamic wine.
Another that we strongly recommend a visit to is Jean Leon Vineyard
An eccentric Spanish / American who arrived in the área in the 60s and has an exciting winery to visit. One mans determination to follow his passion!
For all info on wine tours in the region and the  – our guest-relations@utopia-villas.com can organise to pick you up at your villa.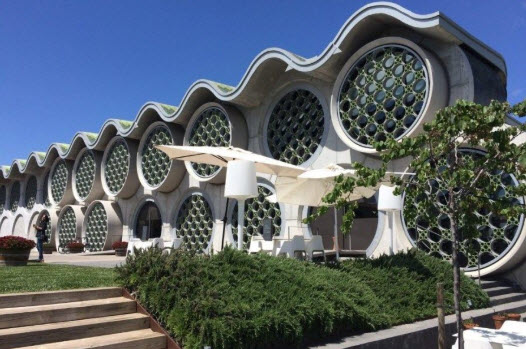 Tip for visiting the wine region:  There are some fabulous places for lunch and we recommend Cava & Hotel Mastinell.  A beautifully architected hotel and restaurant, the views are breathtaking across the vineyards.  You will get a 3 course Michelin quality meal during the week for 23€ and for 32€ on the weekends and bank holidays.
PortAventura is Europe's largest theme park & water park. It is located just outside Tarragona, and while you will need two days to do everything, you can still have a great day out on a 1-day visit.
In reality, PortAventura is 3 Parks: the central PortAventura Park with its six distinct areas, the Caribe Aquatic Park and newly opened Ferrari Land.
Thrill seekers will not be disappointed with the rides, and smaller kids will find their place in the Sesame Street area of the central park.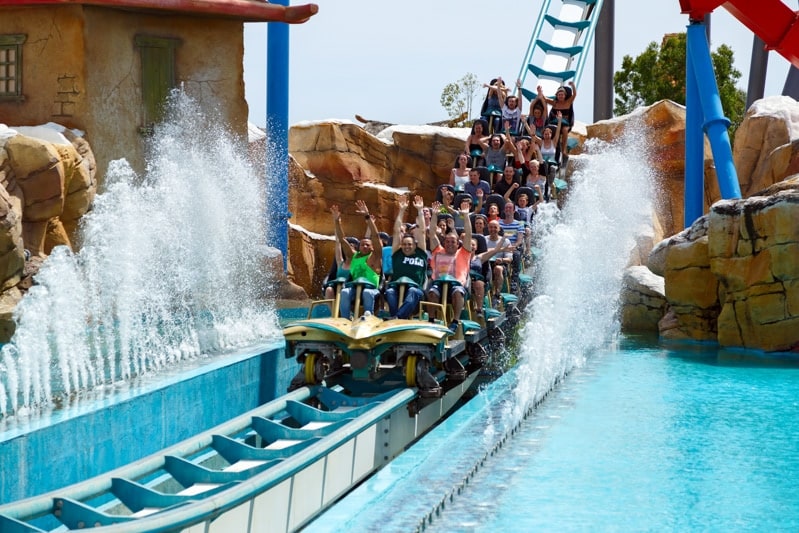 Apart from rides, there are countless indoor, and outdoor shows and characters make appearances to meet & greet and sometimes dance around the precinct of the central park.
Top Tip for PortAventura: if you are going for a day buy the Fastrack tickets which will allow you to skip the queue at the big rides once and sit in the front row.
Opening Times: 10:00 – 20:00 (closed 07 January – 21 March)
Guest-relations@utopia-villas.com can assist with organising any of these fun days out. Including transfers, tickets and general organisation.