Initially, people think of Sitges as a lively gay resort close to Barcelona with a hectic nightlife. They question whether a holiday in Sitges with family is a good idea.
Once families discover all that Sitges has to offer, however, they tend to come back year after year. William Cook, a journalist with The Guardian Newspaper swears his family won't holiday anywhere else.
Sitges is friendly and safe for children and has an endless list of activities. It could easily rank as the most family-friendly town in Catalonia.
What is there to do in Sitges with family?
Thankfully, Sitges has been protected from mass tourism. Its meandering streets with an obvious lack of large high-rise buildings may surprise you. The charming whitewashed buildings and cobbled roads in the old town will charm you and your family.
Sitges has 19 of the most beautiful beaches in all of Spain. There are family-friendly long white sandy beaches, cove beaches, rocky beaches, and beaches near the town that are much busier. Have a read of our guide to Sitges beaches here to decide which ones you will visit.
If you don't like spending all day at the beach there are plenty of other family-friendly activities in Sitges.
Just wandering through its streets and discovering all the coffee shops, boutiques, galleries, art exhibitions, and museums proves to be plenty for some families.
And check out our list of restaurants with some special recommendations for family-friendly dining.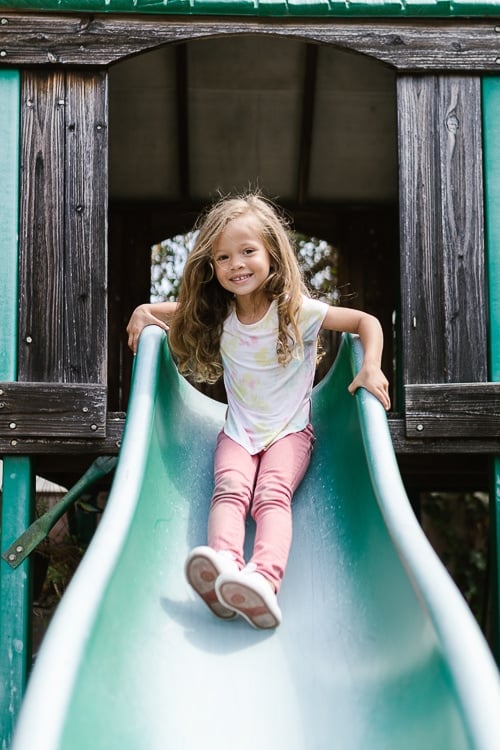 Sitges for the children
The following question comes up and some point on every family holiday.
'What are we going to do today?'
Utopia Villas has prepared this extensive list of things to do in Sitges with family…
These activities are bound to keep everyone happy. We have looked at activities for the smallest member of the family as well as the teenagers.
Our list below details water sports, entertainment centers, parks, and even summer camps. Here in Sitges, you can keep everyone busy and happy while on holiday in Sitges with family.
For younger kids up to 11 years
This spacious soft play arena is divided into 2 areas. A 1000m2 area for kids aged 4-10 and then upstairs is a separate area with cafeteria and soft play area for smaller kids 2-3. Located just 5 minutes from Sitges. Closed on Mondays. Great for about 60-90 mins.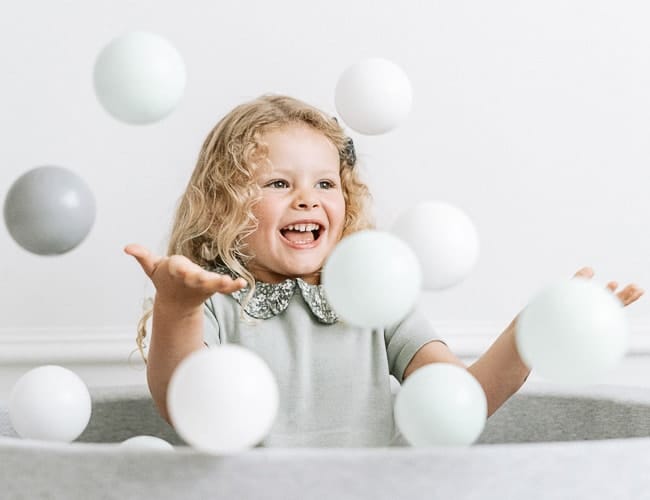 Terramar Gardens – behind the ME Melia hotel, Terramar
The children's playground area in 'Los jardines de Terramar' offers a shaded play area especially good for younger kids.
There is a sound garden and the playground area has a zipline which is a real hit with the kids. There are plenty of spaces to run around, cycle a bike or play football.
The Tourist train, Sitges
This little tram is particularly popular with younger kids. In fact, is a great way to get up and down the 2.5 km stretch of Promenade in Sitges. Maybe take the train to the end of the Paseo and walk up to the Terramar Gardens to the playground. Take a swim at the sea and the train back up.
One way tickets cost 2.50 euros
Return just 4 euros. Residents of Sitges can avail of discounts of 1,50 per trip.
This train runs from Feb – May at weekends only and from May until the end of September from 9.00 – 00.00
If your little ones have a penchant for trains they will enjoy a couple of hours here. There are more than 50 different types of trains to see. You will find electric locomotives, diesel and passenger cars as well as a replica of the first train that circulated the Iberian Peninsula in 1848. There is plenty of old train station paraphernalia for photoshoots too.
Younger and older kids
This indoor and air-conditioned trampoline park is a favourite among kids aged 5 – 12. If your kids need to expel some extra energy, this is the place to go. They say jumping here for 5-8 minutes is the equivalent of running 2 km! Located in Vilanova y La Geltru – 10 mins drive from Sitges on C31
This small centre has a couple of trampolines, ping pong tables, and a mini-golf course. It is located on Paseo Vilanova 138, Sitges, and is open from 10.00 – 20.00 on weekdays and 10:00 – 21:00 Sat/Sun. You can just pop along there but if you are a big group it is best to call ahead and reserve a time. This is a good place also for teenagers as it is located in Sitges town.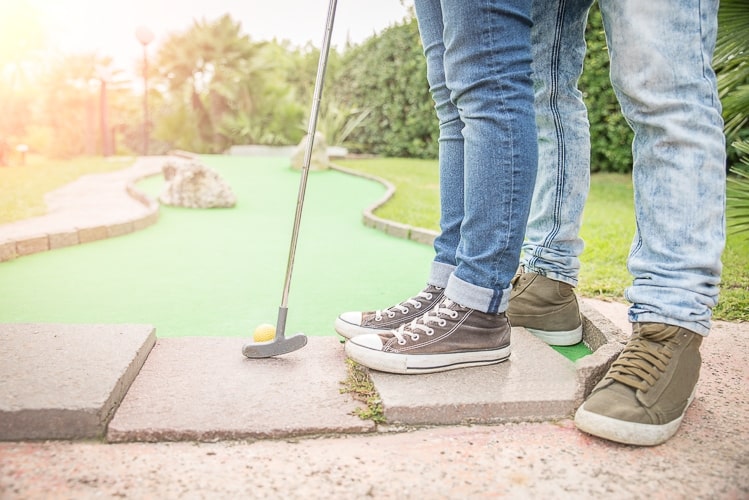 This centre is actually a rock-climbing school but allows kids to come and try out their wall climbing facilities. Kids from as young as 4 years can enjoy courses or a trail here. Run by professional climbers – a great experience for those drawn to altitude. Located in Vilafranca – 20 mins drive from Sitges
All ages and Teenagers
This unique play area in Sitges is bound to keep the kids laughing and talking for years. There are plenty of activities to choose from and most can be adapted to suit kids from 6 years of age. From Escape Room, Sumo Wrestling, Paintball, and bubble soccer. There's also an informal restaurant with BBQ food which allows you to make a full day out of your trip if you want. Activities are all supervised by monitors and the whole setup ensures serious fun for your visit to Sitges with family.
Skatepark – opposite Municipal Swimming Pool
Improvements were made to the Skatepark in 2018 which means kids who can't stay off wheels have a fantastic place to go. Located just in front of the municipal pool in Poble Sec – older kids will enjoy hanging out here and improving their routine.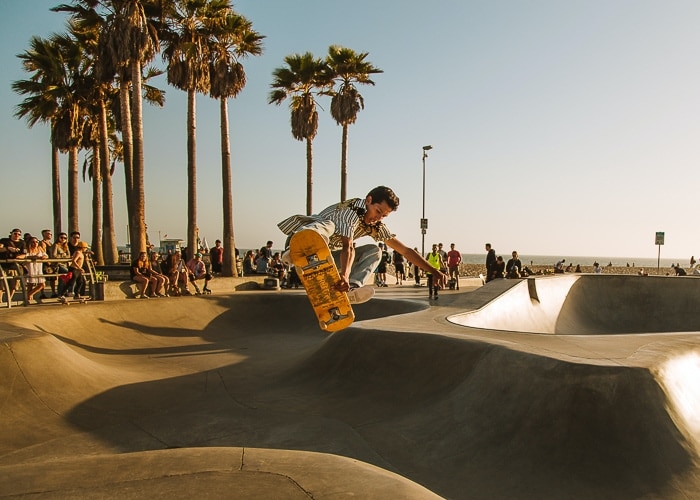 This riding school is tucked away in a woodland valley at Quint Mar. Classes or trekking in the Garraf PARC can be organized with professional monitors. Some of their horses have competed at the European Championship level. In summer, they also organize Summer camps. The info on the website is a little dated but the school itself is excellent. Check out OSO Pony Summer camp below.
Best for Teenagers & Adults
A challenge before dinner – or simply want to test your family's capability to survive by escaping from Sitges' first Escape Room? Using intuition, logic and mental agility do your best to escape as a team. Catering from 2-to 10 people this escape room can be adapted for kids from 11-15 and is available to all in English, Spanish & Catalan!
Want to get terrified? The Escape Horror Movie and Escape Ship are bound to get you worked up. These 2 in-house themes cater to groups of up to 10. Alternatively, a mobile version of an escape room can be delivered to your villa. This caters to up to 30 people. English versions are available upon request with a minimum age of 12 years as they are horror movies. Contact our guest-relations@utopia-villas.com for the mobile version of the game.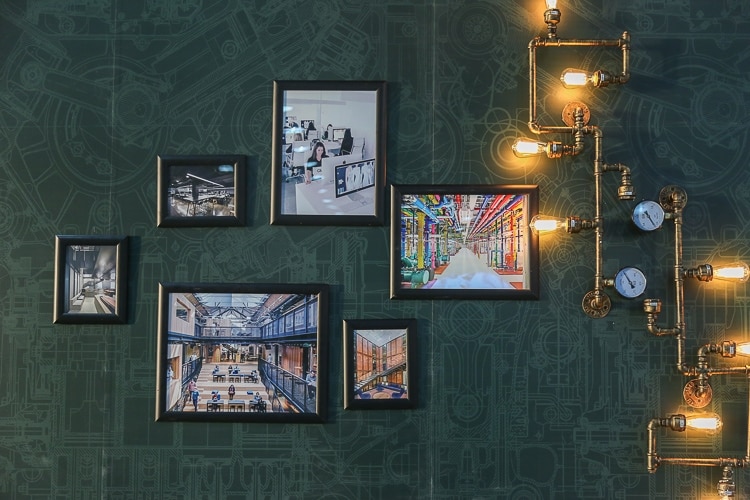 Water-based activities in Sitges with family
Of course, visiting Sitges without visiting its beaches is practically unheard of and who doesn't love an active beach day.
There is a huge variety of water activities to choose from such as fun paddleboats, kayaks, banana rides, donut boats, and parasailing.
As a starter we recommend you check out our blog detailing the 19 beaches of Sitges to pick the best ones for you. While the beaches are safe, it is always a good idea to swim in front of the lifeguards.
This watersports club is located just in front of the ME Hotel at Terramar. The sea is enclosed in a small bay area making is a perfect place to start learning how to kayak or SUP. Also, worth trying is their early morning excursions both on Kayaks and SUPs. This school also offers the option of Summer camps for kids from 9.30 – 13.00. Why not relax while you watch your kids try a new sport? The beach bar at the hotel offers sun loungers and a very nice beach bar serving snacks and light lunches.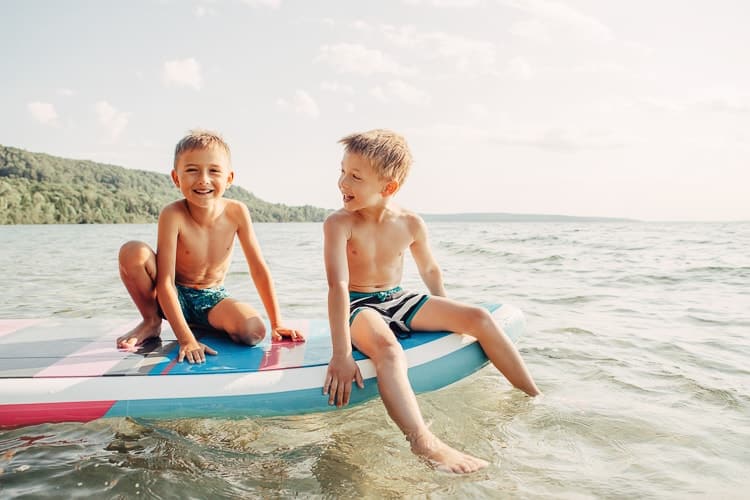 This company operates in Sitges from 21 June until the end of September. There's no doubt that parasailing over the water in Sitges will give you a unique view and make your holiday that bit more memorable. Flights are approx. 15 mins, and you can ride in tandem if you prefer to share the experience.
They also have banana rides which can be adapted to the age of the user. Donut boats again can be adapted to be light or extreme experiences.
Located in front of the church in Sitges, this sailing school is the most active in Sitges town. It offers windsurf, paddle, surfing, and sailing classes. It will take a group booking however it is important to book in advance. This school runs a well-organized and popular sailing summer camp. Kids can sign up to do a 40-hour per week sailing course with lunch included. They also run 10-hour family courses so that you can all join in the fun.
Sailing
A day sailing – There numerous companies operating out of Sitges with half-day and full-day excursions. Lunch can be served aboard, or you could stop off in Vilanova for fresh seafood lunch in a beautiful restaurant.
Contact guest-relations@utopia-villas.com, and we can make the necessary arrangements for you.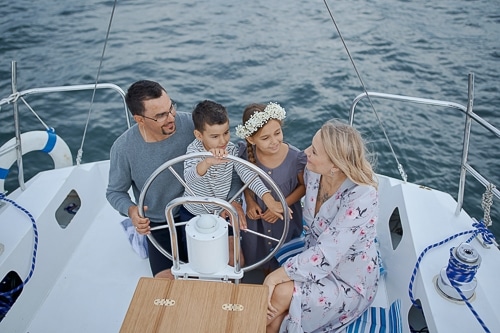 Boating
Want to take to the high seas for a couple of hours but without the heavy cost of a skippered sailing boat.
Look no further. From Aiguadolc you can rent a rigid zodiac boat with overhead shade and a nice sofa bed for relaxing. A maximum of 4-6 people are allowed on each boat. You can even bring your lunch or drinks with you if you want, and they will supply an ice bucket too! This is a great way to enjoy a quiet time away from the crowded beaches!!! Also, good if you want to try some fishing off the coast.
For boating without a license – try Eric Boats or Navega Sin titulo
If you book through Utopia Villas Concierge you will also get a free drink upon your return. We can also provide you with a nice discount in one of the restaurants in the Port of Aiguadolc after your experience.
Wibit's wonderful colourful inflatables are easy to find on the seafront in Sitges. This temporary obstacle course floats on the water between Sausalito and Terramar beaches during July & August. A fixed fee will allow adults and kids to test their balance and agility. However, it is probably better suited to older kids – 7 – 16 years.
Full-Day out with a bit of travel – Theme Parks – all ages
This is a 40-minute drive from Sitges but definitely worth it for a tree-top adventure.
This is the largest forest zip-line adventure park on the coast. Older kids in particular love the challenge of 11 courses to choose from and 130 different challenges.
Caters from 4+ years onwards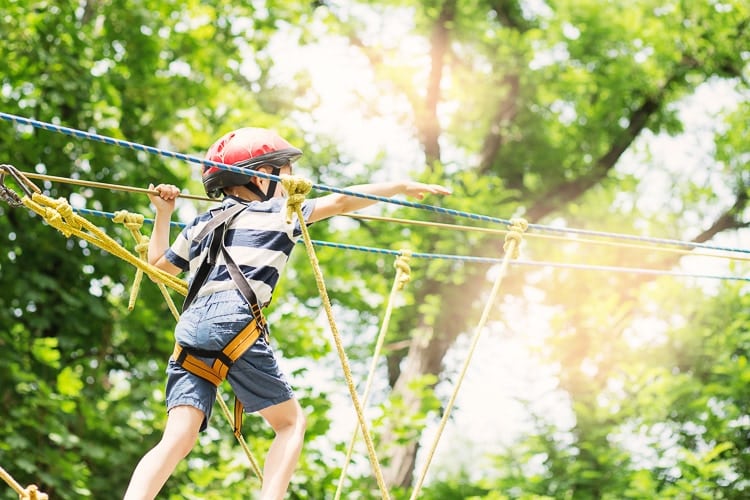 Port Aventura is one of Europe's largest theme parks & water parks located just outside Tarragona. It is possible to buy passes for more than one day. With its themed hotels and water rides, it is certain to have something for everyone and guarantees an action-packed day out. Port Aventura has the biggest theme park ride in Europe (Shambhala) and a kiddies Sesame Barrio.
If you wish to go only to the Water Park that is fine too – just state your preference when booking
Tel: +34 90 220 2220 Tel UK:+34 97 777 9090
For a full day out and a trip down the coast (25-min drive), check out this wonderful park for a family adventure in nearby Calafell. High climbing among the treetops, rock climbing walls, Laser Tag, and a thematic mini-golf park with waterfalls and caves.
Best Summer Camps in Sitges
If you are on an extended stay in Sitges you may want to sign the kids up to a weekly Summer camp. These are typically for a half-day 10.00 – 14.00h or full days 10.00 – 17.00h.
Our best picks for 2022 are the following:
Offer both half-day and full-day Summer camps. This school is the best riding school in the area and is very professionally run.
Book through Utopia Villas and secure your discount!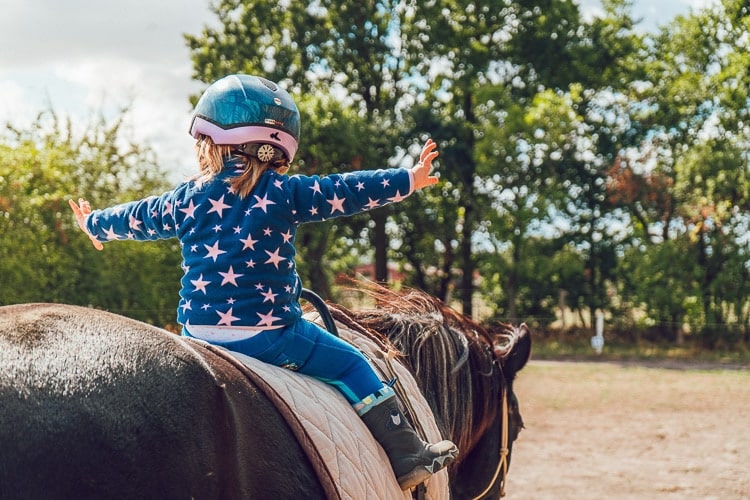 This is a great option for skate & surf lovers and is typically geared towards older kids. It straddles both surf and skateboard worlds with 3 days spent on the beach at Aiguadolc learning how to surf paddle surf, and SUP. The other 2 days the kids learn how to skate in the skatepark and use longboard and cruiser skateboards. The kids go to the Municipal pool on the days they skate ensuring plenty of opportunities to cool down.
This sports club is located in the residential estate of Vallpineda just 7 mins outside Sitges. It has wonderful facilities including a large grassy lawn, tennis courts, padel courts, and a large supervised swimming pool. The club runs half-day and full-day summer camps. This includes the use of the facilities but also creative workshops, robotic education, lacrosse, various ball games, and weekly excursions.
This well-established and professionally run sailing club offers courses for kids and for families during the Summer. This kid's summer camp includes 40 hours of sailing instruction per week both on and off the water.
The kids' Summer camp costs about 285 euros.
Club Natacio de Sitges is a well-known and favored sports club among locals and expats. It has a wonderful multi-sports Summer Camp which has been running successfully for years and is geared towards all ages. This camp is very much focused on sports including the use of the tennis and pool facilities. Both half-day and full-day courses are available. Full days include lunch in the on-site restaurant.
Time to take a load off? Fancy a movie?
Sit back, munch the popcorn, and take a little break at The Sitges Cine Club
If you want to catch a movie in English while you are in Sitges with family, head to the Casino Prado Suburense on Fransesc Guma
The Prado cinema shows films in the original version (marked as V.O. or V.O.S.E.) every 15 days on Thursdays at 20.30h
Family Photo Shoot
How many holiday snaps do you have on your phone that you never do anything with? They are not quite good enough to blow up and put on the wall at home. We have a fantastic family photographer that we work with. She will come to the villa and take the most beautiful photos of you in Sitges with family and friends. A keepsake for life. Contact guest-relations@utopia-villas.com to book a session for you.
Well, this will get you going and have a heap of fun while you have a holiday in Sitges with family!
If you are staying in a villa and wish to organise an activity, feel free to drop us a line at guest-relations@utopia-villas.com