Barcelona's restaurants and markets are famous throughout the gastronomical world, and we have a fantastic guide to help you experience the best there is. Suzy Taher from the exciting blog, Foodie in Barcelona chats to us to give you the inside scoop on the best restaurants and food in Barcelona.
As Suzy says, "Every culture is different… and I try to access that through their food." We share a quick walk through of the highlights of Catalan food culture and the seasonal produce and dishes that are favorites with the people who live here.  We also talk about the best markets in Barcelona where fresh produce and local delicacies are for sale, and where to eat out to sample the best dining experiences Barcelona has to offer.
Where are the best restaurants in Barcelona? As Suzy says, "It depends on the occasion, the group and what you are after." From a casual tapas meal to Barcelona's best fine dining experiences, Suzy shares her secrets in the video below.
Filmed at the beautiful Villa Isla Cozumel.
———————————————————————-
Markets
There are 40 municipal markets in Barcelona however Suzy recommends the following:
In the heart of Barcelona  on Las Ramblas, you will find this gem.  Although it gets a bad rap because of the number of tourists that visit, it is still the best market in Barcelona.   Here you get the best selection of produce and ingredients, for example mushrooms, herbs, spices, fish, sweets and chocolates.
On Av. Francesc Cambó 16, you will find this market with its colourful undulating roof which is meant to represent the produce that is sold underneath it.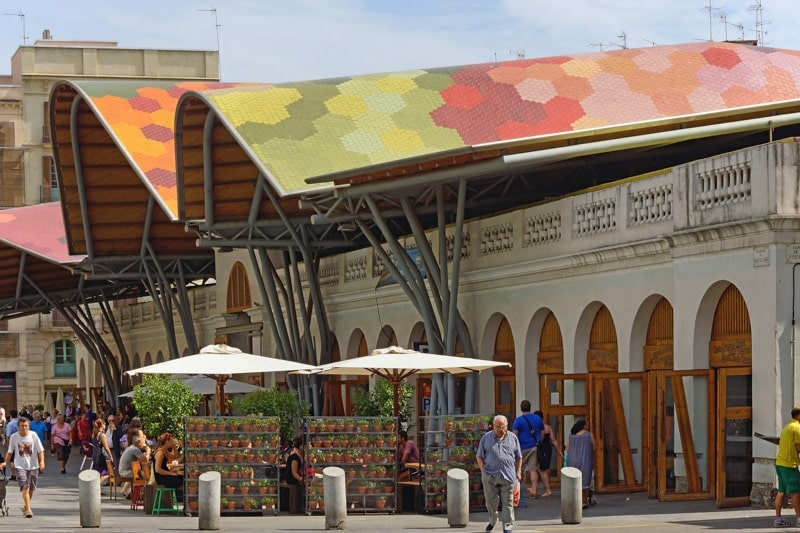 Tapas Restaurants
Here are Suzy's top recommendations for tapas restaurants:
Tickets  (+34 932924252)
If you can get a reservation here then absolutely do it!  You don't even have to order here, just tell them how hungry you are and they will put something together for you.  Everything that you have here will blow your mind.  It is like a food festival or carnival.  It is an exciting and fun environment.
Lolita (+34) 93 424 52 31
Close to Tickets is Lolita which is more traditional but they have a great selection.  They have a habit of taking hits from other places and replicating them but crediting the other restaurant.
Quimet y Quimet (+34 93 442 31 42)
Try their montadito (bread with a topping) topped with salmon, cream cheese and truffle honey.  It works!
Fine Dining
Suzy's choices for fine dining restaurants in Barcelona:
Pakta(+34 936240177 )
You can't go wrong at Albert Adria's Pakta – a fine dining experience of mediterranean food with a Japanese twist
Hoja Santa (+34 93 348 21 92)
Another Adrai restaurant, this time enjoy a Mexican experience
A beautiful restaurant but also the food is very interesting.  It is a bit different to Adria's restaurants as this is family style serving.
Direkte Boqueria (+34 931146939)
A quirky restaurant is Direkte Boqueria on the side of the Boqueria Market.  There is a lunch and dinner seating and the menu is only €45
For more tips and advice:
—————————————–
Read Suzy's Top 5 of everything in Barcelona