A trip to Barcelona is a must!  One of the best things about holidaying in Sitges is its proximity to the beautiful and vibrant city of Barcelona, and a visit should be on everyone's 'to-do' list.
Our guide to the top 10 things to do in Barcelona will help get you organised. There is a massive number of places to explore, and we are sure that one day won't be enough. But it will be enough to entice you back for more if you don't do everything on our list.
So, what's to discover in Barcelona? 
For starters, it is a unique European city. It's quite unlike any other Spanish city too. So, if you've been to Spain, but not to Barcelona, you will be taken aback by its distinct personality and beauty. Barcelona is an architecturally mind-blowing city, and it packs an astounding amount of beauty into a relatively small area.
Barcelona is home to the famous Sagrada Familia; 'a basilica' which took longer to build than the Egyptian Pyramids.
El Nou Camp, the biggest football stadium in Europe, calls Barcelona 'home'. Barca – 'mes que un club!'
Barcelona is the city that was initially earmarked to be home to the Eiffel Tower. Barcelona didn't believe it would add to the overall urbanistic aesthetics and so, defiantly, Barcelona turned it down.
Also, Barcelona has 4.5 kilometers of sandy beaches. These beaches host numerous water sports from rowing, kayaking, windsurfing, sailing and much more,  so what is not to love?
Our Top 10 things to do in Barcelona is the perfect place to start when getting to know the city.
If we can help to organise anything along the way – let us know on guest-relations@utopia-villas.com
Getting there – Top 10 things to do in Barcelona
Barcelona is only 40km away and is easily accessible from Sitges by private transfer, driving, bus, or train.
If you know exactly where you wish to go, our guest-relations@utopia-villas.com will be delighted to organise a transfer to your destination point in Barcelona.  A transfer can take you to multiples stops in the city and even wait to take you back to your villa when you are ready to return.
If you prefer to make your own way there, then check out our very handy guide on how to get from Sitges to Barcelona.  Once you're in the city, it's super easy to get around Barcelona by foot, taxi, bus, or metro.
You can download a map for the metro and plan your trip around the city very easily. It is available in English, Spanish, and Catalan.
These days, apart from the traditional forms of getting around the city, there are numerous companies which will rent bikes (electric & classic), scooters and mopeds daily. A quick google search will yield several options for choosing.
Let's go: TOP 10 things to do in Barcelona!
1.  Hop on – Hop off bus tour
We were sceptical about the Hop-on-Hop-Off bus when it first started. That scepticism is all in the past.
We love this option for getting introduced to a new city. The Hop-on-Hop-Off bus or el 'Bus Turistic', gives an excellent overview and orientation of Barcelona.
There are three routes to choose from, 44 stops around the city and just one ticket.
Your ticket will last 48 hours, and so you have plenty of time and as the name suggests you get off where you are most interested and invest your time as you wish.
The recorded commentary available on most buses is quite good. Admittedly, while you won't earn a history degree, it is, however enough to feel you can decide whether to keep riding or if you want to hop off and take a more in-depth exploration.
Starting your trip with the Hop-on-Hop-Off bus will allow you to avail of several discounts for other attractions and sights too!
Tickets can be purchased online.  The duration of the ride on all routes is approximately 2 hours, except for the green route, which is only 40 minutes. Buses run from 9.00 – 20.00 in Summer and until 19.00 in Winter.
There are many agencies selling tickets, but this is the official site: https://www.barcelonabusturistic.cat/en
The 'Montjuic hill' overlooks the city of Barcelona – this translates literally to Jew Hill.  An old Jewish cemetery was once located here.
It was the site of the Olympic Flame for the 1992 Barcelona Olympics, still marked today with the Anella Olimpica. Many of the facilities built for the Olympics were located in this area of the city.; including the Olympic Tower which served as the communications centre for the games.
It is well worth a visit not just for the view over Barcelona but also to visit the Montjuic Castle, the Fundacio Miro, Palau Nacional: and Poble Espanyol, and at night you can catch the Magic Fountains.
Poble Espanyol:  The name of this attraction translates literally to 'Spanish Town' and this fantastic initiative is a microcosm of Spain & Spanish life in all its glory. It depicts all aspects of this wonderfully exciting country in an open-air, traffic-free precinct with shops, bars, plazas and replicas of various parts of the country.
There are over 100 buildings which recreate various familiar villages in Spain. It is much more than a Museum as you can watch theatre at night, listen to live music and eat as if you were in other parts of Spain.
Four well known Spanish architects visited over 700,000 places in Spain and distilled everything they thought significant about them all into what is now known as Poble Espanyol in the area of Montjuic Barcelona. If you wanted to get a taste of 'Espana profunda' – 'deep Spain' and don't have the time to see all of Spain on this visit, this is the place to go!
Opening Times:
Monday from 9 am to 8 pm
Tuesday, Wednesday, Thursday and Sunday from 9 am to 12 midnight
Friday from 9 am to 3 am
Saturday from 9 am to 4 am
Antoni Gaudi's La Sagrada Familia is possibly Barcelona's most famous tourist attraction. Construction of La Sagrada Familia's initially started in 1882 and to this day is not yet completed. It is one of the most controversial architectural developments in the city and possibly in Europe.
The full extended work is due to be completed in 2026. So not long to wait. 2026 will be the 100th anniversary of Antoni Gaudi who designed this unique church and place of worship.
When work initially started, it was to be a regular church; however, it was later designated as a cathedral. In 2010, pope Benedict XVI declared it a basilica. Quite an achievement! For those who might not be familiar with the distinction, a cathedral is the seat of a bishop or the diocese, and a Basilica is a name given to churches which have been granted special privileges by the Pope.
Regardless of religious leanings, this architectural masterpiece is a must-see when visiting Barcelona. However, it is always busy and quite tricky to get tickets, so make sure you buy your tickets online before going.
If you don't get tickets or prefer not to invest too much time on this visit, the bus tour does a drive-by and has a quick stop giving you some of the most interesting facts.
If you are a Gaudi fan, you will be delighted to see both Casa Mila (La Pedrera) and Casa Batllo on Paseo de Gracia. Parc Guell is another stop that you can make to appreciate Gaudi in the open air. The bus tours will take you past, and you can also jump off and visit them.
You don't have to be an architect to appreciate La Sagrada Familia, and similarly, you don't have to be a football fan to know what Camp Nou is.
Some of the best footballers in the world play for FC Barcelona. After all, Leo Messi wouldn't play anywhere else!
Camp Nou has a tourist experience built around the Stadium. You can visit the museum, the trophy room, press room, the stadium, and even the changing rooms of the players.
Camp Nou is the largest football stadium in Europe with a 98,000 seating capacity. That's a lot of people getting excited when there is a 'Clasico' (Madrid V Barca)!  The club and stadium have a special place in the heart of Catalan society and as a symbol of Catalan Nationalism. Hence why it has been given the moniker of 'Mes que un club' – 'more than a club.'
Another descriptive term associated with Barcelona football is the word 'cule.' Translating directly to 'asses,' 'cules' refers to the time of Les Corts (Barcelona's first stadium) when outsiders were not given the best of seats. Their complaint was that all they could see were the backsides of the Barca fans; 'cules…' and to this day the term, much like the football shirt, is worn with pride!
The tour of the club takes typically about 2 hours and is well worth it. Also, why not see a match there for the full experience?
https://www.fcbarcelona.com/en/tickets/camp-nou-experience
5.  Visiting the Museums of Barcelona
When it gets too hot on the street, all you need to do is take to the air-conditioned interiors of your selected museum. The city is awash with plenty to choose from as Barcelona is well documented as a destination for visiting collections of Art.
Renowned artists such as Picasso, Dali, and Velazquez are the Godfathers of Spanish Art, and quite a few of their masterpieces can be viewed in the Museums of Barcelona. Nearly every museum has temporary exhibitions too, which keep them busy all year round.
Our top 5 recommendations are:
Pablo Picasso is considered a genius of his time, and his works can be appreciated through 4,251 works on display in this permanent collection in the Picasso Museum. We strongly recommend guided tours which are available from as little as 6 euros and are available in English. Opening hours vary depending on exhibitions and time of year and so it is advisable to check it out online before committing to a day.
Like much of Barcelona, Art and Architecture meet spectacularly in this large building which houses a massive collection of works. The Fundacio includes temporary exhibitions as well as several academic projects.
Kids typically love this exhibition due to the colourful nature of Miro's works.
This museum is the home of Contemporary Art in Barcelona. Quite a surreal experience and maybe not for everyone but if you like to feel a city through its contemporary art, this is the place to do it. It has numerous exhibitions & shows which change regularly.
If that doesn't satisfy your cultural hunger, maybe something a little different will.
This museum is located on the Ramblas. Admittedly despite the air conditioning, it may not be a good place to cool down – au contraire! Moreover, I'm not sure this is a place for kids but don't worry; we've got them covered later. The erotic museum is just in front of the Boqueria Market. Genuinely this museum provides an educational and recreational focus on eroticism as a classic theme in the history and culture of humankind. Full of sensuality, sexuality, and fun. There's plenty of laughs to be had and even a few scares.
This is a no-nonsense seriously fun museum! It is one of a kind in Spain and a good time is guaranteed for the whole family. Full of thematic rooms, the upside house, pool of balls, 3D equipment, and fantastical experiences. Big and small versions of yourself, mazes, optical illusions, and more. This museum is full of photo opportunities and will keep you laughing well after you leave the museums.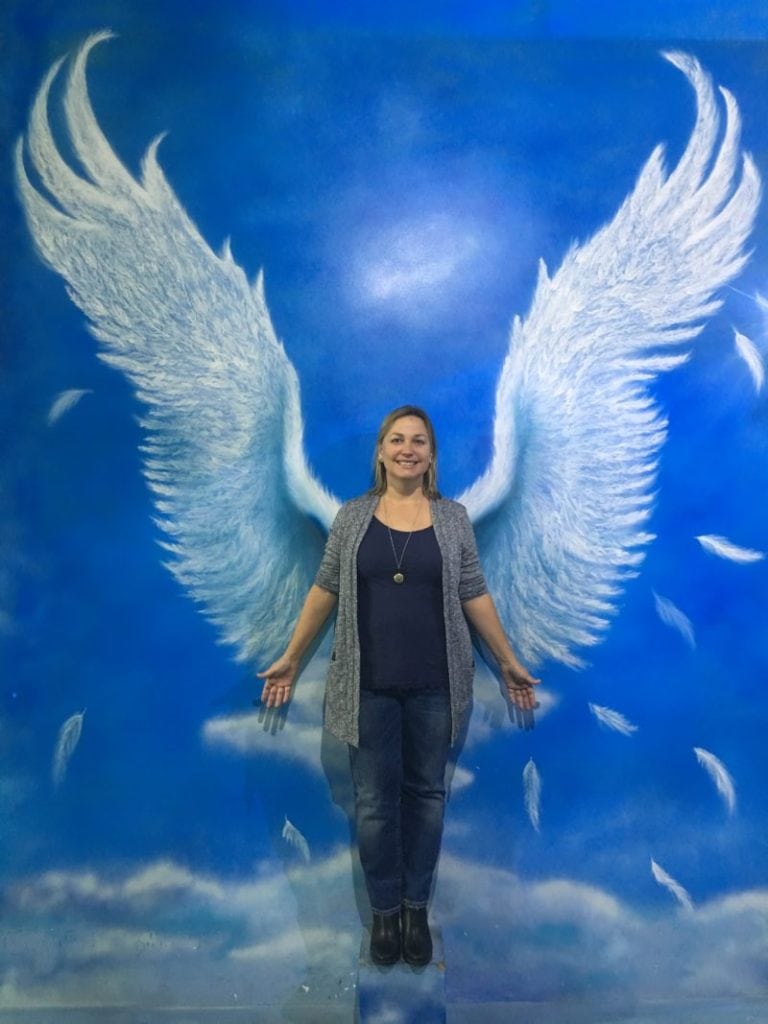 Getting out of the city without leaving it! That's is our best way to describe a day out at El Tibidabo. The complex is the highest point in Barcelona so obviously provides the greatest views right over the city and out to sea. The Amusement Park, the Fabra Observatory and the Church of the Sacred heart are the three things to see here. This is also the best access point for the Parc de Collserola. Depending on what you decide to do, you could easily spend 3-8 hours here.
The Amusement Park is no comparison to PortAventura, but it is very cute and old-world having opened its doors first in 1901 and maintained its personality since then. There is nothing more romantic than a trip on the Ferris Wheel at the top of this mountain. Some folk even use it a place to propose marriage so if you feel that way inclined, let us know so we can raise a glass with you 😊
The church bears a resemblance to the Sacre Coeur in Paris – entry is free, but if you pay a small fee to go to the viewing platform.
The absolute viewing point of Barcelona is, however, from the radio tower Torre de Collserola. This was built for the Olympic Games of 1992, like so many other buildings in Barcelona. It reaches almost 270 meters high, and the viewing platform is 560m above sea level. You can see Monserrat on a clear day! The best time to visit is at the weekends.
The best way to get to Tibidabo is by driving or public transport. You can take the old tram if you first take the L7 to Avinguda Tibidabo. The tram will take you to Placa Dr. Andreu after which you can take a funicular to the top.
Opening Times:
March – December: weekends & public holidays
July: Wednesday to Sunday
August: open daily
January: from 2nd to 5th
Closed: February and 6th – 31 January
For exact times – log onto their website and click the day on the calendar that you wish to visit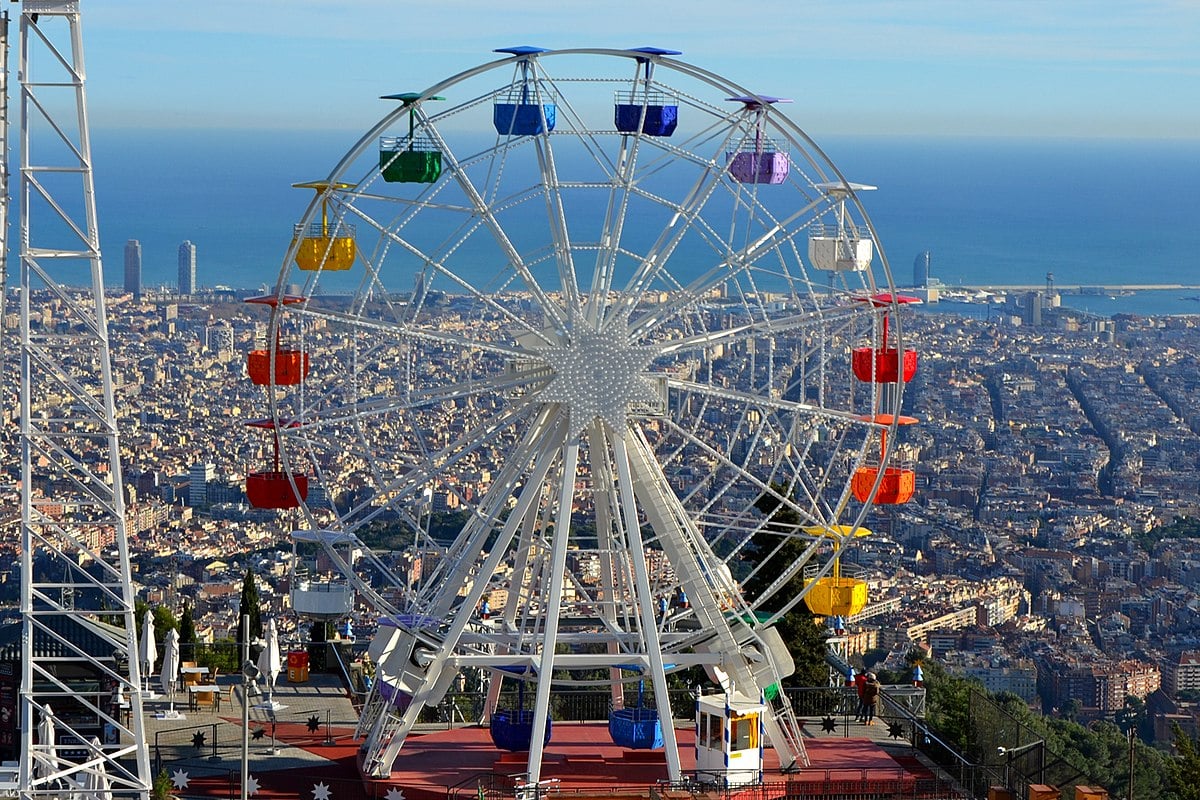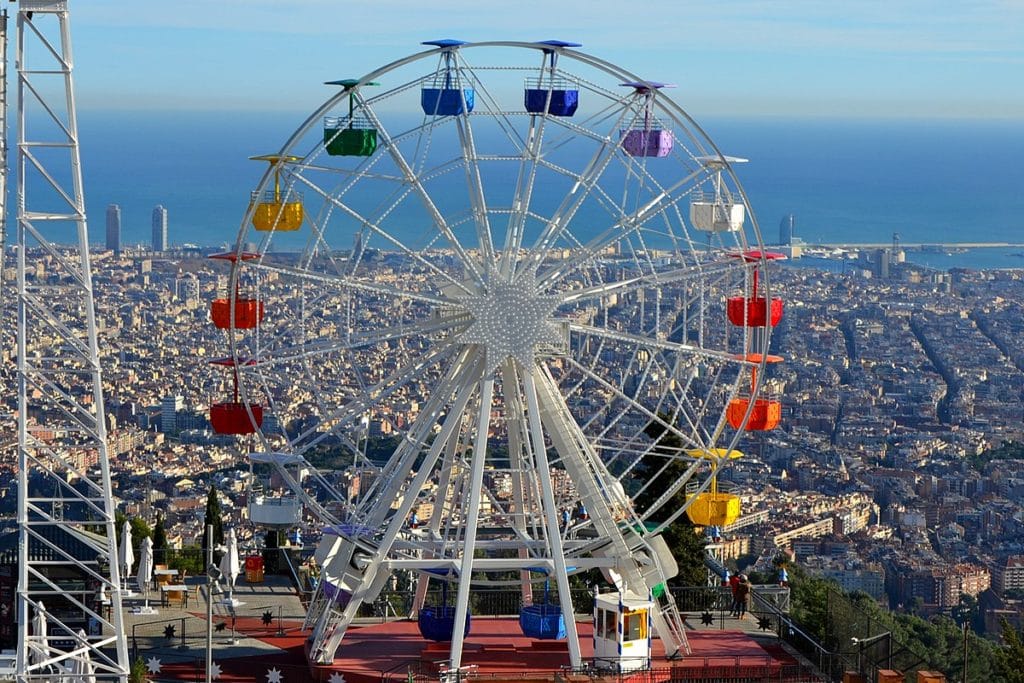 7.  Walking the Gothic & Born Areas
The best way to get to know Barcelona and soak up its wonderful atmosphere is to put your walking shoes on and take to the streets. There are surprises around every corner, and no amount of blog writing can tell you the best routes or everything you will see. That said the common way these days to get to know the city is by guided tours; self-guided or free tours. Feel free until you decide how much to pay.
The Gothic Quarter is amazing for sinister-looking buildings and spectacular gothic architecture. A stroll in the Raval reveals the locals' love of a spray can. Not quite akin to Berlin just yet but some pretty amazing designs can be seen on some shutters before or after they open.
The Jewish Quarter deserves a special mention, as does the Born, Parc Ciutadella and Barcelonetta. Don't forget the Plaça Reial and Plaza Catalunya. Get out on the streets and get lost in the mayhem – you can always get a taxi or metro back home. Drop into a tapas bar and ask for a pincho and a glass of wine; you're on your way to living like a local.
A great option is this culinary audio tour by our friend Foodie in Barcelona.  It is simply fabulous if you want to eat your way around El Born. It only takes 40 minutes and is a cheap and easy way to get some interesting historical facts while popping into some great eateries.
For walking routes check out this site: https://jetsettingfools.com/barcelona-on-foot/
We also like Sandemans  https://www.neweuropetours.eu/barcelona-walking-tours/ and (travelbar.com)
8.  Markets – Food & Trinkets
Food, glorious food!! If you love food, you will love the food markets in Barcelona.
There really isn't a better way to appreciate a country than through its food. The markets of Barcelona are brimming with energy and excitement. Almost every suburb of Barcelona has a market and have been serving their customers for years.
Bigger markets will typically house restaurants too and serve up some of the best fare available in Barcelona.
We totally recommend a visit to the following markets:
The Santa Catalina market is located in the Palma area and is known locally as the SOHO of Palma. With over 40 food stalls there is a huge array of fresh market product. Many of the local businesses buy here too. The market restaurants offer the best Catalan and International food in the area. It is also very close to the popular Gothic and Born areas.
Some believe this market to be more authentic than the Boqueria, but, La Boqueria is steeped in history, and no market list would be complete without it.
·         La Boqueria – Las Ramblas, Barcelona 
Everyone knows 'La Boqueria' – or the Mercat de Sant Josep de la Boqueria, the beating heart of central Barcelona. It is, without doubt, the most popular food market in all of Spain. In 2005 it actually won the accolade of 'Best Market in the World' by the World Congress of Public Markets.
Shoppers pile into this market almost every day of the year. It is steeped in history and many of the food stall owners will be happy to share a story or two.  Any foodie will love tasting new cuisine in the buzz of a busy Mediterranean market. And if you are feeling very enthusiastic you can even sign up for a cooking class there. At La Boqueria, all of your senses will be awakened. Colours and scents of everyday life burst at the seams in this market.
This market is open every day from 8.00 – 20.30
Check out our blog which has info on markets from Barcelona to Vilanova
9. Shopping
The idea of shop til you drop is quite a polarizing one for folk visiting Barcelona. On one hand why waste time in a dressing room when in such a wonderful city.  But for others, the opportunity to fill up the suitcase with some new clothes is the secret reason they come.
Perhaps the old adage of   "Whoever said that money can't buy happiness simply didn't know where to go shopping."
Barcelona is one of the most wonderful places to go shopping. No matter your taste or your budget, Barcelona has what you are looking for and you may even pick up some surprises along the way too.
The first stop has to be Passeig de Gracia and Portal del Angel. Passeig de Gracia is full of high-end shops – Gucci, Armani, Burberry, Chanel, Jimmy Choo, Replay, Diesel etc. – you get the picture – they are all there!
From Plaza Catalunya down, you will find Portal del Angel. Similarly a fantastic shopping street but with high street brands such as Zara, Mango, Massimo Dutti, H&M, Benetton etc.
The Born is the best area of Barcelona to find artisan shops and local & international designer wear. For sure you will get lost in the maze of streets but that's the whole point. Get lost and discover your favourite shop. Many of the shops are run by the designers themselves and for sure you will pick something up unique and suited to your personal style.
Check out this guide to shopping in the Born
If you prefer a good shopping centre, the following will be sure to satisfy. Most shopping centre have recreational zones with cinemas, restaurants and kids play areas. You can get sucked in and end up spending a day there. Don't say we didn't warn you!
Diagonal Mar Centre
Over 300 shops catering for all ages and styles. Located close to the beach. Offering 12 hours a day of shop til you drop.
Location: Avinguda Diagonal 3. Opening Hours: 10:00 – 22.00 (closed on Sundays)
With over 160 shops, this possibly has the most variety of clothes under one roof in Barcelona. Lots of entertainment and eateries too. Well worth a visit if you are committing to a day of shopping.
Location: Avinguda Diagonal 208. Opening Hours: 10:00 – 22.00 (closed on Sundays)
Shopping Centre Arenas
We just love the location of this Shopping Centre in an old bullring and the spectacular views of the City from the roof terrace. It was opened first in 2011 and has plenty to keep you entertained; shops, cinemas, restaurants and even a Museum of Rock.
Location: Gran Via de Les Corts Catalanes 373, Opening Hours: 10:00 – 22.00 (closed on Sundays)
And for flea markets again we refer you to our guide to markets which has some great options in Barcelona too
Please note that we only provide information and take no responsibility for damage caused to credit cards. 🙂
10. Barcelona – a cocktail haven
Mocktail or cocktail – we've got the best recommendations in Barcelona.
So after all that shopping, you will want to take a load off and contemplate your new wardrobe. Most shops stay open until 22.00 – just in perfect time to segway into cocktail hour. The Bars of Barcelona are some of the best in the World and will have no problem serving up a favourite classics such as the Martini Pornstar served by Marmelade or something new and creative, Japan Democracy served up by the staff at Old Fashioned.
That's it! Let us know how you got on and if you liked this guide.
Also, if we can help with anything along the way, please contact us at guest-relations@utopia-villas.com