If you are planning a visit to Barcelona, think twice before booking a stay in the busy centre.   Come and stay in one of our villas in Sitges.  They are just 40 minutes down the coast, by bus or train.  You can rest in true style in one of the villas that has truly inspiring interior design. Use your time to appreciate the beauty of your surroundings. Rest and relax and enjoy the luxury of living like royalty. Don't worry, you may even be able to tear yourself away from your exclusive luxury Sitges Villa to enjoy the sights in Barcelona.  Or maybe you can just visit another time.
Opening your eyes, the sunlight pours in through the windows and over the bed.  You have just had a restful night, and you throw off the covers as you walk over to the window in your master suite and look out. Like every morning since you have been here, your breath starts as you take in the beautiful view over the Mediterranean sea.  It sparkles in the Spanish sun. Sitges below is just waking up, just like you, but they do not get to be living like a celebrity, even for a little while. Not only are the views and the location breathtaking, but the villa itself is pure bliss with its white, minimalist design.
Villa Casablanca, one of our luxury villas in Sitges, is a haven for relaxation.
Walking through this sensual villa, you can only feel like a film star.
The master bedroom and its en suite bathroom have panoramic views over the sea and Sitges below, whether you are sleeping or taking a bath, your vision is filled with beauty.
The design is truly a work of minimalist art, a real feast for the senses. The master bedroom includes a glass floor and has access to its own terrace and bar, as well as its own roof terrace overlooking the town below.
One whole floor is dedicated to the state of the art kitchen with all the modern appliances you could wish for, so whether you love cooking or want to hire your own private chef, you will be in culinary heaven. The open plan design leads onto into the dining and living rooms, which, yes you guessed it, have more spectacular views of Sitges below. Or if you feel like a little private meditation, walk into the enclosed terrace with its own tranquil water feature.
Feeling like a relaxing dip in the pool or a bubbling jacuzzi experience? Why not dip into the indoor pool for a while and then grab a refreshment from the bar while making your way to the terrace where you can lounge around on the numerous sun beds.
This villa´s unique, modern, clean design, is a real treat whether you want to relax as a family or have a romantic getaway.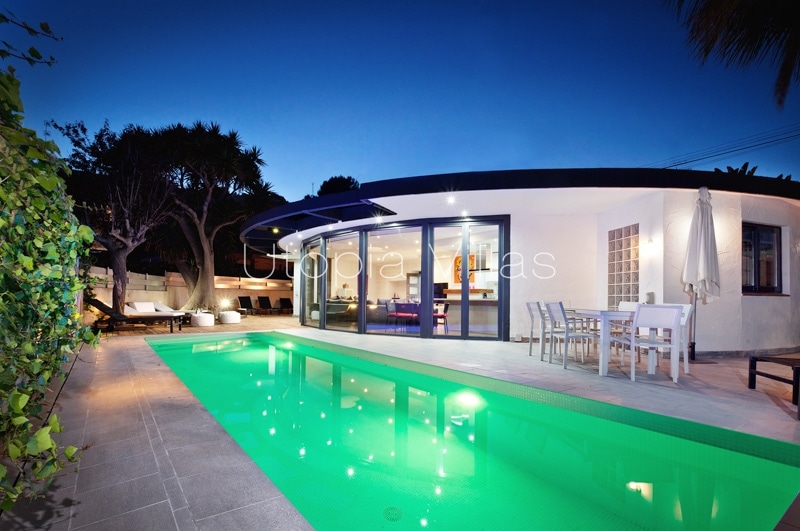 This gem in our luxury collection of  villas in Sitges, located in the quiet and well protected urbanisation of Vallpineda has a very extraordinary semi-circular design. Recently refurbished with a fresh and modern look it is the perfect family holiday destination.
The villa itself is all on one floor with access to the terrace through floor to ceiling glass windows/doors, where you can relax by the pool or dine al fresco enjoying a little taste of the Spanish lifestyle. Indoors is the open plan kitchen, dining area and living room with its modern and quirky style. The atmosphere that the design provides is light, airy and extremely comfortable, designed specifically so that each part can be utilised to its full potential.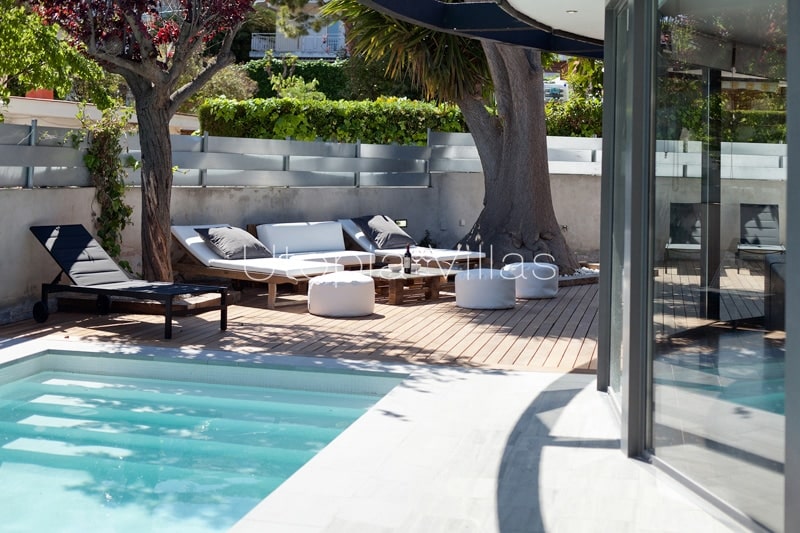 The kitchen is fully equipped with all modern appliances.  The space is distributed so that all the guests can enjoy each others company. Whether they are cooking, relaxing on the sofa or chilling in the garden.
Everything in this villa is of a high quality and modern comfort.  At the same time it allows for all guests to enjoy their time together, especially when there are children needing looking after.
This is one of our luxury villas in Sitges that truly lives up to its name. The outdoor areas are designed fully in lagoon style. With the master suite private exit to the pool, you really will feel like you have your own exclusive lagoon! The outdoor areas are spectacular.  You can truly relax in style in the outdoor chill out area or the shallow pool.  While taking in the beautiful sights of Sitges and the sea below, the views are truly unparallelled.
Exclusive is the only word that would truly describe this gem of a luxury Sitges villa. From the moment you walk into the entrance with its art deco chandelier hanging above you and the unique tropical fish tank, you will feel like you have taken a step into heaven.
If you are lucky enough to stay in the Master Suite, you will be sleeping like royalty in a four poster bed.  After waking up wander outside to that beautiful lagoon pool.  Relax at the chill out area or even taking an outdoor bath! A beautiful design feature is the en suite bathroom.  Separated by a glass wall, you can enjoy a dip in the free standing bath or a relaxing rainforest shower.
Not only is this villa the epitome of elegance and style, but it also has its own separate, self contained duplex for a little more privacy or for extra guests.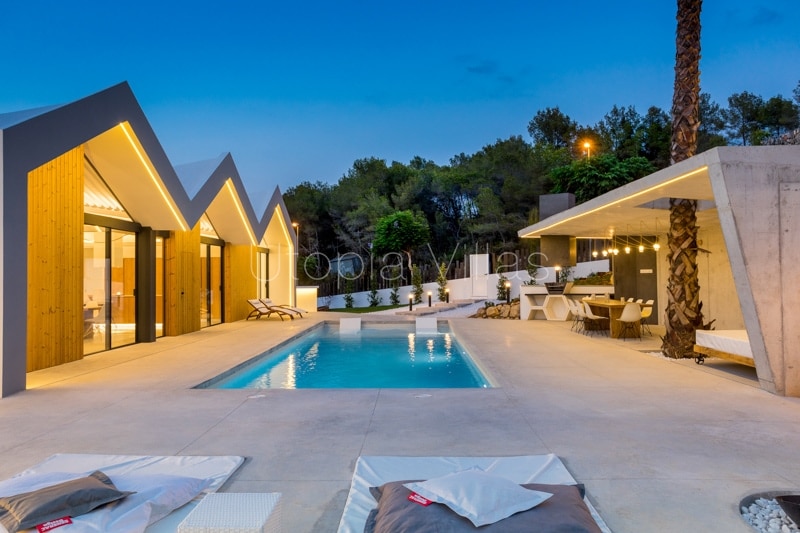 When you think of unique design, Villa Malena would definitely come to mind. In fact Villa Malena was recently featured in the architectural magazine Casa Viva.  Sitting in the hills of Sitges, this jewel of design is heaven to those who appreciate something different.
This villa is a hybrid between luxury beach house and a mountain cabin, but on a much grander scale. With its wood and glass look and the touches of the natural intermingled with the modern and clean.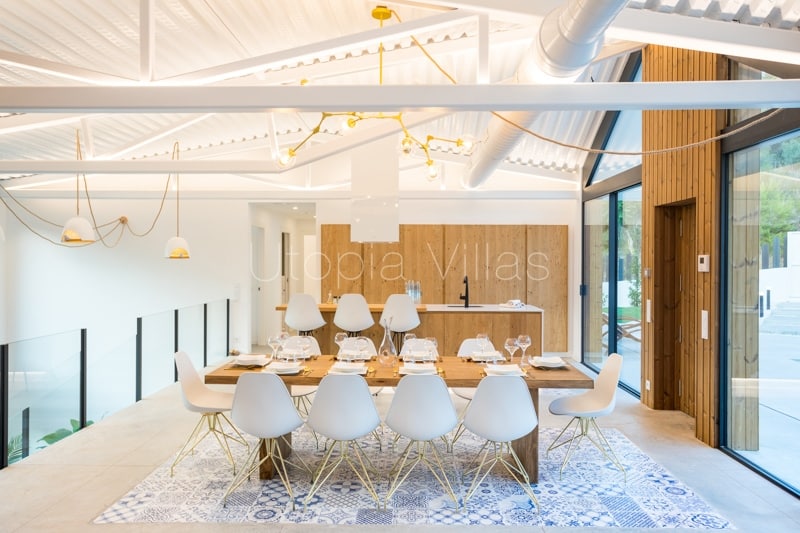 This is one of our luxury villas in Sitges that was designed with every detail in mind. The high ceilings and bright interior really allow you to appreciate the details of every space.  It is designed in a unique style for you to enjoy, with beautiful panoramic views of the nature beyond. This villa has all the comforts and modern furnishings. But it also has a design edge that inspires imagination and an appreciation for art.  That is what this luxury villa in Sitges is – a work of art!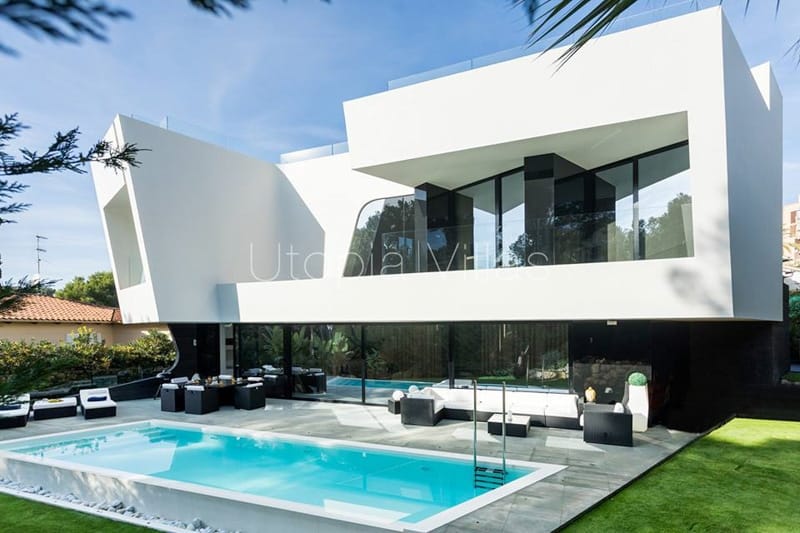 This luxury villa is the icing on the design cake. The architecture is unique to say the least.  It has exceptionally thought out design features and artwork that complement at every turn. This villa is the perfect place for the ultimate romantic getaway, in true style!  The flow between the spaces is at the forefront of the layout.
Not only does it have all the modern comforts for a life of exclusive luxury, it also offers an opportunity for exercise and relaxation.  Enjoy the dipping pool, sauna, jacuzzi and gym.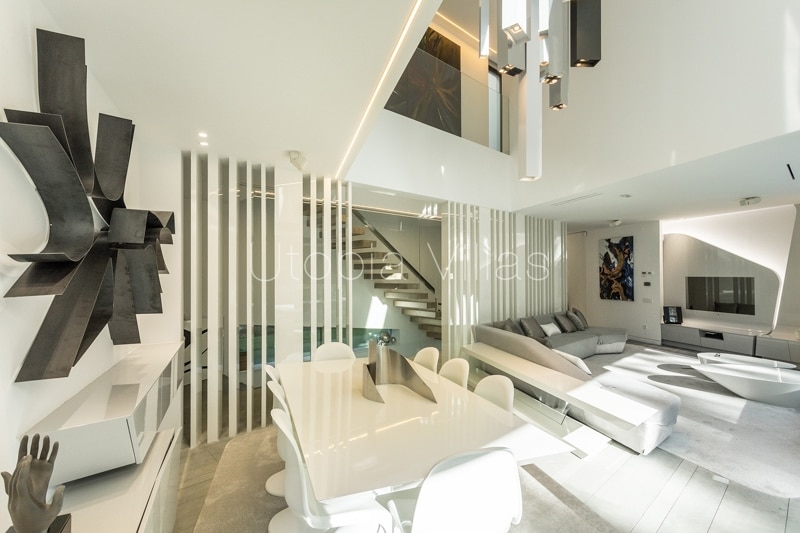 Villa Magnolia is a perfect place to immerse yourself in style and privilege.  You will truly enjoy each and every inch of its existence.
Speak to us about what you are looking for in your luxury holiday.  We can plan the perfect holiday for you.