What's happening this week?
We are celebrating in Sitges! Join us for one of the most fun weeks of the year
Sitges….
Santa Tecla de Sitges 2019
This week we are right in the middle of the Santa Tecla Festa Major. Santa Tecla is one of the Sitges co-patron saints, together with Sant Bartomeu. There are all kinds of activities, celebrations, traditions and moreover a lot of fun for the period.
You can have a look at the full program here. The highlights for this week however is the following:
Saturday 21st September

EL BALL Santa Tecla Sitges 2019 (The Dance – Fiesta Mayor concerts)22h On La Fragata beachWith Manel Fuentes & The Spring's Team, Gansos Rosas and DJ Coco
Sunday 22nd September

Procession of dancers and musicians 

19h From Calle Carreta núm

Fireworks

23h From la Punta (Parish Church), La Fragata and the breakwaters
Monday 23rd September

MATINAL FOC (Parade for children demons and dragons)6.30h From plaza del Ayuntamiento
Mediterranean Guitar Festival
On Friday 13th September you can enjoy of the Ignasi Prunés' concert. Don't forget to book your tickets.  "Ermita de St. Sebastià" at 9pm.

Vilanova i la Geltrú….
Nomada Beach Club
Every day on the Beach Club they offer a different plan: jazz, ethnic beats, thematic parties, Sunset Jam Experience,… . Platja del Far, Vilanova I La Geltru.
Barcelona…
La Merce
Barcelona's biggest festival of the year is this week and is known as la festa major de Barcelona. All districts of the city take part in the celebrations.  This is the celebration of the Patron Saint of Barcelona, the Virgin Mary, who is called 'María de las Mercèdes', meaning 'Mary of Mercies.'
You can find the full program here
Here are some highlights for you:
 The Mercè 2019 BAM music festival (Barcelona Acción Musica) takes place from the 20th to the 23rd September. BAM is an annual indie music festival and you can find the programme here.
Date: Friday 20 September 2019
Activity: Sardanes inaugurals
Time:  7pm to 8.40pm
Where: Av. de la Cathedral in front of Barcelona Cathedral
What is it? Sardanes is the traditional folk dancing of Catalonia region of Spain. The 'cobla' is the band that accompanies for the sardana. Traditionally sardanistes wear special dancing shoes called espardenyes which are made of esparto grass fabric and have two long strips of fabric to tie them
Date: Friday 20 September 2019
Activity:  Passejada de dracs i bèsties de foc – Parade Fire-Breathing Dragons and Beasts
Time: 10pm – 22:00
Where: starts at Plaça Comercial
Date: Saturday 21 September 2019
Activity: Firerun – Cercavila de foc dels diables petits – Correfoc infantil – Children's Correfoc
Time: 6.30pm – 18:30
Where: starts at Plaça d'Antonio López, then on Via Laietana street to end at Plaça d'Antoni Maura
What is it? 'Correfoc infantil dels petits diables' is the special children's correfoc firerun with fireworks and firecrackers that are less noisy and scary for kids.
Date: Saturday 21 September 2019
Activity: Firerun – Correfoc de la Mercè -Porta de l´Infern
Time: 20:30 – 8.30 pm
Where: Starts at Plaça d'Antoni Maura then down Via Laietana street to end at Plaça d'Antonio López
What is it? The Correfoc de la Mercè is one of the most popular events of La Mercè anc can have up to 70.000 spectators. About forty groups of 'colles de diables' – 'groups of devils' from in and around Barcelona, as well as dragons and other 'bestiari de foc' –  fire beasts – take part in this festival of fire. The gates of hell open at 7.45 with "Tabalada infernal" drum display. At 8.25 there is a "Ceptrotada" dance for "Lucifer" from each group of diables and the correfoc firerun itself starts at 8.30
Date: Monday 23 September 2019
Activity: Parade 'Xambanga de Gegants'- Giants' Xambanga
Time: 8.45 pm to 10pm – 20:45 to 22:00
Where: Parade start at Plaça dels Àngels in Raval area. Finish at Plaça de Sant Jaume
What is it? The Xambanga de Gegants is a 'dancing' giants parade. The 'giants' are from many Barcelona districts and neighbourhoods. Both the groups and giants dance to traditional drums and pipes and even to pop music. This event is especially fun because giants and groups dress up in fancy dress costumes.
Dates: Friday 20 & Saturday 21 September 2019
Activity: Fireworks display on the beach
Time:  10pm – 22:00
Admission:  Free
Location:  Platja de la Barceloneta – by 'Espigó del Gas' breakwater
What is it? Two nights of spectacular firework displays at 10pm on the beach of Barceloneta at the Platja de la Barceloneta by the 'Espigó del Gas' which is the name of the first breakwater south of Port Olimpic. In 2019 the fireworks are by companies from Beirut and Peru.
Magic Nights Casa Batlló
Casa Batlló invites you to spend Magic Summer Nights on their Dragon Terrace enjoying a glass of cava and live music under the stars. Every night different artists in one of the most special monuments of Barcelona. You can choose your night here
Mecal Air
Every Saturday till the 21st September, the outdoor short-film festival shows up. When the sun goes down at the lake behind the Design Museum, a different theme-film is shown each Saturday. See their program here

A culinary tour of El Born – Audio voice Map Tour!
El Born and Gothic Quarter are two of the neighbourhoods with more restaurants and gastronomy in Barcelona. Indeed a different experience of a guided gastronomic tour (40min – 2 km) aimed at visitors of the city with a penchant for gastronomy placed within a cultural context. You can get more details here: https://foodieinbarcelona.com/a-culinary-tour-of-el-born-audio-voicemap-tour
Always a good plan…
Port Aventura and Ferrari Land
What best to spend a day in one of Europe's most iconic theme parks. While you discover the six Port Aventura's worlds, you will therefore enjoy all their attractions, impressive rollercoasters and shows. Ferrari Land, next to Port Aventura, add more speed and leading technology if possible, to make it an unforgettable experience. Perfect places to enjoy a family day or a friend's getaway. Located just outside Tarragona, only 50 minutes driving from Sitges. Not to be missed!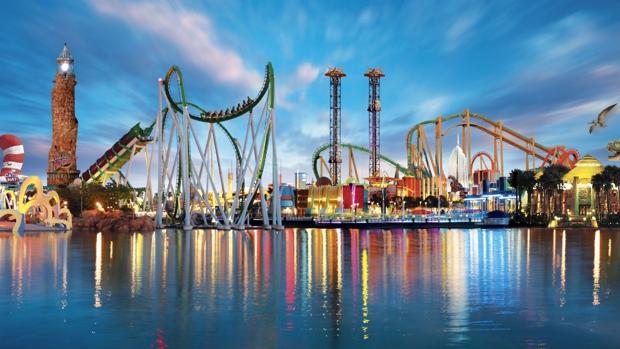 Montserrat
Let yourself be enchanted by the spirituality and nature of Montserrat. Only getting to the top of the mountain is already special, either if you go up with the funicular or the cable car. The visit is not only worth it because of the spectacular mountain and the Monastery, but for the Escolanía de Montserrat, a children's chorus who makes this place magical. Besides of the cultural immersion, the surroundings are great for trekking enjoying the views. Compulsory visit to know a piece of the Catalonian history.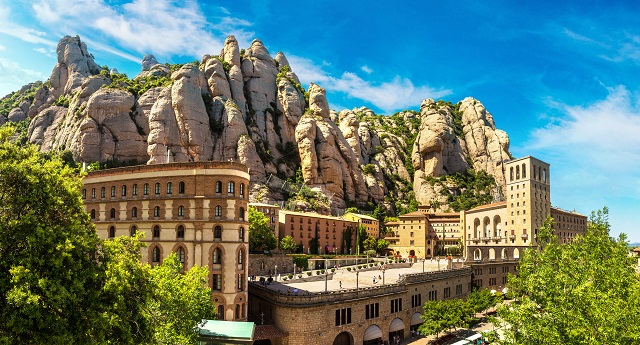 Vineyards and Wineries
Have you already tried Penedés wines? Once you are here you should try them, moreover visit their vineyards and wineries to know all about their traditions. Only half an hour from Sitges large options of visits can be organised, including a Mehari tour and of course a wine tasting and a picnic. Highly recommended!
Barcelona Visits and Tours
The city has so much to offer that you will regret if you don't spend at least one full day here. Sagrada Familia, Park Güell and both Gaudí La Pedrera and Casa Batlló are the main monuments you cannot miss. Tickets are often difficult to get, we do recommend you buy them in advance – we can help you with that. Otherwise, a private tour can be organized including a visit to other Barcelona highlights like Gothic Quarter, Las Ramblas, Montserrat, La Barceloneta, … We are happy to give you our best recommendations to make a benefit of the visit!
Dining OUT
Eating out in Sitges is always a pleasure and there is a huge number of restaurants to choose from. Check out our restaurant guide here for our Top 5 restaurants across 9 different meal categories from brunch to fine dining.
We hope that helps you to enjoy Sitges and Barcelona area as much as we do. To keep you updated of anything that shows up we recommend you to follow us via Facebook (Utopia Villas) and Instagram (@utopia.villas)
Have a great week!!