What's happening this week?
Summer is here, and activities in Sitges and its surroundings are increasing. We would like you to enjoy as much as you can your stay, so have a look, and decide what you are up to!
Sitges….
Summer Group Show OOA GALLERY
Africa's contemporary art scene is characterized by a dynamic list of exceptional artists whose aesthetic innovation and conceptual profundity has paved the way for the next generation. Using their creations to interpret and portray Africa's socio-economic realities, political challenges, rich traditions and diverse beauty, these leading and emerging artists continue to influence the evolution of contemporary art in Africa.
For their Summer Group Show OOA Gallery will profile nine contemporary African artists:
ANJEL – BODO FILS – Ilídio CANDJA CANDJA – MÉNÉ – Wycliffe MUNDOPA – Sadikou OUKPEDJO – SAADIO – Rémy SAMUZ – Médéric TURAY
Each week they will present one artist selected for this eclectic show. This time they present you Togolese artist Sadikou OUKPEDJO.
And don't forget: happy hour with free cava each Thursday of July & August from 8 till 9 pm
Mediterranean Guitar Festival
Spanish Cellist's Ignasi Prunest plays a concert this Friday 12th July in Sitges. If you wish to enjoy the nicest melodies, don't forget to book your tickets.  "Ermita de St. Sebastià" at 9pm.
Live Music Casa Balmins
On Sunday 14th July, you can enjoy both the music and the scenery. Chiringuito Cala Balmins organizes at 7pm a live music concert of ZeBrass Marching Band by the beach!
Sitgestiu 2019
Sitges is not only beach in summer but culture. Museums of Sitges organizes together with the City Council a summer plenty of concerts, exhibitions, workshops, visits to the museums and much more. You can get more info visiting Sitgestiu 2019
Concerts de Mitjanit
From the 12th Jully to the 14th August, you can enjoy of the best music nights in Port D'Aiguadolç. Choose your concert and your night here
Zumba Class on the beach
Would you like to start your day dancing? Chiringuito La Barra organises every Sunday a Zumba class on the beach. Be there at 11:30am and follow the rhythm!
Sant Pere de Ribes….
Rua Summer Carnival 2019
The Summer Carnival Festival celebrates its 10 year. 1.800 people parading with floats, troupes, music and fun! Les Roquetes del Garraf, 12th-13th-14th July.

Vilanova….
Nomada Beach Club
Normada Beach Club besides the great location and ambience it is music by the beach. Full weekend program to enjoy every day! Platja del Far, Vilanova I La Geltru.
Barcelona…
World Class Cocktail Festival
Discover a city of drinks from the 8th to the 14th July. The worldwide competition is taking place this week in Barcelona, and from there the best Spanish cocktail will go to the final in Glasgow. More info here
Mecal Air
Every Saturday till the 21st September, the outdoor short-film festival shows up. When the sun goes down at the lake behind the Design Museum, a different theme-film is shown each Saturday. See their program here

A culinary tour of El Born – Audio voice Map Tour!
El Born and Gothic Quarter are two of the neighbourhoods with more restaurants and gastronomy in Barcelona. Indeed a different experience of a guided gastronomic tour (40min – 2 km) aimed at visitors of the city with a penchant for gastronomy placed within a cultural context. You can get more details here: https://foodieinbarcelona.com/a-culinary-tour-of-el-born-audio-voicemap-tour
Always a good plan…
Port Aventura and Ferrari Land
What best to spend a day in one of Europe's most iconic theme parks. While you discover the six Port Aventura's worlds, you will therefore enjoy all their attractions, impressive rollercoasters and shows. Ferrari Land, next to Port Aventura, add more speed and leading technology if possible, to make it an unforgettable experience. Perfect places to enjoy a family day or a friend's getaway. Located just outside Tarragona, only 50 minutes driving from Sitges. Not to be missed!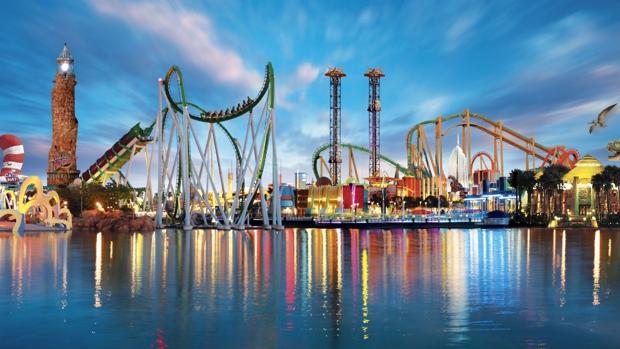 Montserrat
Let yourself be enchanted by the spirituality and nature of Montserrat. Only getting to the top of the mountain is already special, either if you go up with the funicular or the cable car. The visit is not only worth it because of the spectacular mountain and the Monastery, but for the Escolanía de Montserrat, a children's chorus who makes this place magical. Besides of the cultural immersion, the surroundings are great for trekking enjoying the views. Compulsory visit to know a piece of the Catalonian history.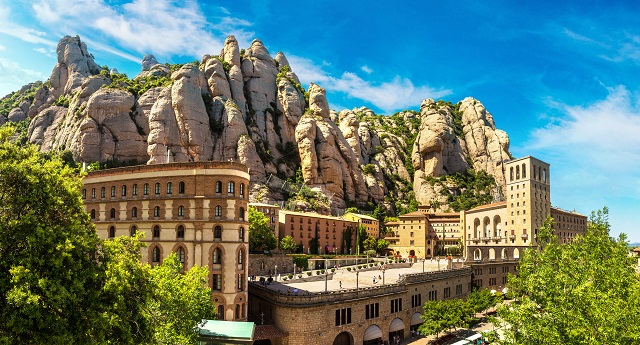 Vineyards and Wineries
Have you already tried Penedés wines? Once you are here you should try them, moreover visit their vineyards and wineries to know all about their traditions. Only half an hour from Sitges large options of visits can be organised, including a Mehari tour and of course a wine tasting and a picnic. Highly recommended!
Barcelona Visits and Tours
The city has so much to offer that you will regret if you don't spend at least one full day here. Sagrada Familia, Park Güell and both Gaudí La Pedrera and Casa Batlló are the main monuments you cannot miss. Tickets are often difficult to get, we do recommend you buy them in advance – we can help you with that. Otherwise, a private tour can be organized including a visit to other Barcelona highlights like Gothic Quarter, Las Ramblas, Montserrat, La Barceloneta, … We are happy to give you our best recommendations to make a benefit of the visit!
Dining OUT
Eating out in Sitges is always a pleasure and there is a huge number of restaurants to choose from. Check out our restaurant guide here for our Top 5 restaurants across 9 different meal categories from brunch to fine dining.
We hope that helps you to enjoy Sitges and Barcelona area as much as we do. To keep you updated of anything that shows up we recommend you to follow us via Facebook (Utopia Villas) and Instagram (@utopia.villas)
Have a great week!!