Barcelona villas, and in particular villas in Sitges can be enjoyed all year long! For some people who live and visit Barcelona in Winter, it is the absolute best time to come with significant advantages to a Winter break here.
Of course, with the hot summer days, there is no better place to be than on the beach, lapping all that comes with beach life. But let's face it, most of the attractions of Barcelona and Sitges are more enjoyable when the temperatures have cooled down, and the queues have shortened.
Cooler but sunny
And even though the temperatures have cooled, there is still lots of sunshine to enjoy. In October, the average temperature is about 22 degrees, and in the heart of Winter, they average around 15 degrees with blue skies and sunshiny days.
There is a multitude of activities to do both in Sitges and Barcelona in Winter. Check out our guide for things to do in Barcelona. And then rejoice in the fact that all of these are open and less busy in Winter.
But it's not just the sunshine that is a solid reason to enjoy Barcelona in Winter. There's plenty of other reasons too.
If you want to check out Barcelona villas for this season's Winter Sunshine, click here
Here are our top 10 reasons to visit Barcelona in Winter. 
And remember you only need one to jump on a plane and take a holiday 🙂
1. Winter Sunshine
Yes, the sun is still shining! Of course, the temperature drops from the highs of Summer, but with blue skies and sunshine all year round, it is usually a comfortable 12-19 degrees from November through to March. Rather than always seeking shade and cold drinks, you can roam through the streets taking in the sights and breathing in its fresh air.
2. The crowds have dispersed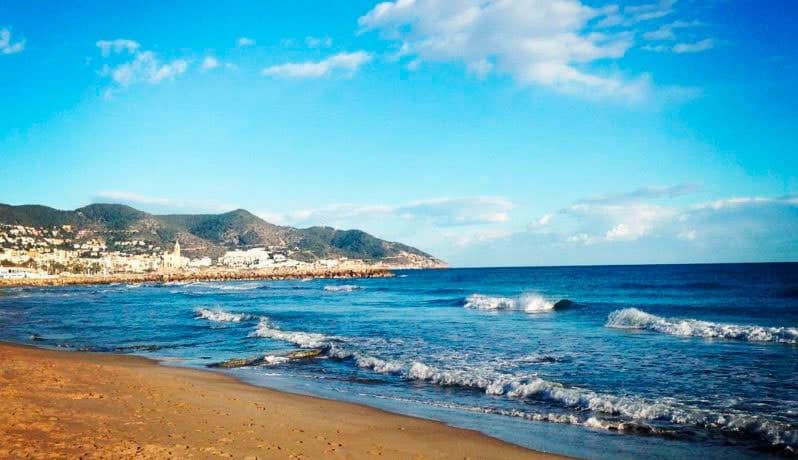 Most holidaymakers and tourists are back home, which means that you have a lot fewer people to deal with if you visit Barcelona in Winter. You can move around the streets with ease and take photos of your favourite buildings without waiting for that split second opportunity.
Everything can be accomplished with ease. From restaurant bookings to museum access and of course, the incredible array of shops can all be accessed in your own time and at your own pace.
3. Visit the markets in peace
We love visiting markets in Winter. Summer tends to be a time to showcase goods to lots of tourists who join the lines of people worming their way through the stalls. Winter, though, brings an altogether different feel to the markets in and around Barcelona.  You can observe locals as they go about their daily life and the quick-fire conversations of the market stallholders. There is no better way to get to know a city than to stroll its markets.
Apart from the usual markets, you will also find temporary pop up markets during the Christmas season. The most famous is the Fira de Santa Llucia.  It started around 1786 and is located in front of the Cathedral in Barcelona's Gothic quarter every year.
Check out our guide here for our favourite markets around Sitges and Barcelona.
Check out all our Barcelona Villas here:
4. Easier on the pocket
And if you do wish to splurge at the market, you will find that there is much more money in your pocket if you come to Barcelona villas in Winter. Everything is cheaper. With so many low-cost airlines coming to Barcelona, you can get here at a fraction of the cost than during the Summer months. If you stay in one of our villas during the low season, you will pay almost 70% less than in the height of Summer. With all those savings, you can run riot in the markets, restaurants, and shops. Check out the prices of villas to rent at low season prices here.
5. Beach life & Winter Swimming
Beach life continues up and down the coast of Barcelona in Winter. While you might need your jacket once the sun dips, you can take a dip in the sea and sun yourself on its empty beaches by day.
Lots of people like to practice their favourite sport on the beach too and with the beaches practically empty – where could be better?
Take a good book and relax by the sea or sign up for many sea activities.
6. Take a hike
Sitges and the Barcelona area offers a significant amount of walks and hikes for those who love to get to know a place through its natural environment.
Sitges, being on the Costa Dorada and position so close to the Garraf Natural Parc & massif, offers some of the best hiking options in Catalunya.  Autumn and Winter are the best times to hike or ramble through its endless trails.
You don't have to be super fit or commit to hours of hiking if that's not your thing. There's plenty of walks which are perfect for the whole family starting in Sitges town. If you are an experienced walker/hiker seeking a multi-day hike or want more information on hiking around Barcelona, check out the Utopia Villas hiking blog here!
7. Restaurants galore
A significant challenge for all foodies visiting Sitges and Barcelona in busier times is getting a table at your favourite restaurant. In some cases, it is downright impossible. However, in the low season, you will have no problem getting the best seat in town at the best eateries. Tickets, Lolita Taperia, Quimet y Quimet all will be at your disposal in quieter times of the year. Check out our interview with the also wonderful www.foodieinbarcelona.com for all the best recommendations.
8. Jam-Packed social events calendar
Barcelona is busy with events, exhibitions, concerts, and shows throughout the Winer months – and the great news is some of these are free too!! Stand up comedy has really taken over the last couple of years – even open mic nights if you want to have a go at it yourself!
9. Sporting Events
Barcelona loves sport in general. If anything had a long term impact on a city for Barcelona, it was the 1992 Olympic Games nurturing a love of all sports. It is an active city almost everyone plays some sport.
Of course, football ranks highly throughout Spain, and Barcelona is key to its international success. You don't have to be a major football fan to enjoy watching Barcelona play the most beautiful football in the world in its home stadium, Camp Nou. La Liga season kicks off in August until May. Tickets are reasonably easy to get, so don't hesitate to make football the preamble to your stay.
Formula 1 is also a significant attraction for people visiting Barcelona – so check out the Catalunya Circuit for upcoming events
10. Magnificent Villas in Sitges
Renting a villa in Sitges may be just what the doctor ordered to beat the Winer blues. Even take a short term lease and work from here for the Winter. Located only 20 minutes from the International Airport of Barcelona, commuting to any city in Europe is easy.
Access to Barcelona city is also straightforward and can be done by train or bus if you don't want to take the car. All of our villa rentals include WIFI. So, you are set up from Day 1 to work from home, away from home.
Check out all our villas here!