Picture your perfect holiday in Spain, and the first thing that comes to your mind is sunshine and relaxation on a beautiful day. Sound familiar? You want to leave any thoughts of the day-to-day behind you, right? The answer may be to rent one of these spectacular villas in Barcelona with a pool for your next holiday.
Sitges is a town outside Barcelona, just 30 minutes from the city center. It is famous for its beautiful beaches and beautiful old town. Moreover, it plays a strong part in Catalonia culture and is home to a proud artistic tradition.
Here at Utopia Villas, we have the finest collection of Spanish villas with pools to rent. We have lots of diverse villas to meet everyone's needs. There are different sizes, styles, and levels of luxury. And, we offer outstanding properties on the beach or in the beautiful surrounding hills.
What do all our properties offer?
Beautiful outdoor gardens, from spacious to enormous. You will have a fantastic time surrounded by green space, and if you travel with children, they will enjoy it even more.
A Barbecue (gas or charcoal) and outdoor dining. You will have perfect days and delicious meals in the sun.
Terraces and spectacular views. You will be amazed by the views of the Mediterranean Sea, Sitges, and the Garraf Natural Park.
Beautiful designs and generous spaces. You will feel the luxury of being at home. Each person will have their privacy and, at the same time, the possibility of sharing meals and fun.
Additional services that come to you. If you don't feel like cooking today, how about a private chef? Do you want an exercise class or a personal trainer? Whatever you want, our concierge team is waiting to help.
Traveling with your furry friends? Many of our properties are adapted to welcome the four-legged members of your family.
The perfect location to enjoy the beaches, restaurants, and endless activities. Holidays mean zero stress, and so you'll find everything you need within walking distance of your villa.
The space and privacy for families, groups, or couples who enjoy luxury and independence while traveling. You can cater, cook, lounge, celebrate, and explore all at your pace.
Enhanced COVID-19 cleaning protocols are delivered before, during, and after each rental. All our protocols follow World Health Organisation (WHO) and local Spanish Health authority guidelines.
Why choose a Spanish villa with a pool in Sitges, Barcelona?
Sitges is a beautiful Spanish town to walk around in and soak up the atmosphere. Enjoy the amenities of a large metropolis with the tranquillity of a small town.
As a holiday destination, it offers activities for everyone. There is a choice of over 300 restaurants, many boutique shops and museums, and much more. You'll definitely not get bored!!
And if that doesn't keep you busy, you can enjoy these activities:
Visit one of the 19 beautiful beaches.
Surfing, yachting, paddle boarding, and kayaking.
Hiking, horse riding, golf, and mountain biking.
The famous nightlife, beach bars, pubs, and discos.
Wine tours, historical excursions, museums, and art galleries.
All of this is just 45 minutes by train to Barcelona city center or 30 minutes if you drive. The Barcelona international airport is only a 25-minute drive away too. Let us know when you arrive, however, and we will pick you up.
Top 10 villas in Barcelona with a pool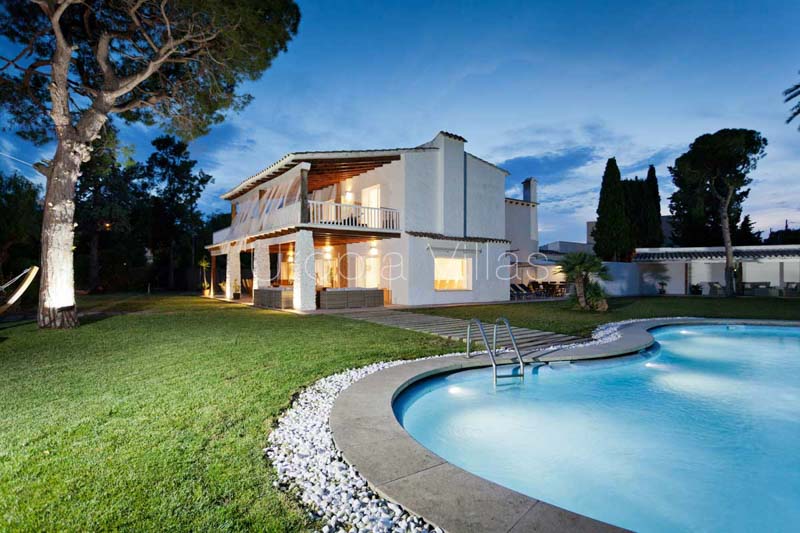 La Hacienda is an extensive property just one block from the Sitges seafront. You are guaranteed to have an unforgettable holiday here. Enjoy the sun and the outdoors with the large barbecue area and terrace. There is an outdoor table for 12-14 people, a private pool, and a play area for the children with a trampoline.
This holiday home is designed in the Cortijo style by one of the greatest Catalan architects of the 20th century, José Antonio Coderch. He also designed several famous commercial towers in Barcelona.
You will love its spacious and fresh interiors. It is like a getaway to a Spanish country house. You will also enjoy the large, flat lawn that surrounds the large and beautiful private pool.
The garden stretches to an entire block. You have endless space to hang out and relax. Choose from the sunbeds in the garden, the hanging chairs, or the outdoor lounge in the main room. It is ideal for children and if you travel with pets.
Capacity: up to 16 guests.
👉 Click here to see more of Villa La Hacienda.
2. Villa Laguna, your private pool of exquisite luxury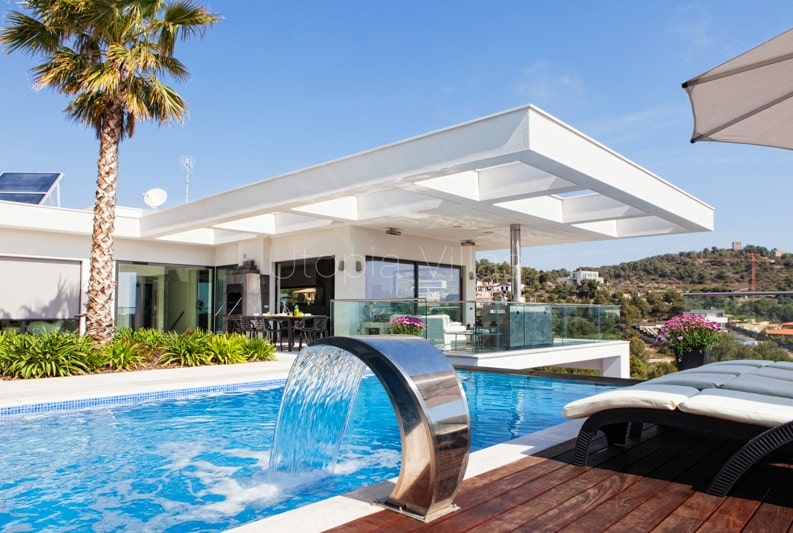 Villa Laguna offers you exclusivity, elegance, and modern comfort. If you admire art and design, Laguna will amaze you with its custom-made elements, which are true works of art.
There are many features to highlight in this beautiful property, including the terraces for sunbathing and enjoying incredible sea views. However, one feature that stands out from the rest is its two stunning pools.
What do we mean? On the third floor, you have a heated infinity pool. The water from that pool cascades down to the second floor, where you'll find the spectacular lagoon-style pool.
A perfect indoor/outdoor experience has been created for you, with a barbecue and L-shaped sofas surrounding the deck. Villa Laguna is the last word in luxury, starting with its impressive entrance!
Capacity: up to 14 guests.
Do you want to spend your holidays here?
👉 Click here to discover more about Villa Laguna.
3. Villa Isla Cozumel, your mansion with a huge fabulous manicured garden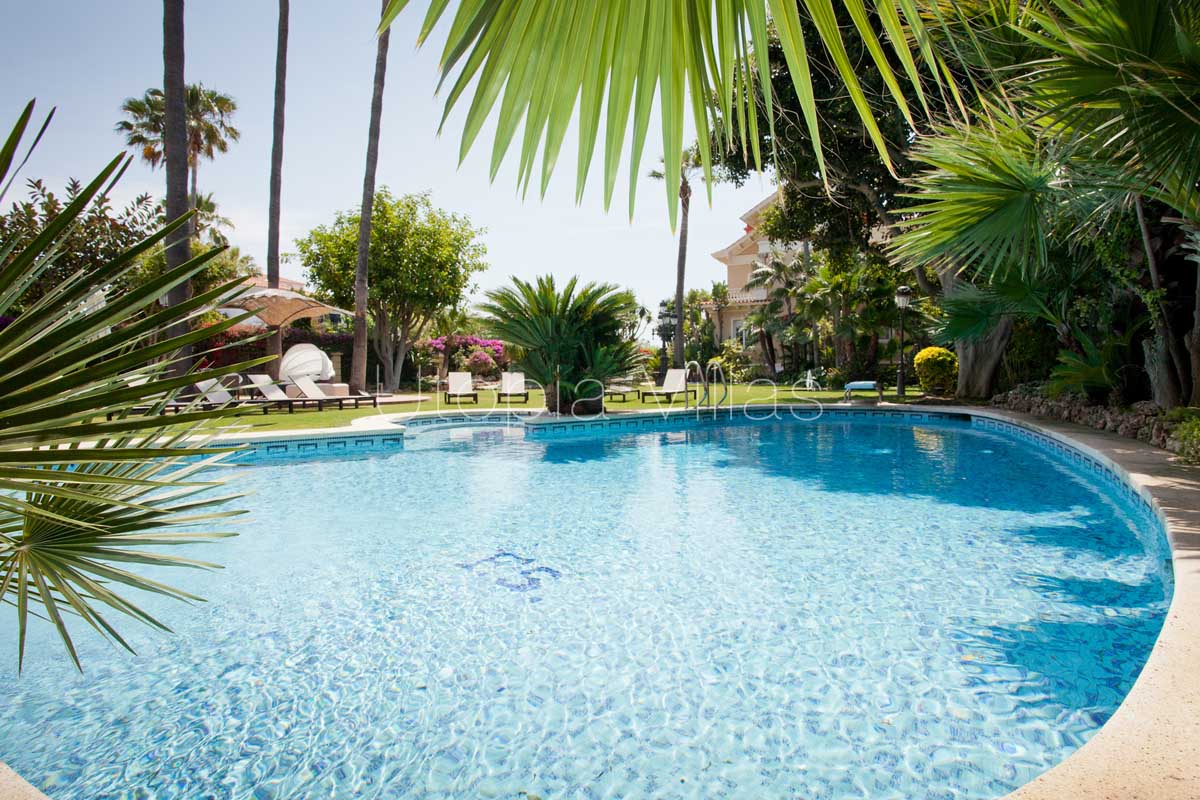 This villa is an iconic colonial-style mansion located on the exclusive seafront of Sitges.   Originally built in 1940, it has been recently renovated by renowned interior designer Sandra Valentí from VBCN.
The villa, gardens, pool, and guest house are located on a large 2,000 m² plot. Inside there are spacious and luxurious living areas. The impeccable open plan design, perfect for a villa in Spain, allows you to relax and enjoy fabulous views of the sea.
You will love being outside and relaxing next to the large pool. The beautiful tropical garden surrounds you with leafy plants, mature trees, and a fountain. There is a large outdoor living area with a barbecue, table for dining, sunbeds, and round beds available.
A unique gem in Sitges!
Capacity: up to 16 guests.
👉 Click here to read more about Villa Isla Cozumel.
4. Villa Magnolia, design by Joaquín Torres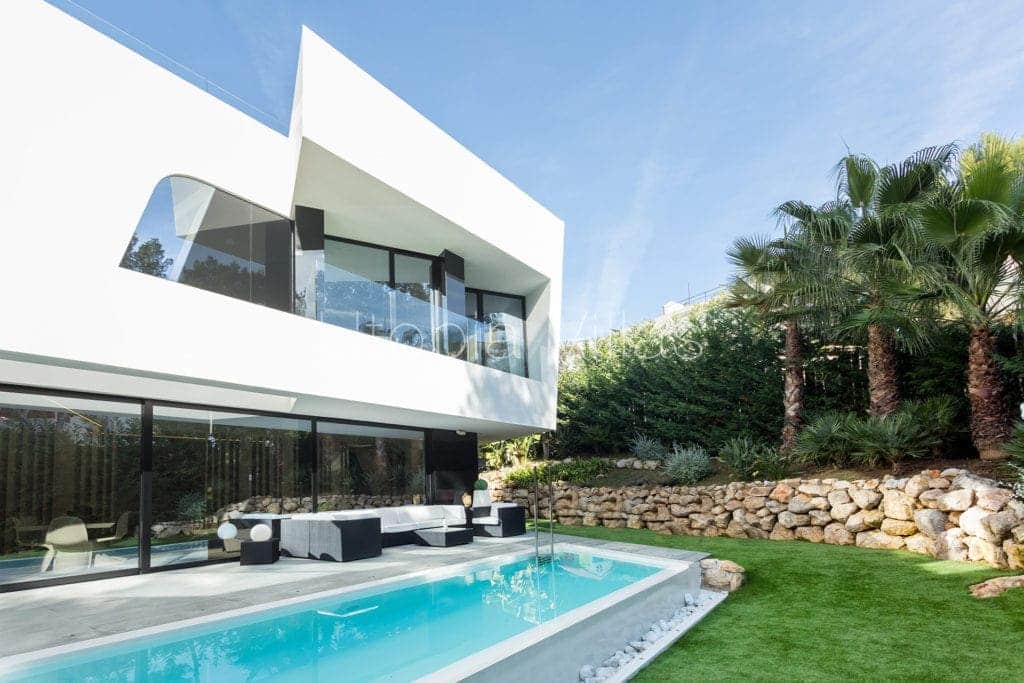 One of our favourite villas in Barcelona with a private pool, beautiful terraces, and modern design is Villa Magnolia!
This villa will delight you with the ambitious architectural design by renowned architect Joaquín Torres. It is a modern construction with luxurious finishes to satisfy purists and minimalists alike.
There is a magnificent roof terrace with a round bed and spectacular views of the surroundings and the sea.
The outdoor pool is adjacent to the outdoor dining and sofa area. There is also a 9 m² heated indoor pool with Jacuzzi and sauna to enjoy!
Capacity: up to 6 guests.
👉 Click here for more information on Villa Magnolia.
5. Villa Havana, a villa with a private pool and spectacular views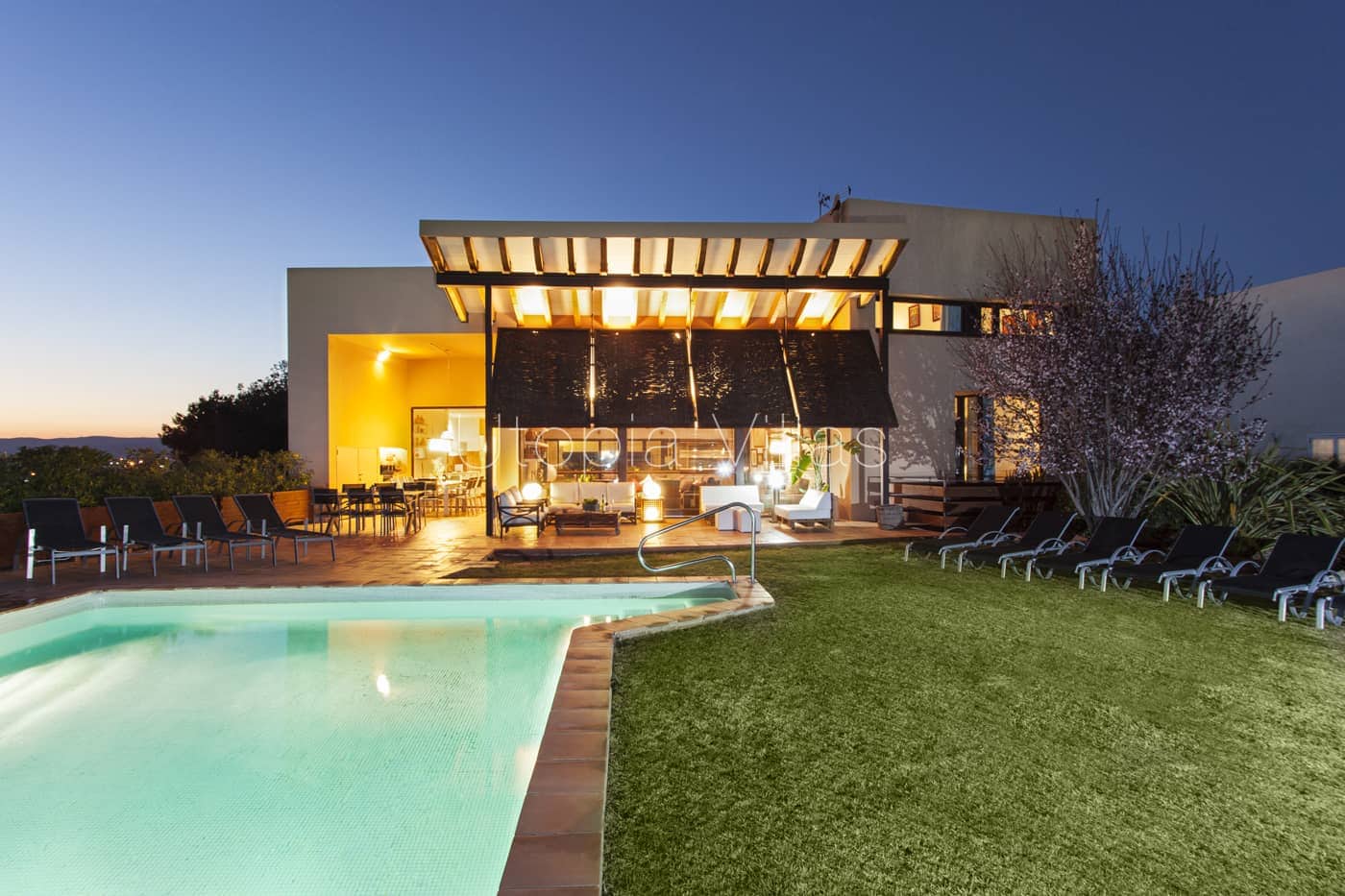 Villa Havana is a spacious villa with a private pool, garden, and spectacular sea views. It is a perfect option for a large group or family.
One of the features that you will love is the interior patio. The ground floor rooms and bedrooms all have views to the beautiful terrace.
It also has glass doors that provide access and views of the garden and terraces. The kitchen connects to an outdoor dining area, where you can relax in the sun loungers and enjoy the pool.
The cherry on top is the garden of this villa which is full of bright and cheerful colours. Without doubt, you'll have a great time here in the sun or on a starry night.
Capacity: up to 16 guests.
👉 Click here for more on Villa Havana.
6. Villa Claudia, spaces full of light for you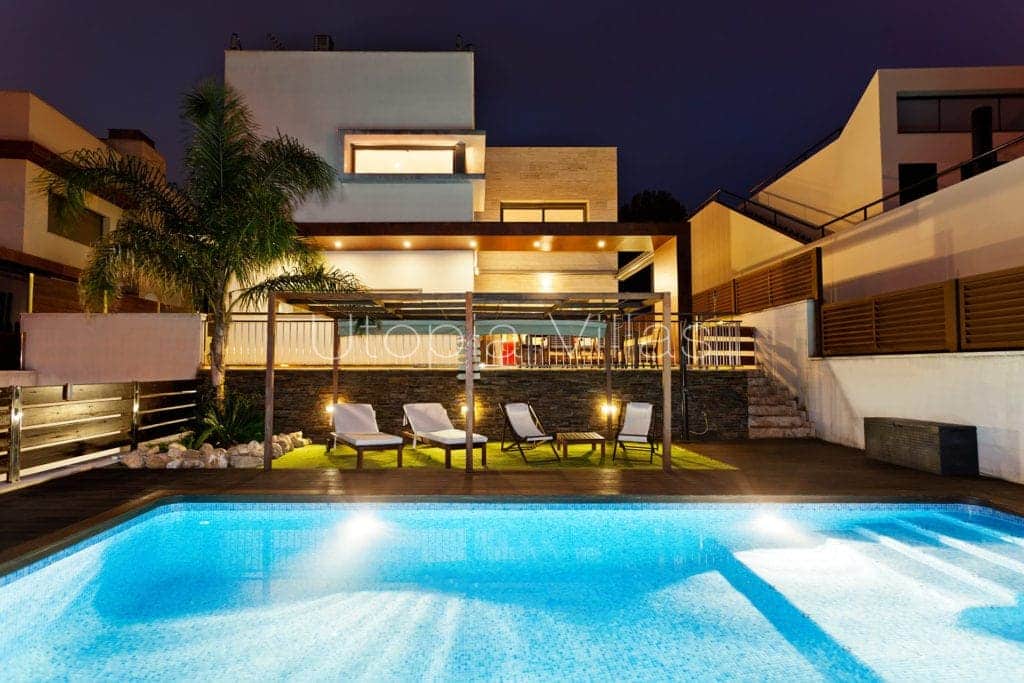 Villa Claudia is a modern and cheerful villa with elegant interiors. There are multiple recreational areas, a private heated pool, and beautiful views of the countryside.
Villa Claudia offers you a Mediterranean atmosphere with outdoor areas to eat and spaces to relax. Natural light permeates throughout the house. This results from the high ceilings in the living areas that accentuate the light and colourful artwork. Access to the terraces creates the perfect indoor/outdoor experience with an additional dining table for eight people, a barbecue, and a relaxation area.
The pool has a shower and sunbeds with Gazebo curtains.
If you travel with small children, you do not need to worry about safety as there is a fence surrounding the pool.
Capacity: up to 10 guests.
👉 Click here to discover more about Villa Claudia.
7. Villa Anne, your private pool is just a short walk from the beach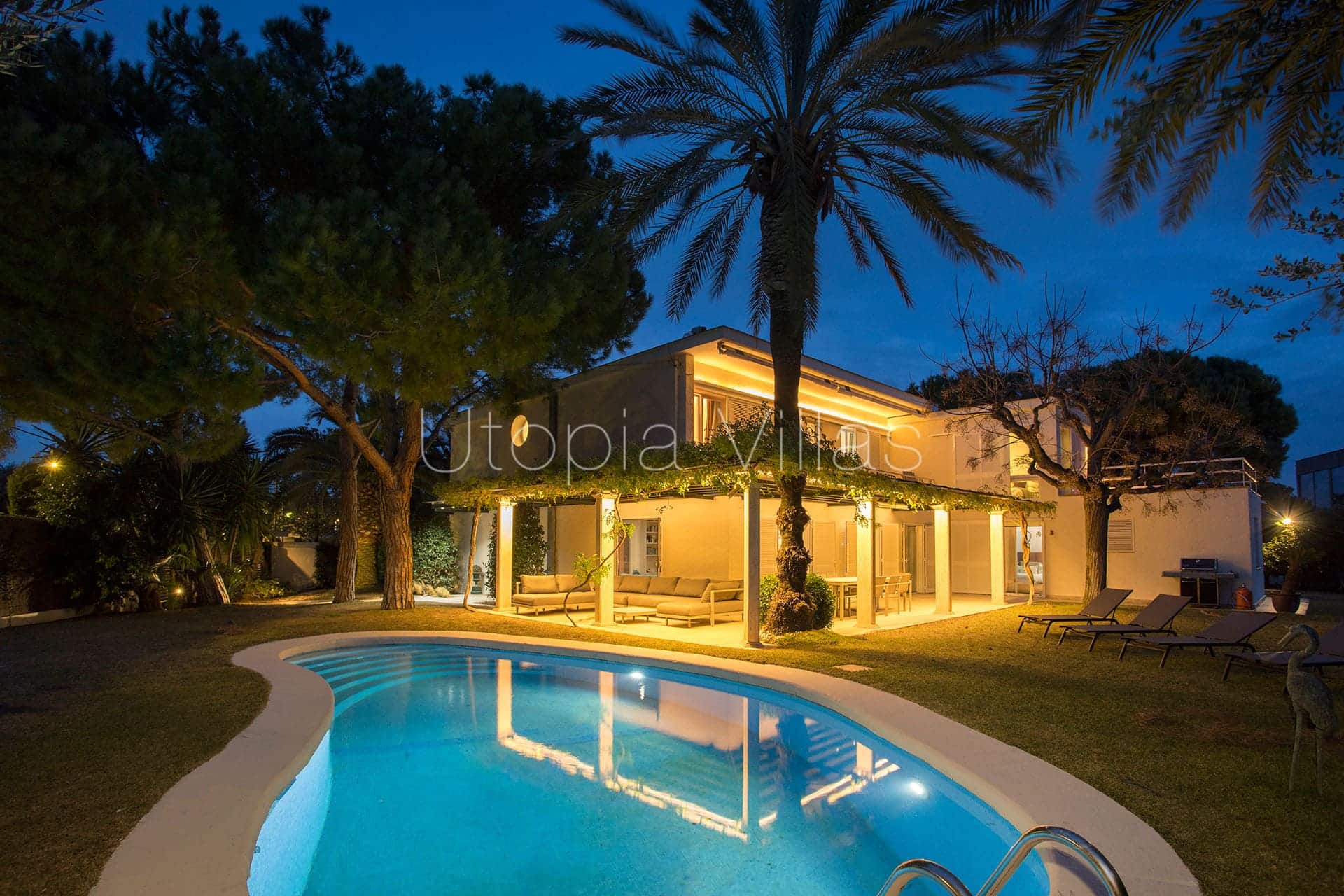 This villa has a large flat garden that is perfect for children, together with the private heated pool.
Sitges, with its shops and restaurants, is within walking distance along the beautiful seaside promenade.
There is a shaded terrace and Royal Botania sofas perfect for summer nights. In addition, there is an outdoor dining table for ten and a large Weber gas barbecue to cook with friends or family. Capacity: up to 10 guests.
👉 Click here for more information on Villa Anne.
8. Villa Leila, your cozy holiday home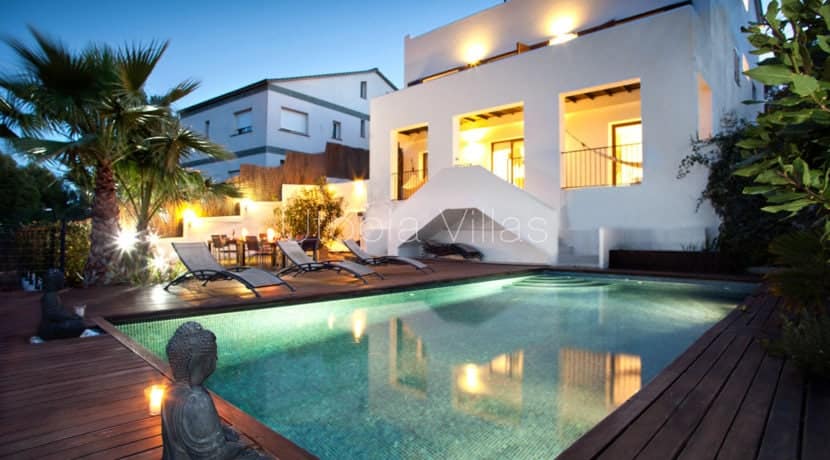 Villa Leila is an impressive 300 m² modern-style house with a private pool. This beautiful villa has a style inspired by Apulia, on the heel of ​​Southern Italy.
It is the perfect place to escape, disconnect and have an unforgettable holiday.
Villa Leila is decorated with style and comfort in mind. It offers you spacious, bright rooms and living areas with magnificent views of the Garraf Natural Park.
In addition, there are numerous terraces from all rooms. There is a living area next to the pool with wooden floors and hammocks, a games area, an outdoor dining room, and a barbecue. It is ideal for you to sunbathe, read, or relax.
Capacity: up to 12 guests.
👉 Click here to see more on Villa Leila.
9. Villa Sian, live around the private pool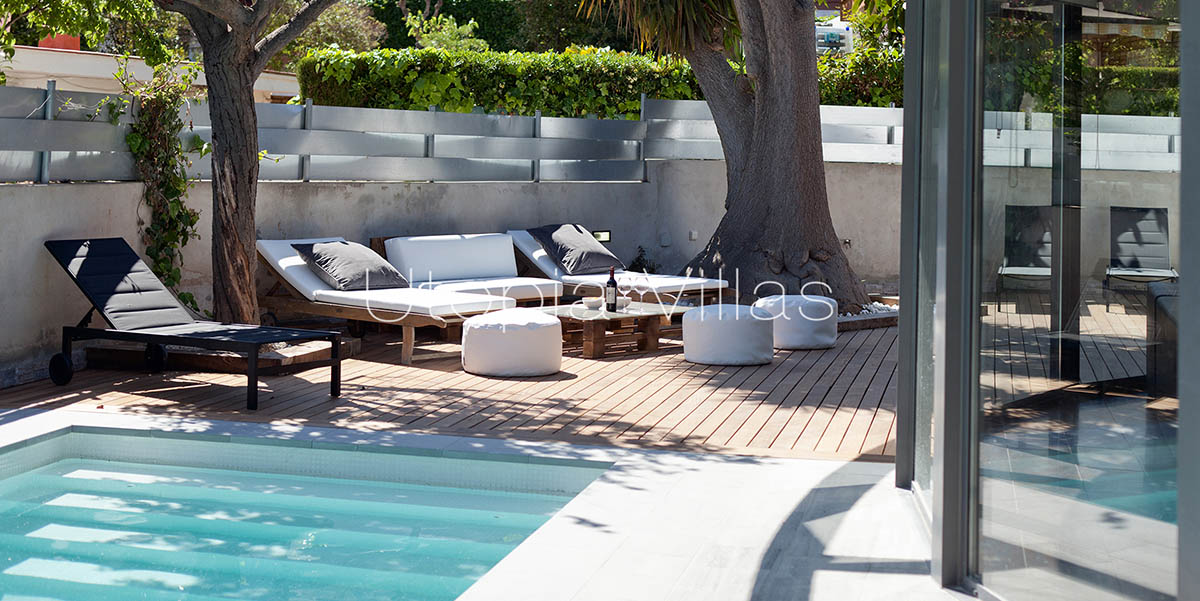 Villa Sian is a beautiful one-story villa with four bedrooms and a private pool in a highly sought-after area: Vallpineda, in Sitges.
It was renovated in 2016 with an exclusive semicircular design and modern interiors. The design is modern, bright, and inspiring.
It is part of an urbanization that offers easy access to a sports club. The club offers tennis and paddle courts, a restaurant, and a 25 m swimming pool with a garden.
The villa has an outdoor dining room and private pool that you can access directly from the kitchen, dining room, and living room.
And if that is not enough for you, then hop in the hot tub!
Capacity: up to 9 guests.
👉 Click here to discover more on Villa Sian.
10. Villa Augusta, in the perfect location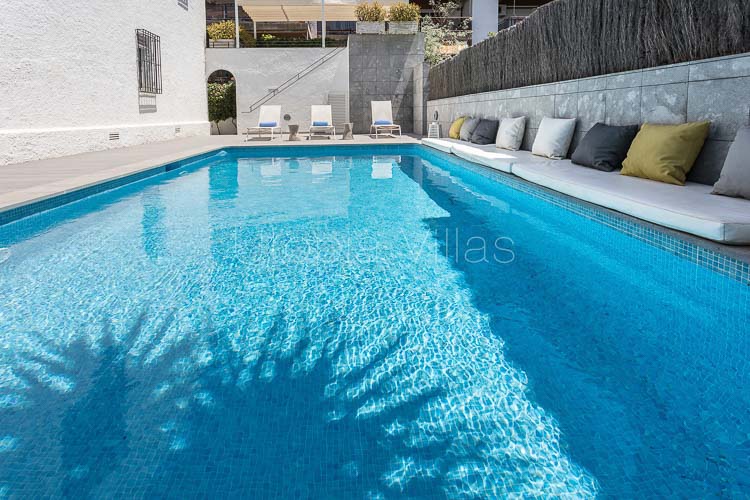 Do you want to spend your holiday sunning yourself next to this gorgeous pool or do you want to spend time on the beach in Sitges?  At Villa Augusta, you can do both because the beach is only a few minutes away.  This stunning beach house has four bedrooms and multiple chill-out spaces both indoors and out.
No wonder it is one of our most popular villas!
Which one of these Spanish villas with pools to rent did you fall in love with?
Maybe you loved more than one of these villas? Which was your favourite? Which will be your home for your next magnificent holiday in Spain? Call us to discuss your needs, and we can help you decide.
👉 Click here and see our entire collection of Spanish villas with pools
We hope to see you soon!